Spread across 1.9 million sq. ft., Virtuous Retail's latest flagship offering, VR Chennai, has created a niche for itself as the ultimate shopping destination. Located in the up-market neighbourhood of Anna Nagar, the Centre boasts of an impressive, top notch retail arcade, a ten screen PVR Cinema including a large screen format PX[L] and a plethora of F&B options.
The design elements at VR Chennai pay homage to the soaring gopurams of the temples of Tamil Nadu and the technicolour of the Madras check. Packed with distinctive zones, this Centre, isn't only about shopping and great food, but also about state-of-the-art collaborative work spaces, long stay residences and unique venues for celebrations, large and small.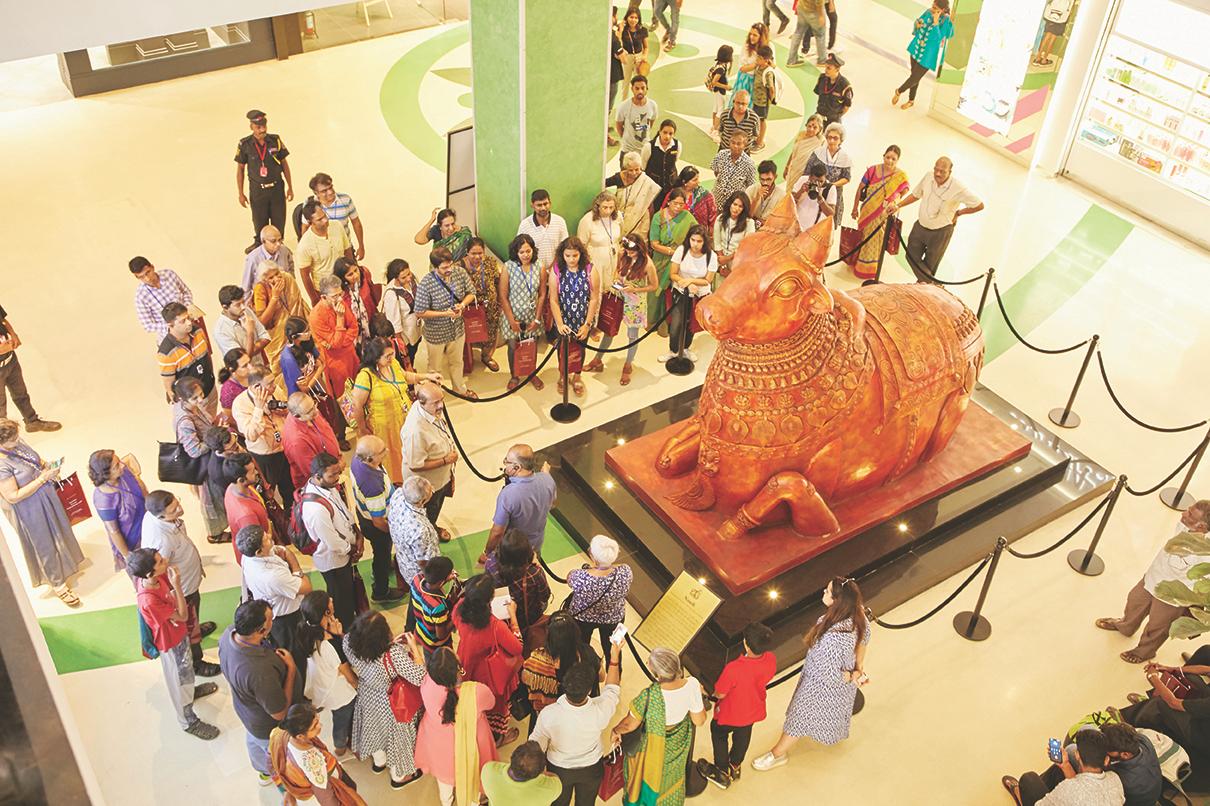 The dining experience traverses across various flagship national and international restaurant brands offering fine-dining, multi-outlet food hall, café style outlets like Starbucks, Pappa Roti, Cold Stone, Millies's Cookies, Haldirams, Doner & Gyros, Anjappar, Sangeetha and full-fledged restaurants including Bombay Brasserie, Kaaraikudi, Trattoria by Toscano, Utsav and Copper Chimney. Catering to diverse palates, VR Chennai offers an expansive F&B portfolio of over 55 outlets.
Swargamandapam at VR Chennai curates a plethora of activities and events to provide a complete Community Centre experience. Margazhi Arts Fest, Kathai, Kalai, Parampariyam Walks and Madras Art Guild are some of the exciting events conceptualized and executed by the community-centric shopping centre to keep the visitors engaged.
Hosted by Karthik Fine Arts, the Margazhi Arts Fest is one of the oldest and major music and dance festivals in the city during the season. VR Chennai has been a sponsor and partner for the last two editions and they will be partnering with them for a third year in 2019.
With the Kathai, Kalai, Parampariyam Walks at VR Chennai, one can set out on a journey through the culture, art and history of South India and discover stories that have defined the region. Curated by Virtuous Retail, and guided by renowned historian Mr. V. Sriram, these walks have been designed to take visitors of all age groups, through a narrative of the rich heritage and history of South India, all of which are showcased at VR Chennai in different ways.
VR Chennai also launched the inaugural edition of the Madras Art Guild in January 2019 that showcased over 60 installations and 50 works of fine art by established and emerging artists from various art institutes.
SHOPPING AT VR
VR Chennai houses over 1000 premium and high street brands sprawled across literally millions of square feet. These include international brands like Superdry, Aldo, Adidas, Bobbi Brown, Charles & Keith, Guess, GAP, H&M, MAC, Beverly Hills Polo Club and many more. The premium brands first launched at VR Chennai in the city are MANGO, Daniel Wellington, Esprit, True Blue, Taco Bell, Myo Thai Spa, Rareism, Millies Cookies, Utsav, Lattliv and Craftsvilla.
(Sponsored Feature)