Remember the times when you had to share a room, borrow clothes, look like twins even if you aren't? Those were the days; now you've grown up and your sister is not only your family but your strength, motivation and inspiration. No one can ever replace the bond your share with your sister; it's beyond magical! In the celebrity world, especially when you're surrounded by cameras, it's a great feeling to come home to someone who makes you feel grounded and real!
Right from Karishma Kapoor to Priyanka Chopra, many of these sisters have stood by each other when their personal lives made headlines. We take a look at some of these celebrity sisters who are each others pillar of strength.
Kajal and Nisha Aggarwal
Kajal Aggarwal's sister Nisha has been her best friend and still continues to support her. Kajal once told the media during her sister Nisha's wedding, "My beloved little sister has grown up to choose a partner for herself. She is getting married on Dec 28 in Bombay. This is going to be the biggest and most emotional day for me and my family." The celebrity sisters are inseparable!
Taapsee and Shagun Pannu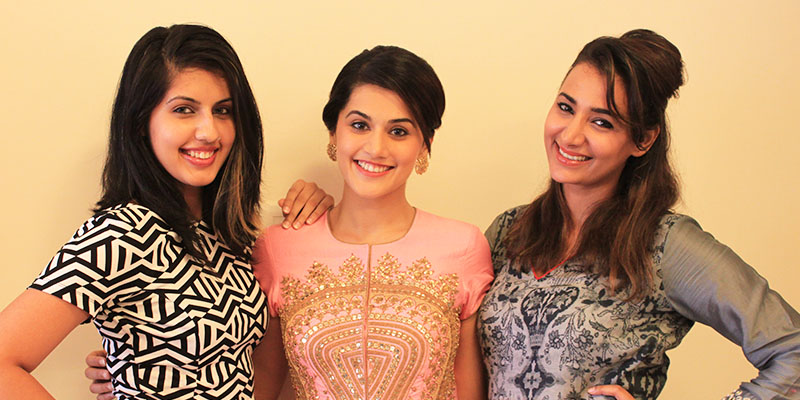 Taapsee and her younger sister Shagun (on the left) are not only siblings but also business partners. They run a wedding planning company together and have since been working as a team. Talk about keeping it all in the family!
Sonam and Rhea Kapoor
These star kids may have had an easier entry into the tinsel town, thanks to their star family, but keeping up with the pressure of proving themselves is high on them. However, they have not disappointed their families; Rhea is a successful stylist and Sonam is getting better as an actor day-by-day. Rhea is secret behind Sonam's fashion diva looks!
Karishma and Kareena Kapoor
When Karishma Kapoor and Kareena's parents got separated, the latter was an adolescent and Karishma was a huge star. As the older sister, Karishma stood by the young and vulnerable younger sister. Today, as Karishma got divorced from her husband, Kareena is her pillar of strength. Problems don't seem as heavy when you have a sister who helps you sail through.
Sai Pallavi and Puja Kannan
This Tamil beauty is actually a doctor and she told in an interview that when she was approached to play the role of Malar in Premam, she wasn't confident about her looks. However, her strong bond with her sister who supported her throughout upped her confidence and now she's one of the most sought after actresses of South India.
Shruti and Akshara Haasan
A broken family can take a huge toll on children! When Kamal Haasan and Sarika decided to go their separate ways, Shruti and Akshara Haasan stood by each other. Though they stayed with their star father, the duo divided their time to be with their mother too. When Shruti Haasan was starting her career, Akshara was a huge support and also used to cheer for her and accompany her to her shows.
Deepika and Anisha Padukone
In an interview taken some time ago, Deepika Padukone said she is the most protective of her little sister Anisha. She told DNA,""We have a six year age difference between us. And when we were growing up, like other siblings we used to have our fights very often for small things like chocolates, toys etc. But when I moved to Mumbai four years back, I realised how important she is to me. Also now, the equation we share has changed. Earlier I used to feel as we have a six year gap she is too young to understand the things I do. But today, even though I am as protective as a mother for her, she is my best and closest friend. I share a deep bond with her and now I share everything that I have with her and it's the same for her as well."
Sania and Anam Mirza
Sania Mirza has set a great example for her little sister Anam, who's an aspiring Journalist! The tennis star told us that she just was feeling very protective towards her sister when she got engaged. Sania and Anam have supported each other in their careers and now Anam also styles her big sister!
Kangana and Rangoli Ranaut
Not many know that Kangana Ranaut's sister Rangoli is an acid attack survivor and the way she gave her strength to fight the situation is commendable. Rangoli is now Kangana's manager and helps her deal with her professional commitments and also her legal issues with Hrithik Roshan.
Priyanka and Parneeti Chopra

Now that's an adorable picture of these to star sisters. Though Priyanka and Parineeti are cousins, the former paved way for her little sister to realise her Bollywood dreams. Priyanka and Parineeti are very close and are super fun with each each other! Just look at their pictures!
You May Also Like: 9 Celebrity Friendships In Indian Cinema That Will Last a Lifetime!
You May Also Like: Photo Feature: 10 South Heroines Who Are Truly Natural Beauties!