Hidden Spaces
With the living room, kitchen and bedrooms all summer ready do not ignore the often-overlooked bathroom. Your bathroom is the part of the house that is most associated with the cooling effects of water. The simplest summer enhancement for your bathroom would be to add a cooling shower curtain paired with other accessories. The bathroom, being a small area can also be painted in an ocean theme with pale blue or sand colour. Seashells can be the perfect summer embellishment in any bathroom. Place seashells in an ornamental bowl and add some aromatic oils to give your bathroom a spa-like feel.
TIP: Use a large seashell as a candleholder. Place the shell face down on the counter and use a tea light in the centre of the shell.
Outdoor Summers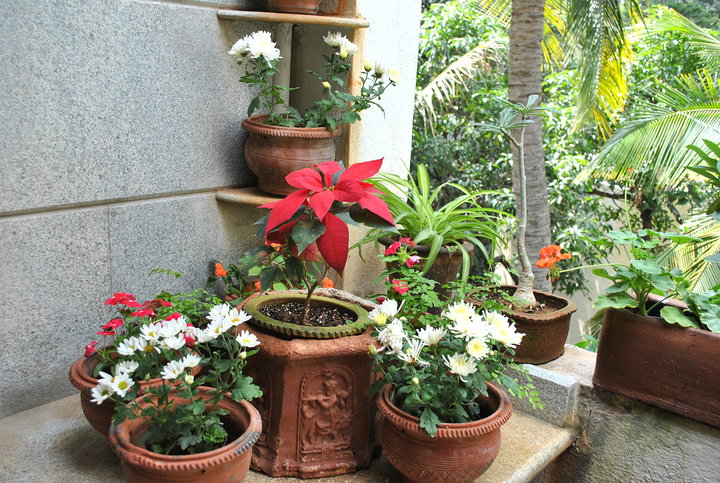 Your garden or veranda sometimes seem like the last place you would visit during the summer. Go outside and see where you can add shade. Install awnings over your windows; build a pergola covered with shade cloth or plant trees. Outside shading is more efficient than indoor shading. Enjoy the beauty of the outdoors. Your veranda or sit out can benefit from the summer makeover as well. Paint the ceiling a pale blue and keep the walls white for an unexpected and soothing effect. Outdoor does not always have to mean wicker furniture. You can pair your wicker sofas with a modern glass and wrought iron table. Another interesting piece for the porch is a mirror. Not only does it give the look of a complete room in itself, but it also reflects any candle or garden lights improving the overall ambience.
If you live in an apartment, paint all your flowerpots in vibrant colours and arrange them randomly across your balcony. Add a reclining chair and make it your leisure corner to unwind.
TIP: For outdoor seating, choose fabrics that are lemonade and sangria proof.