Tru Hair is an Ayurvedic tech brand that has introduced the
world's 1st hair oil with a heater
that lets you enjoy a hot oil massage like no other. Amid never-ending work, pollution-filled environment, chemical-filled products, and more, Tru Hair's innovation lets us enjoy the goodness of Ayurveda in the most convenient way possible.
Oil massage from our mothers and grandmothers is a sweet memory that echoes in the walls of every Indian household. We may have reluctantly sat down for it then but we sure miss the 15 minutes of 'Champi' now. Fast forward to today, when our busy lives barely give us time for any kind of hair care, even though we could really use that stress-buster of an oil massage. But what if we tell you that even on that packed day of yours, you can now easily experience an epic hot oil treatment.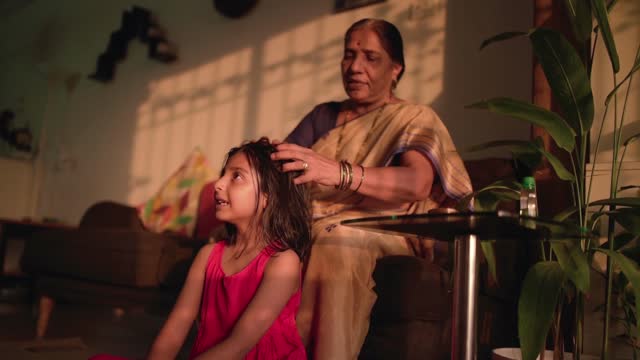 While we can't recreate Amma's magical warmth, thanks to innovation in technology, we've come pretty close to getting you perfectly warm oil, just like Amma's.
Tru Hair Oil is a result of years of research in understanding hair and hair issues. The brand's core team comprises Ayurvedic practitioners, engineers and innovators, and end-users who helped Tru Hair provide Ayurveda for the modern lifestyle. Tru Hair is focused on convenience without compromising on quality. Eradicating the question of not finding time to give your hair that extra care was one of Tru Hair's main goals.
With an Ayurvedic hair oil that has a blend of 13 rare herbs like Bhringaraj, Hibiscus, Aloe Vera, Amla, Brahmi, and more, your hair is fortified with the nutrients that help combat hair fall and boost hair growth. The hair oil heater is what makes the magic come alive!
 Oftentimes, most people don't realize that heating the oil isn't just about getting the oil "hot"; it's not like the plan is to fry Pooris in it, right? For your hair oil, you must ensure that you heat the oil to a perfect temperature that activates the nutrients and actually benefits the hair and scalp. 
With the world's 1st oil heater for hair massage that warms the oil to an optimum temperature of about 65° in around 4 minutes, that perfect temperature for the best results is a cakewalk. The best part about the heater? It comes with auto cut-off technology that heats your oil in just around 4 minutes, so accidentally burning the oil is out of the question. 
The benefit of heating the oil to the right temperature is that the nutrients can penetrate deeper into the scalp, enhancing the results. The Tru Hair Oil carries ingredients that have been known since ancient times to fight hair problems effectively. Not only does it carry rare Ayurvedic ingredients, but it also does not have any harmful chemicals like Parabens, Sulphates, and LLPs. Ingredients like Bhringaraj, Brahmi, Jyothishmati Taila, and more have been proven to be helpful with dandruff, split ends, hair fall, and premature greying of hair. They have the ability to target the root cause of the hair problem, and thereby provide lasting results. But don't take our word for it, Tru Hair Oil is clinically proven by KLE to significantly reduce hair fall and increase the hair density. 
Here's a step-by-step guide on how to use Tru Hair oil with a heater: 
Step 1: Plug in the hair oil heater.
Step 2: Pour the required amount of oil into the oil heater for hair and cover it with the lid.
Step 3: Switch on the device, and the light will turn off once it reaches a suitable temperature of around 65°.
Step 4: Pour the warm Tru Hair Oil onto your palm.
Step 5: Massage it onto the scalp for 3-4 minutes and leave it for about an hour.
Step 6: Wash and flaunt your beautiful hair. 
Yes, Ayurveda is an ancient practice, but the benefits of it do not belong to just the past. The many herbal remedies of Ayurveda are incomparable to any modern chemical treatment. This is why an innovation that combines both Ayurveda and modern technology to fit today's needs is revolutionary. With proven effectiveness and a huge following of more than 1.8L happy customers, Tru Hair's novel and unique solutions are exactly what a modern-day human needs.