Krithika Nelson, singer, songwriter, composer, dubbing artist who won Best Lyricist award for her work in Ponniyin Selvan 1 for the song Sol on JFW Movie Awards 2023. 
On Journey into Cinema
Krithika shares, " My relationship with music started when I was 4, my mother put me into music school because she couldn't take care of me and my brother who was just born. That's how I learnt carnatic music, but at the beginning I didn't give the importance it required and later I realized it was an intensive part of myself. In college I studied media and moved into agency and me being the enthu person I am, for fun I auditioned for Pia Bhajpiee's role in Ko but to my surprise I got the part. But I really loved the dubbing process. It felt like an extension of singing. Everything changed 5 years back when I joined Manirathnam sir as an AD (Assistant director). At that time I didn't know it was for Ponniyin Selvan. As a child, I read Ponniyin Selvan multiple times and I am a huge fan of PS. The 2 and half years I spent with Mani sir is a wonderful experience I had and I'll be eternally grateful".
As an AD I was working as script supervisor and also to handle music and lyrics and all of that. I was spending a lot of time in Rahman sir's studio. It felt like home. And at that time COVID hit, I learnt a little bit of music composition before that. At that time songs were the only thing we could work on for PS. For Sol, Mani sir wanted a draft, I wrote and sent it to Mani sir he sent it to Rahman sir as well. Apparently, Rahman sir really liked it too. So, they simply said we are recording it tonight. Huge gratitude to all the fans who heard it and Mani sir. 
For Mani sir, it's the 4th film I have dubbed. I've dubbed for Kadal, Kaatru veliyidai, Chekka chivandha vaanam and Ponniyin Selvan. So, the journey has been surreal. Again, I got into Nitham oru vaanam through PS. Brindha master's assistant Leela was choreographing for it. They were struggling to find a lyricist so I was roped into that as well". 
Krithika has dubbed for Thulasi Nair in Kadal, Aditi Rao Hydari in Kaatru Veliyidai and Chekka Chivandha Vanam and Trisha in Ponniyin Selvan 1 & 2.  
Work Process for a song
"I don't know if I have a work process. Each of my songs calls for a different process. For example, one of my independent songs, Anbe, I remember standing in the middle of the sea and writing the lyrics in my head. For other songs, I'll sit down and write lyrics and also try shuffling words among lyrics. One thing I'm sure of is that I listen to the track over and over again for days, before starting writing. I need the tune by heart. If I'm working on my songs, generally the tune and words come together." she explains. 
Dubbing or Singing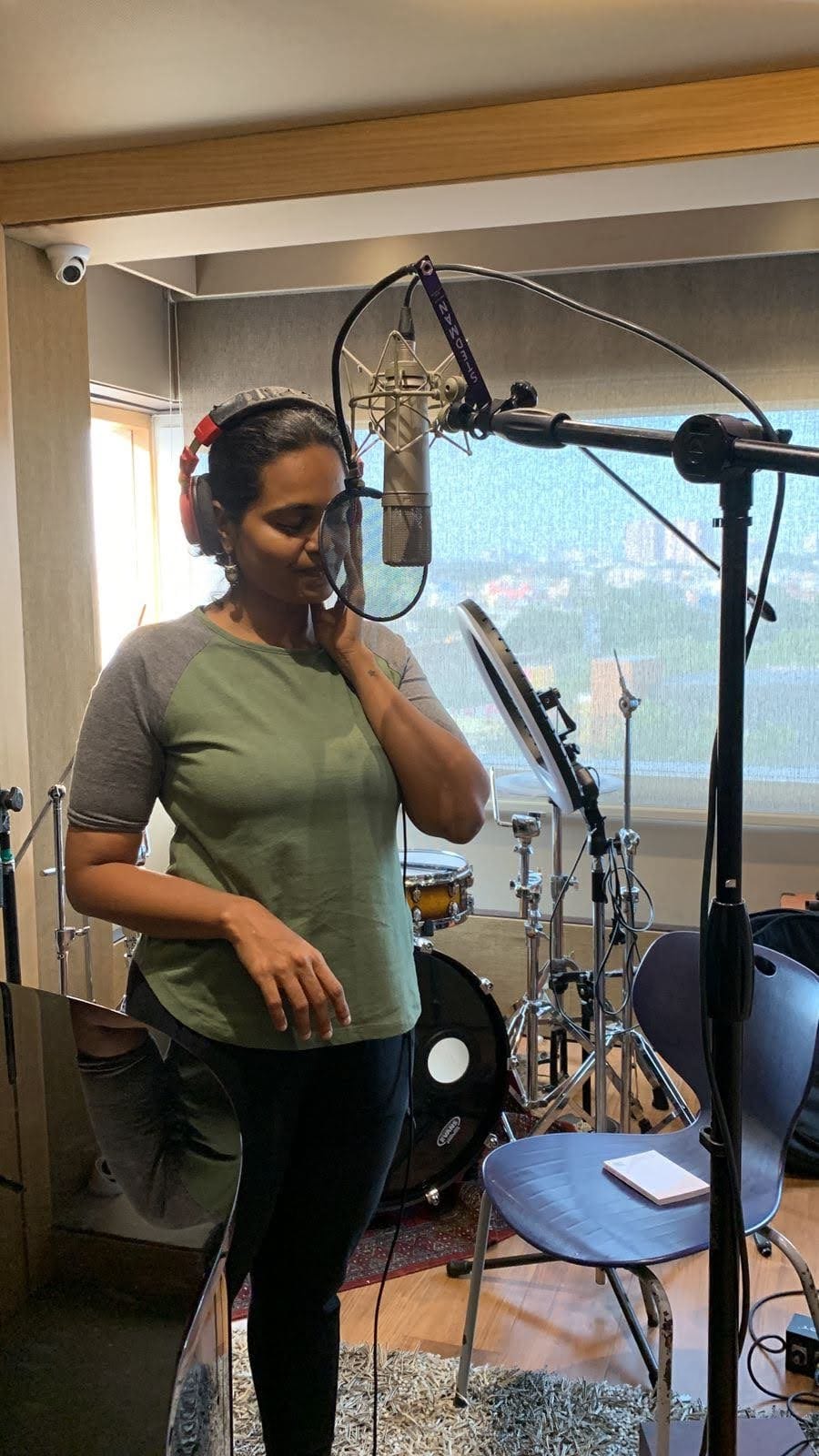 "It's like asking me to choose which is my favorite eye," Krithika laughs. " I love the process of both, if I have to choose between the two at gunpoint then I'll choose singing because it's been a part of me since I was a child. And I find dubbing to be an extension of singing." she shares.
About Nee Mattum
"Nee mattum is my first collaboration with think music. They've heard a bunch of my independent singles, and they were very enthusiastic about working with me. Actually nee mattum was born at the dubbing studios of Kaatru veliyidai, after a take I heard Vaan varuvan playing in the studio, there is a scene where Leela (Aditi Rao Hydari) says ennaku nee mattum podhum unnaku enna venum nu yoschu sollu? That song and the dialogue got stuck in my head. I wore the lyrics of the song on the dubbing sheet and took it with me. Nee mattu took a long time to release because I couldn't find the right producer to release it. I'm so glad I found a producer and partner in crime, Alvin. Neha, Leela, Subika and actors Arjun and Roshini were all an extended part of Nee mattum. I'm so grateful for the team", Krithika smiles. Nee mattum is an independent single song writted, composed, directed and performed by Krithika Nelson. It stars Arjun Chidhambaram and Roshini Haripriyan. Produced by Alvin Presley, with over 1.9 million views on youtube. 
About Trisha's Kundavai
"As I was also an AD on set, I know dialogues by heart. Mani sir also told me you know what to do. He just told me to talk like a princess and that's what I did. The love I got for Kundavai is immense and everyone is super supportive and I just want to say a big thank you to everyone" Krithika shares.
Upcoming projects?
" A lot more of singer, songwriter Krithika is coming up. Two more songs are coming up. I'd release and talk about them when the time is right. As a dubbing artist I've dubbed for Trisha's upcoming film The road. As a lyricist I worked on a song for coke studios and I also worked as a creative director for that song. I'm also working on a film with Vivek Mervin. There are few upcoming projects that I cannot talk about."
"There are a lot of collaborations happening on independent music as well, I'll keep you guys updated". She ends with a smile