The East Coast of Thailand offers a variety of sights and scenes that are virtually endless, offering the best of three different worlds—seaside, countryside and the city. With many choices, you can plan your holiday by indulging in a delightful combination of the sun, sand and the sea. By
S.Priyanka
Thailand's eastern coastal strip runs from just east of Bangkok all the way down to the Cambodian frontier at Hat Lek. The area encompasses the coastal provinces of Chonburi, Rayong and Trat. There are many pleasurable adventures that one can indulge in—a fun time enjoying all the delights of the city, lazing on a quiet beach, a tropical island escape, a sporting vacation with scuba diving, snorkelling and sailing being the top selections.
CHONBURI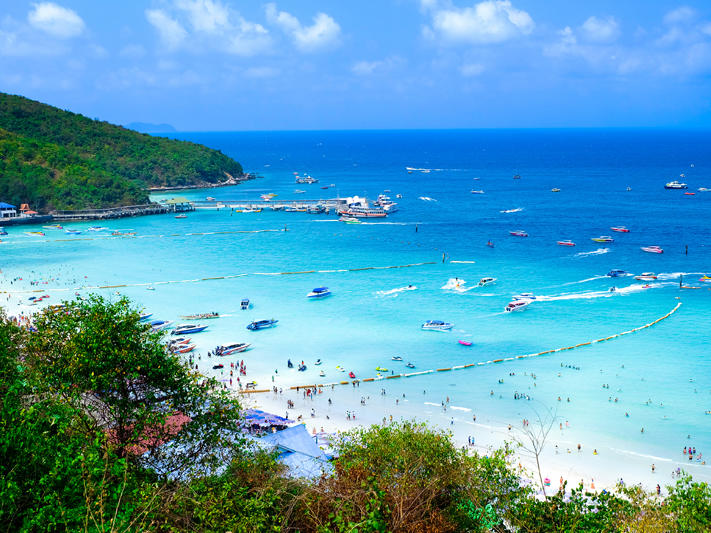 The nearest seaside town of Bangkok (80 kilometres), it is located on the eastern coast of the Gulf of Thailand. This province boasts of abundant natural resources which are emphasized by scintillating beaches, local traditions and regional delicacies. Though other regions of the province are smaller and quieter than the bustling streets of Pattaya, this region is quite popular amongst foreigners and Thais alike. SuladdaSarutilavan, Director, Tourism Authority of Thailand Pattaya Office says, "This is a popular coastal province among Bangkok residents who seek the nearest escape from hectic weekly schedules, who particularly frequently escape to the seaside resort of Pattaya. Chonburi is also the center of the Eastern Seaboard Development Project with many industrial parks and fishing villages."
Boundaries
North borders with Chachoengsao and SamutPrakan
South borders with Rayong
East borders with Chanthaburi
West borders with the Gulf of Thailand
Pattaya
Pattaya is known for its electric energy, buzzing with eager tourists from all over the world.  The 80's was Pattaya's definitive decade, when its tourist attraction was first discovered. Since then, this coastal beauty has remained irresistible to vacationers world over, its beaches perpetually bursting with water sports lovers and sun worshippers sunup to sunset. SorayaHomchuen, Director, Tourism Authority of Thailand Mumbai Office says, "The nightlife springs out of the streets, where the next party begins – music, drinks and merriment in equal measures for everyone! And there's more – aside from the parties and the gorgeous landscape, Pattaya also has choice accommodation and entertainment!"Once considered a questionable island with subpar amenities to offer, it has completely shed that image for several years now. Be it couples, families or business travellers, everyone finds a mini-paradise in Pattaya. Only 147km from Bangkok, it is the closest of Thailand's major beach resorts to the capital city.
Box 1
How to get there?
By car
The best route is to take Highway no.304, Bangkok-Min Buri, passing Chachoengsao province-Bang Pakong into Chonburi.
By bus
From the Eastern Bus Terminal (Ekkamai), there is an air-conditioned bus that operates every hour between 5:40am and 9:00pm.
By train
Every day, from HuaLamphong Railway Station, there is one train that departs to Phlu Ta Luang Railway Station in Chonburi.
Where to stay?
A One Hotel
Address: 500-501 Pattaya Beach Road
(Sol 3), Banglamung, Pattaya City
    Tourist attractions:
The Laser Beam Carved Buddha Image of Khao Chi Chan
A combination of Sukhothai and Lanna arts, this laser beam carved Buddha in Mara posture is 130 metres in height and 70 metres in width, sitting atop the Khao Chi Chan cliff. This image is called "PhraPhutthaMahaWachiraUttamophatSatsada" and was constructed in 1996 to honour His Majesty, the King. Buddha's relic is placed within the chest of this image. Moreover, the gardens surrounding the cliff are under the supervision of the Royal Thai Marine Corps, Royal Thai Navy.
Days:Every day
Timing: 8:00am to 6:00pm
Thai Thani: Thai Arts & Culture Village
A new and unique tourist attraction, this arts and culture village simulates the age old traditions of Thailand. The village reproduces a bygone era of the country, preserving what it means to be truly Thai, including culture, traditions, arts and crafts, Thai style activities and performances. JatupornPisalwalerd, Marketing Manager of the Arts and Culture Village says, "Visitors may encounter and experience the old Thai way of life and learn to appreciate the beauty of age old architecture, arts and crafts of our country. Guests can also participate in a variety of activities like umbrella painting, pottery making, banana-leaf folding and even take up Thai dancing lessons."
Days: Monday to Sunday (except Wednesday)
Timing: 10:00am to 8:00pm
Cartoon Network Amazone Theme Park
Enjoy a world of animated fun at the Cartoon Network Amazone Theme Park! The best feature about this adventure land is that it is not only for children, even adults can have a blast on most rides. It is Asia's largest aqua playground with curly slides, a giant tipping bucket and other exciting water sports. Nicky Sumpochanont, Sales & Tour Operations Supervisor says, "At Amazone Theme Park, there is more than 150 water adventures to discover. The aqua play area is packed with splashtastic slides, fountains and tubes that are filled with daring spins, twists, tunnels and turns and is the perfect getaway for the entire family."
Days:Every day
Timing: 10:00am to 6:00pm
The Sanctuary of Truth
It is not only a replica of an ancient art, but also intensity of contemporary creation. Inspired from different religions and cultures from world over, the objective of this sanctuary was to preserve and revive ancient knowledge. Sally Suen, Assistant International Sales Manager of The Ancient City Co. Ltd says, "The Sanctuary of Truth depicts the amalgamation of different religions as a unified aesthetic representation as opposed to sacramental relic. Each wooden carving reflects the thoughts and spirits of different cultures, and the relationship between human beings and the universe. They are not fantasies, but the truth of being human that eastern philosophies had searched for and discovered from time immemorial." Though building this magnificent structure commenced in the year 1981, the structure is still not complete as the artisans look for perfection in each block of wood.
Days:Every day
Timing: 10:00am to 6:00pm
Walking Street
Most of the nightlife action geared towards tourists is found in the south of Pattaya. Their street has the densest concentration of go-go bars, clubs, massage parlours and discotheques along the famous neon-drenched strip known as the 'Walking Street'. Distinct by nature, it is shut off to traffic during the evening and becomes one huge party zone. With racy shows, bar games, competing boom boxes and lots of liquor, the entire street is vying to please the crowd at night!
Days:Every day
Timing:Post 8:00pm
Recommended Restaurant
SuttangrakRestaurant at Jomtien Beach
Address: 99 Moo, 1 Jomtien Beach Na Jomtien
Sattahip, Chonburi – 20250
Tel: 038232222
Signature dishes
Deep fried garoupa with sweet and sour sauce
Spicy salad with fish roe
Spicy papaya salad with river shrimps
RAYONG
Another delightful seaside province located on the east coast of Thailand is Rayong, 179 kilometres from Bangkok. Most of this province is surrounded by mountains that are interspersed with flat plains and large tracts of fruit plantations and forests;however, it is better known for its pristine beaches stretching along its coastline and its scenic waterfalls set amidst exotic surroundings. PatsalinSwettarat, Assistant Director, Tourism Authority of Thailand Rayong Office says, "With indispensable sea-life resources, Rayong is one of the country's major agricultural and industrial provinces. We produce anabundance of seafood productssuch as shrimp paste, fish sauce, and dried seafood, and also grow a number of tropical fruits like rambutan, mangosteen and durian."
Boundaries
North borders with AmphoeNongYai. Amphoe Bo Thong, Amphoe Si Racha and Chonburi
South borders with the Gulf of Thailand
East borders with Amphoe Thai Mai and Chanthaburi
West borders with AmphoeSattahip, Amphoe Bang Lamung and Chonburi
KoSamet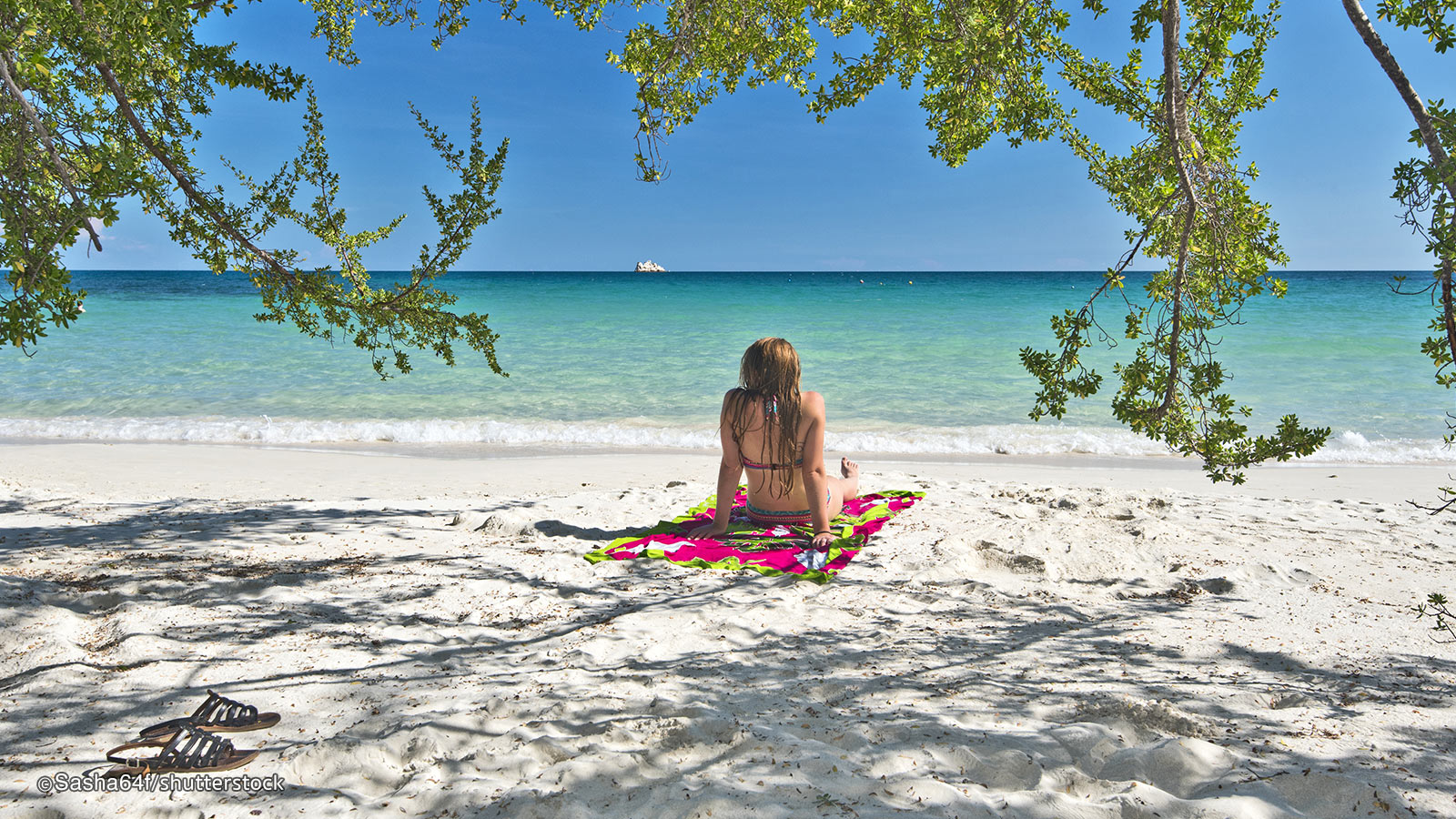 KoSamet is a small island in Rayong province that is a popular getaway for Thais and tourists. With its dozens of beach resorts, bars and restaurants on nearly every beach, there is even provision for camping if people want to do so. This island derives its name from the Cajeput trees that grow on the island called "Samet" in Thai. Tourists who visit this island are looking for unspoiled beauty that has plagued other often-visited islands. The weather on the island is excellent and it is also home to natural beauty and exotic wildlife species including monkeys, hornbills, gibbons, and butterflies.
Box 2
How to get there?
By car
Take Highway 344 from Chonburi and drive through Ban Bueng, NongYai, Wang Chan to Klaeng district of Rayong. From there you can either take a ferry or drive down to KoSamet.
By bus
You can opt for the second-class air-conditioned bus from the Bangkok Northern Bus Terminal (Mo Chit 2) on KamphaengPhet 2 Road to Rayong anytime between 4:30am to 4:30pm. From there you can drive down to KoSamet.
Where to stay?
Sae KaewResort
Address: 8/1 Moo 4,
TumbolPhe, AmphurMueng,
Rayong 21160
Tel : +(66) 038644195
Website: samedresorts.com/saikaew/
Tourist attraction:
Island hopping
When you are on a holiday, island hopping is a must! Rayong is made up of many small islands that are inaccessible on foot; it is advisable to take a speedboat to cover all these untouched islands that are close to each other. The islands that can be covered are KoTalu, KoKudee and Ko Man Nork – surprisingly, these three islands are the it-places for snorkelling.
Snorkelling
An excellent pastime, snorkelling is one of those activities that can be enjoyed by almost anyone who has access to the ocean. Admire the underwater marine life wearing the snorkelling gear! The three uninhabited wild islands are perfect for this activity.
Recommended Restaurant
The Zea Restaurant
Sae KaewResort
Address: 8/1 Moo 4,
TumbolPhe, AmphurMueng,
Rayong 21160
Tel : +(66) 038644195
Signature dishes
Baked lobster with herbs and lemon
Roasted duck with spicy Thai sauce
Fried fish with stir fried vegetables
TRAT
Trat is Thailand's eastern-most province, located 315 kilometres from Bangkok, bordering Cambodia along the KhaoBanthat mountain range, forming a natural boundary between the two countries. With many small and large islands ofwhite, sandy beaches and unspoiled coral reefs, this province offers delightful scenery and a number of tranquil hideouts for beach and nature-lovers. Director of Tourism Authority of Thailand Trat Office says, "Trat is a very important ruby-mining province, with the most famous gem market located in Bo Rai District, nearly 50 kilometres north of the Cambodian border. And shopaholics will be delighted to know that Trat has more markets for its size than almost any other town in Thailand due to bustling Cambodian and coastal trade."
Boundaries
North borders with Chanthaburi and the Kingdom of Cambodia
South borders with The Gulf of Thailand
East borders with The Kingdom of Cambodia (by the Banthat Mountains)
West borders with Chanthaburi (by the Welu River)
Ko Chang
Ko Chang, also known as the elephant island, is the second largest island of Thailand after Phuket. The island is a dream destination for budget travellers and families with a wide variety of affordable accommodation options and numerous gorgeous and tranquil beaches surrounded by crystal clear water. In addition to natural beauty, the island is also home to a wide range of wildlife, including native birds, snakes, deer, and even a number of elephants. The primary attractions on the island are the beaches, waterfalls, and other close neighbouring islands. With several fishing villages, a number of naval battle sights and some opportunities for diving and snorkelling,Ko Chang is both an interesting and relaxing place to visit.
Box 3
How to get there?                                                       
By car
Take Highway 344 and enjoy the scenic drive through Bang Na, Chonburi, Klaeng, Chanthaburi and Trat.
By bus
Take an air-conditioned bus, First Class (Po.1), the journey take approximately 5 hours.
Where to stay?
AWA Hotels & Resorts
6/5/1 Moo 4, Kai Bae Beach
Koh Chang
Trat – 23170
Tel:+ (66) 22616364
Website: awakohchang.com
Tourist attraction:
The Spa Ko Chang Resort
The first and finest health destination of Ko Chang, this resort offers the ultimate luxury fasting program. The main objective of this spa is to relieve people from the stress and strain of everyday life and to provide a therapeutic cocoon for them to recuperate in, in the form of the most tranquil, peaceful and idyllic paradise possible.
Ban SalakKhok Village
The largest and the oldest community, this fishing village is located on the southernmost part of this island. The villagers' main occupation is coastal fishery in a prime area that is sheltered from winds and storms by islands and mountains. There is also an old temple in front of the village known as WatSalakPhet built during the reign of King Rama V on his visit to the island.
Elephant Camp at Hat KlongPhraw
Don't miss out on elephant trekking on this island! A chair is tied on to the body of the elephant, which can comfortably seat two persons at a time. It is the best way to admire the scenic view from this land and also view the inlands, which is not possible on a vehicle. The elephant trek takes tourists through the forest, guided by the locals.
Snorkelling
The best way to admire and appreciate the underwater marine life of Rang and KoMak islands is snorkelling. The schools of fish that are underwater are beautiful and snorkelling is the best way to explore their natural abode.
Recommended Restaurant
Rimtalay Seafood Restaurant
Address: 199/9 Moo.1, LaemNgop
Tel: +(66) 081636 8137
Signature dishes
Soft shell crab with spicy Thai sauce
Shrimp fried rice
Fried fish with fresh herbs
Address:KlongPrao Beach,Ko Chang
Tel: +(66)039551300
Signature dishes
Scallops with basil and stir fried vegetables
Fish curry infused with coconut
Mango flavoured sticky rice