Chennai is known for its extensive range of restaurants and eateries. The city welcomes cuisines from all over the country as well as the world. But it also retains its traditional values in the form of food. With the aroma of freshly made sambar or the tempering of spices for a chutney, Chennai is a hub for the tastiest breakfast. 
Whether you've been living in this city for years or are visiting, there are a few recommendations that we have for you. There are a few names that ring when you talk about the delicious breakfast places in Chennai like Sangeetha, Sarvana Bhavan or Murugan Idli but the lesser-known places are what you have to try. Mini idlis dunked in sambar, Keera vadas or hot Pongal and Kesari, bookmark this list for future reference:
Mathsya:
Been in the city for over 7 decades, Mathsya serves South Indian, North Indian and continental food. It's a mix of cuisines but is known for its special breakfast items. It gained popularity as the place for Udupi food initially but has made its mark as one of the long-standing vegetarian restaurants in the city. Idli Sambar, Rasam vada, Neer dosa and filter coffee are a must-try here.
Cost for 2: Rs 950
Woodlands:
Another name that comes to mind when we talk about south Indian breakfasts is Woodlands. Its long-standing restaurant has been a city favourite for years. A must-try here is the Sambar idli, Pongal and vada, but their varieties of sodas are all better than the previous ones. The place retains its original charm and taste. 
Cost for 2: 350
Mylai Sri Karpagambal Mess:
Located in the heart of Chennai, Mylapore, this spot has been a well-known long-standing food joint. It's a modest mess that serves the same traditional breakfast that it's been serving for multiple decades. Nei podi dosa, Kal Dosa, Rava kesari, Mysore bonda , idli and degree coffee are not to be missed. 
Cost for 2: 200
Shri Balaajee Bhavan:
A family-run business, the restaurant is one of the top places for a traditional breakfast in Chennai. If you haven't had a chance to venture to this joint, it's time you tried their delectable sambar with idli, dosa and Pongal. In addition to this, they also have chat and tandoori items, a decision they made to expand the menu to cater to a wider customer base.
Cost for 2 : 100
Cafe Pramadham:
A lesser-known restaurant, Cafe Pramadham has been a city favourite for the locals for some time now. It may not feature in a lot of popular lists but it's a place close to heart for Chennaities. Their varieties of dosa range from Nellore nei karam dosa to white butter dosa or sambar idli to podi idlis, the food is homestyle and perfect.        
Cost for 2 : 500
Geetham:
A year ago, 5 branches of Sangeetha Veg Restaurant were rebranded as Geetham. There are 12 plus varieties of dosas available here and each one is a belter. A few favourites are the Ghee Dosa, Mysore masala dosa and rava dosa. In addition to this, one must try the 14 idli, the Pongal and the rava kesari. 
Cost for 2 : 900
ID:
Short for Idli Dosa, this is another one of our favourites for breakfast. It's a contemporary take on the South Indian breakfast in terms of ambience and style. But the soul is truly South Indian. A little high-end compared to the other mess-style eateries, ID is popular for its typical breakfast items like dosa, idli, vadas, Aapam coconut milk and certainly the coffee. 
Cost for 2 : 350
Ratna Cafe: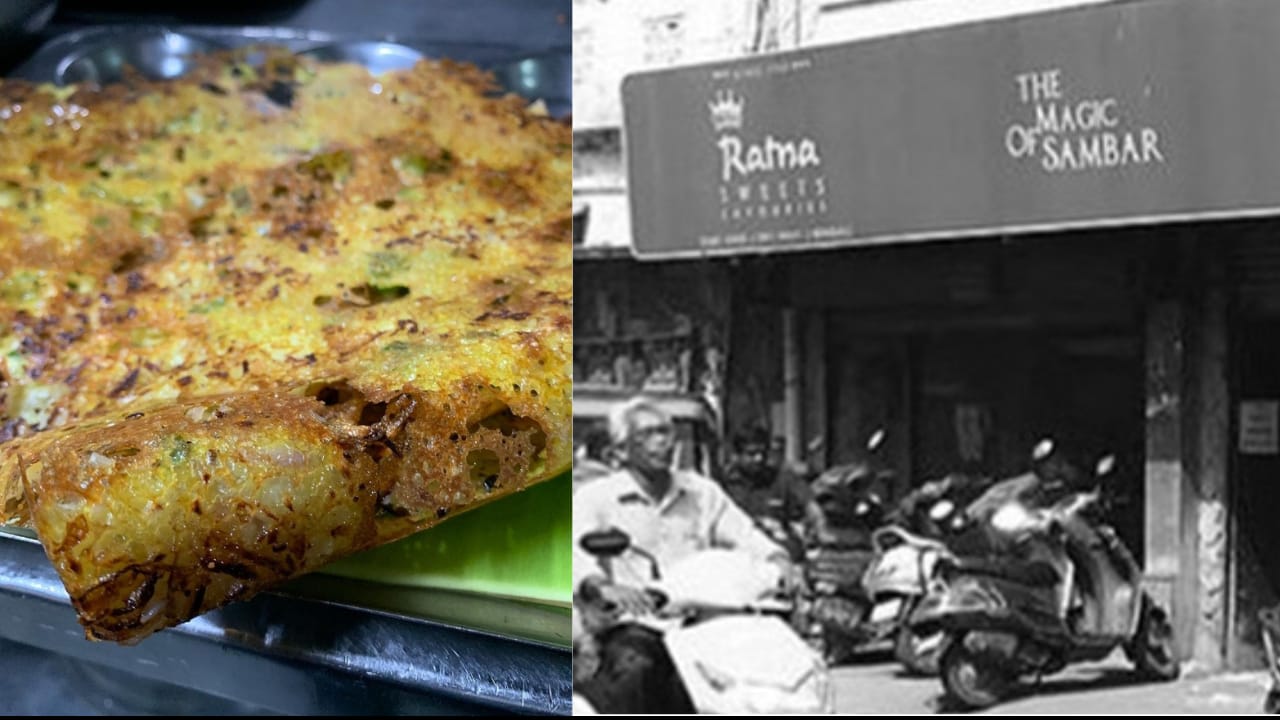 Ratna Cafe is an iconic breakfast place in Chennai. The sambar here is famous all over. People from all over come to Ratna to drink the popular sambar. Eat the usuals like the idli, Pongal, vadas and dosas with a side brown of sambar that you won't be able to stop relishing. A must-try when you come to Chennai!
Cost for 2 : 350
A2B ( Adyar Ananda Bhavan):
The Adyar Ananda Bhavan lovingly known as A2B is another breakfast hub that one must visit. Like the others on the list, It serves the traditional and authentic South Indian breakfast. The ghee Pongal or medu vada, poori masala or idiyappam kurma , one must eat it with a cup of Davara coffee!
Cost for 2 : 500