Chennai is a special place, it's an amalgamation of cultures with a tempering of modernity. It holds its traditions close but has embraced global cuisines and trends wholeheartedly. From the beginning, Chennai has welcomed all, whether it is people from different states or countries, or their food and cuisines. As a result, now Chennai has the finest of eateries. This week, we look at our city's must-visit cafés that have our heart and our seal of approval:
1. Chamiers cafe

Located at the heart of the city, Chamiers has the vibes of a typical English cafe. Very classy and cultural, the interiors will transport you to a different era. Their coffee and baked good are our special recommendation, but the rest of the fare on their menu is equally delicious. From a bruschetta platter to their pancakes and waffles, their food is one to try.
Cost for 2: 1000
2. Writers cafe

Writers Cafe, also known as Higginbotham's writer's cafe comes with a bookstore attached to it. The beauty of this place is its surrounded by a bookstore. A mix of salads, sandwiches, pasta and pizza rule their menu. What we recommend is the Flammenkuchen, a rectangle-shaped pizza from Germany that you can customise with your toppings.
Cost for 2 : 900
3. Fika

Spread over 10,000 square feet of area, Fika is one architectural delight. Known for its Scandinavian-inspired structure and interiors, this cafe in Adyar is one of the most happening places in the city. Their wood-fired pizzas are one of the best in the city. In addition to that, they also serve a mix of continental and Asian dishes apart from the usual cafe menu.
Cost for 2: 1200
4. Ciclo cafe

It's the first-ever cafe in India to be all about 'cycles'. The decor is inspired by the two-wheeler but the menu has nothing to do with the theme. A regular cafe-style menu, it consists of burgers, pizzas, salads, pasta, sandwiches, bagels and even main course plated meals.
Cost for 2: 1200
5. Kipling Cafe

If you're looking for a cafe with an outdoor view and a surreal surroundings, Kipling Cafe is the place to be. It's located on East Coast Road, so a long drive towards that side of town ensures some quality time is spent. The food is delectable, with a wide selection of cuisines and styles available. A luxurious find, a prior booking is a must before heading there.
Cost for 2: 3000
6. Coffee Since 1999

This cafe located in the bustling street of Kadar Nawaz Khan Road is always full. It goes to show the popularity and the loyal customers it has gained since its opening. They opened this place in 2021, post-pandemic to create a community space for people to hang out while having a cup of super delicious coffee.
Cost for 2: 1400
7. The Brew Room

The Brew Room is one of Chennai's most sought-after cafés known for its cosy setting and delicious grub options. It's located in The Savera Hotel's garden. It's famously known for its hot chocolate, 8 different blends of coffee and decadent brownies. You can drop in at this cafe as early as 7 AM for their All Day Breakfast, or as the name suggests, you can drop in anytime.
Cost for 2: 1400
8. The Board Room

Looking for a cafe to lounge and also play some board games? The Board room cafe is popular for perking up a rather simple coffee date. You can grab books to read or choose a game to play here. A great ice breaker for a first date, a great activity centre with kids or to just hang out with your bunch of friends. Their iced tea, milkshakes and paninis are a must-try.
Cost for 2: 850
9. Amelies Cafe and Creamery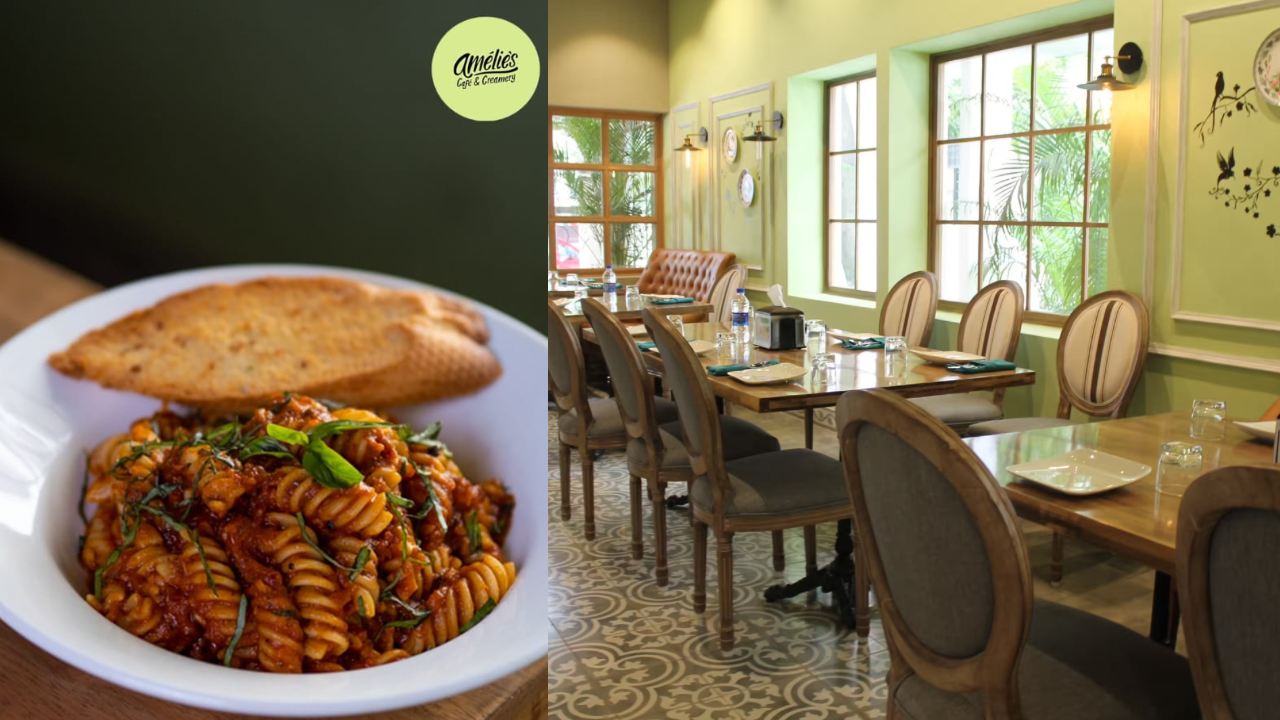 A cute little cafe situated on Kasthuri Rangan Road, Amelies is a colourful and tastefully done cafe. This place is popular for its in-house ice creams that you can relish in their freshly baked waffle cones. Apart from this, they also have a huge selection of pies, pastries and other baked goods. While it is known for its dessert selection, its savoury dishes are also really good.
Cost for 2: 1100