Denims are the ever comfortable pieces of clothing, that can be worn throughout the year, and it will never be considered out of fashion. Interestingly, Jeans were invented as pants or overalls for physical work, to ensure that they don't require much washing, and also so they don't wear off easily. The inventors of Jeans would never be able to believe that today the material is associated with fashion and that we have found so many ways to style it. Let's narrow down your shopping picks to the only quintessential that'll you'll wear more than once and style from desk to dinner.
1)Wide-Legged Jeans: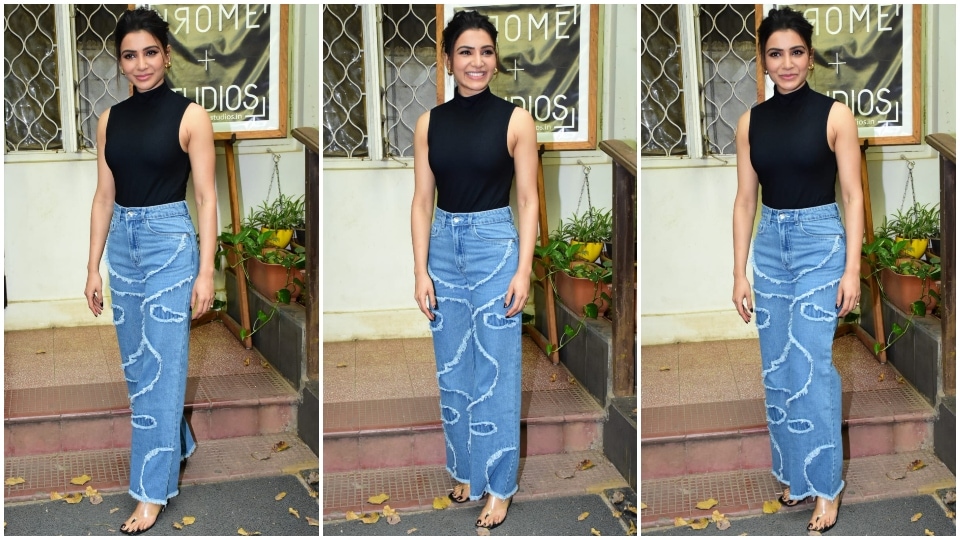 The wide-legged jeans always goes with crop tops or simple t-shirts. Styling a wide-legged jeans is very simple as you can go for a very simple, preferably black top to go with your jeans. Add in a single pendant necklace and heels to complete the look!
2) Skinny Jeans:
Skinny Jeans goes with any kind of top and can be counted as your go-to jeans. It goes best with button-down shirts, especially plaid shirts, that can either be buttoned up, or can be worn as an overcoat with a tank top inside. Pair these with either comfy sneakers, or flats to suit the look best.
3) Jean Overalls:
If you're tired of pairing your jeans with tops and t-shirts, then overalls is your answer. You can either wear a plain white or black sports bra or short sleeve t-shirt, and wear your overalls on top. Just like Rashmika, you can even go for a fun casual look by buttoning up only one side. Always wear white sneaker shoes along with overalls, to make the look complete.
4)Skinny Crop Jeans:
Skinny crop jeans are similar to Skinny jeans, except that these end at your shin. Typically these go with lace tops, sweatshirts and are deemed to be a casual wear. These jeans are your typical Airport wear, and go with backpacks or knapsacks. Sliders and flip-flops are the perfect footwear that go with these jeans.
5) Boyfriend Jeans:
Boyfriend jeans give you the 'sunny day on the beach-side' kind of vibes! With a cute fold at the bottom, these sometimes also look like jogger jeans for a last-minute look. A tucked-in sleeveless top compliments this type of jeans. Go with sports shoes for this look.
6) Ripped Jeans:
Ripped jeans, torn jeans or stone-washed jeans are the piece of denim you have to own! You can literally style these jeans with any kind of top including tunics and Kurtis. They go well with cut-shoes or just sandals as they are a no-effort fashionable look!