The year has officially come to an end. 2022 was a year full of possibilities and opportunities. While we bid adieu to this year, let us also have a look at what made the news this year, fashion-wise. A lot of events and promotions made sure our favourite celebrities put their best fashion foot forward. From serving classic saree looks to an understated airport vibe, this year's trends saw a shift.
A lot of fashion is inspired by the mood of the year. This year particularly was a mix of high fashion glam and relaxed-carefree silhouettes. You would see celebrities wearing haute couture on one end and spotted in athleisure in another picture. There was something for everyone. Celebrity weddings, promotions, festive celebrations, award ceremonies- we had a Red carpet rolled out everywhere. Winding up with this year's most popular trends, here are our top picks:
Pink Paradise

A colour that's very close to our Indian roots, Rani Pink saw an international rise. With designers launching their latest collections in the shade, the market was flooded with this colour. Indian weddings have always seen this colour in plenty but this time, the celebrities were spotted wearing the colour on red carpets as well.
Baring the midriff

A trend that was high on the rise was the midriff exposing one. Crop tops have been dominating the fashion markets for years now but this trend has been captured in the high fashion space as well. A fitted bralette with a pair of loose pants, a co-ordinates set or even a gown with an exposed midriff was seen quite often.
The Wednesday Effect

Wednesday Addams broke the internet with her famous dance sequence on the show. To add to her popularity, the look was adopted by a lot of followers. Goth chic has been a part of the fashion circle but this time, it was accepted more widely. The black outfits, her hairdo, her makeup and even her mannerisms were loved by the audience.
Low-rise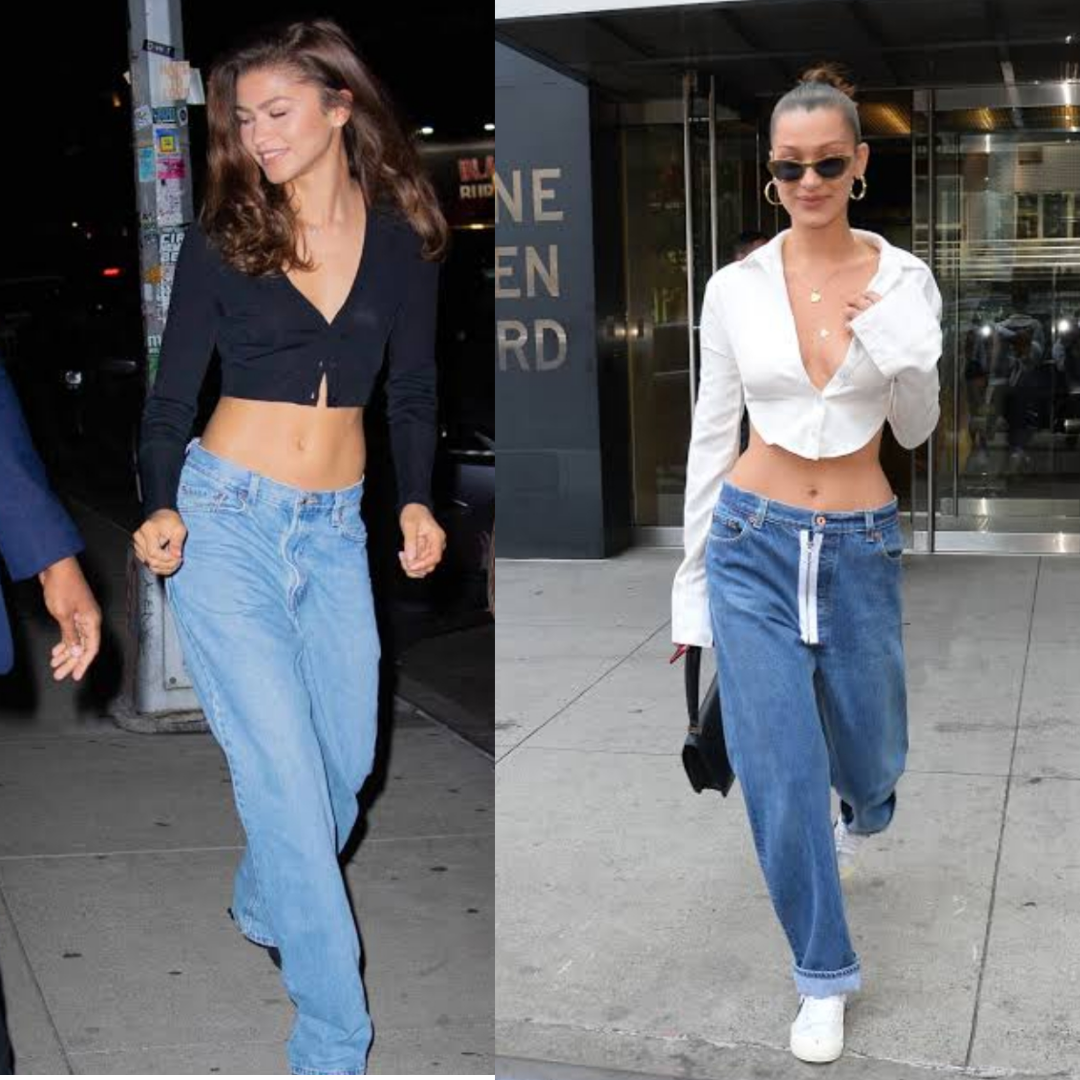 Unbuttoned jeans and trousers were seen as a quirky trend but slowly gained popularity among fashion girls. Low-rise trousers, skirts, shorts and jeans paired with short tops or a loose jacket were the ultimate millennial vibe. Influencers harnessed this trend and brought it to the masses.
Oversized blazers

Oversized blazers were a fashion movement in itself. Strong shoulders, long sleeves and big garment accessories add a fierce look. Celebrities wore this trend with high-definition make-up and complementing hairdos to make the blazer the focus of the look.
Metallic

Since the Met Gala and Cannes film festival, the metallic ensembles were a hit. When Natasha Poonawala wore the spectacular Sabyasachi saree for the Met Gala's red carpet, it was a fashion moment. Followed by Deepika Padukone in a shimmery saree for her Cannes appearance, the trend took momentum. Then on the red carpets, at weddings and events, a lot of shimmer and shine were seen.
Statement sunglasses

Accessories were game-changers this year. From Khloe Kardashians Chloe sunglasses to Ranveer Singh's retro ones, the eyes became the talk of the town. Statement shades add a dimension to your look. It was a smart accessory to play with and gained a lot of attention for its unusual shapes and sizes. We love the trend and hope to see crazier versions of it in the coming year.
The Carefree Look

Loose baggy pants with a comfortable shirt or matching separate in a relaxed fit, the trend was a favourite among the actresses. A stark opposite to the body on dresses and yoga pants, the carefree look was all about curating comfortable fashion choices. We enjoyed seeing our favourite heroines taking this route and rocking their ensembles with coolness.
Socks and Sandals

Certainly not one of the high-scoring trends, but a popular one nonetheless. Birkenstocks with socks were seen everywhere whether you like it or not. It's not one that ranks high style-wise but probably is one of the more comfortable trends from this year. 2022 saw a clear amalgamation of luxury and comfy in this form. The slip ones are of the most bought products this year and are gaining more popularity as you read this.