Chanel bag, Burberry scarf, ruffled skirt, bralet crop and so much more. Here's what our favorite stars wore last week. We had our eyes set in tropical prints, and fitting silhouettes! While few slayed their outfit, not all made it to our 'yay' list. Scroll down to see our verdict.
Hansika Motwani
This topped our favorite look of the week. The sporty shoes, the party-ready Channel bag, the formal stockings and scarf, and the casual dress; we really are not able to place the whole look into one occasion. But the outfit just falls together with all its clashing style elements and looks chic.
Verdict: Style-clashing – yay!
Samantha Akkineni
The designer jumpsuit from Saaksha & Kinni has the most interesting colours put together. Pink, green, mustard, blue all set in pale grey. The angular print is also a refreshing touch  to the usual stripes. paired with the classic golden hoops and blue eyeshadow the look is perfect to re-create for a day out or even into a work-wear.
Verdict: Works! – yay!
Shriya Saran 
A go to vacation outfit, Shriya pairs a classic plain white Hakoba shirt with a fun tropical printed shorts. The outfit captures the mood of the vacation and also looks super comfortable. The little detailing at the neck adds to the charm of the outfit.
Verdict: Charming and comfortable! – yay!
Raiza Wilson
The grey tank top does not do justice to the super cute coral ruffled skirt. The outfit looks good separately but is not paired to perfection. The fix of the top also looks a little off and could have been just a little more fitting.
Verdict: Misfit!
Raai Laxmi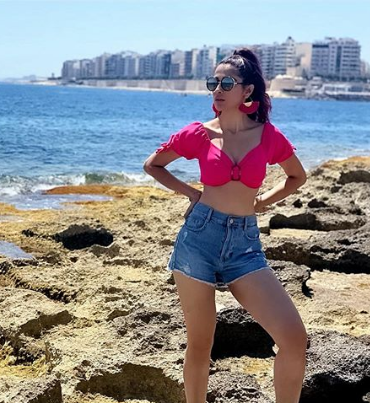 While we love this celebrity's shade style, this whole outfit is coming off just a bit tacky. The shorts don't go with the bralet and the accessories. The whole outfit would have worked better with a dressy bottom wear.