Disney has a very unique and grand fashion league for its Princesses. The kind of clothing and designs that are adapted for Disney Princesses are completely capable of leaving a mark, and almost always sets a brand for the character. An example that comes to mind immediately would be how Cinderella is always associated with her big blue gown and glass shoes. However, Disney fashion is completely western and modern. It would be a fun perspective to see what the Desi version of Disney fashion would look like. Here's an idea of Desi Disney Fashion with our popular South Actors:
Samantha as Aurora:
If Aurora's padded off-shoulder pink gown is to be made Desi, then this look of Samantha in a Pink crystal mirror-work lehenga would be the perfect match. This Lehenga adorned by Samantha has minor Swarovski details that make it a perfect Desi version of the Aurora gown, which also has crystal work. 
Fashion Tip: Since the Lehenga is already crystal-studded, you can go minimal on Jewelry. 
2. Malavika Mohanan as Belle:
After Belle is abducted by The Beast, her colours change from Blue to Yellow, with a tinge of red that comes from the Rose in her hand. Malavika Mohanan's Yellow Saree look would make the best Beauty, because of the simple yet elegant cotton saree. Although it is plain with a simple Red border, it completes the Belle look because the pleats of the saree look exactly like the layers of Belle's gown. 
Fashion Tip: Wear Temple jewellery with this plain saree as it will enhance the look even more. 
3. Nithya Menen as Jasmine:
Jasmine is a Disney character who already has Middle-Eastern roots, which is very similar to Asian fashion. A perfect parallel to this Indo-western suit of Jasmine is Nithya Menen's light blue Lehenga with an ethnic coat. The floral prints and the flowy trail make it a Desi counterpart to Jasmine's look. Her accessories are also similar to that of Jasmine, which makes it all the more real. 
Fashion Tip: Style it with a matching Maang Tikka, just like Jasmine.
4. Rashmika Mandanna as Mulan:
Mulan is another Disney character with Fashion references from Asia, as the character itself is based in East Asia. Rashmika's light green Silk saree will make the best costume for the reprise of Mulan's character in India. As Mulan's dress is an ode to the traditional costume of China, Rashmika's Silk saree will act as a recognition of India's saree tradition. Rashmika's choker necklace adds more grandeur to the look.
Fashion Tip: You can also pleat your saree to get a chic and classy look. 
5. Pooja Hegde as Rapunzel: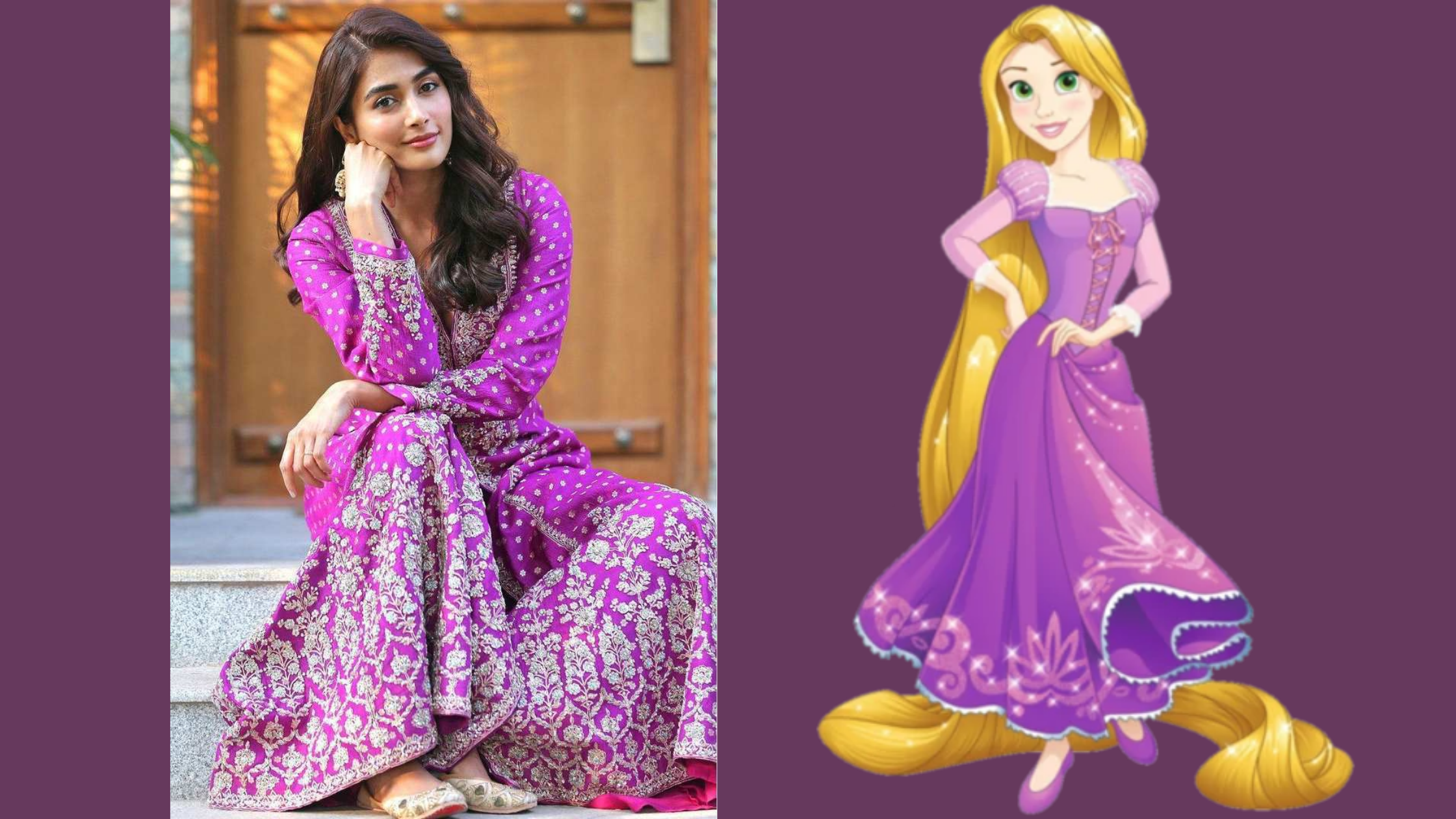 This Aari-work Anarkali suit that Pooja Hegde has adorned is exactly how an Indian version of Rapunzel would be styled. The Aari embroidery work is imitative to the border work in Rapunzel's gown. The Mojari cut shoes that Pooja is wearing is a nice Indian twist to the typical purple cut shoes that Rapunzel is wearing. The only missing factor is the puff sleeve in Pooja's suit. 
Fashion Tip: Wear a single white stone stud earring and ring along with this grand Anarkali suit. 
6. Tamannaah as Merida:
This metallic winged saree of Tamannah is the most Indo-western way of remaking Merida's look from Brave. Tamannah has also styled it with a sleek sleeveless sequin blouse, and the saree also has ceramic beads through the length of the body of the saree. Tamannah's curls also make the look complete as a more enhanced version of Merida's simple look. 
Fashion Tip: Wear a dark green bracelet on your right hand to ensure that the look is perfectly accessorised.
7. Kalyani Priyadarshan as Cinderella:
Cinderella's look at the Ball is the look we all remember to date. Kalyani's net saree with a turtle neck sleeveless blouse summarises the Indian version of this look perfectly. In addition, Kalyani has made it cuter with a belt that holds the ruffles of her saree together. This net saree is a perfect match for Cinderella's layered gown, as Kalyani would make the perfect Indian Cinderella if she were to run from the Ball. 
Fashion Tip: Wear clear-heel footwear to replicate the Glass shoes look. 
8. Anupama Parameshwaran as Snow White:
The traditional Indian Silk generally has Mustard shades of yellow, more than the light yellow shades. This silk saree look of Anupama Parameshwaran is a re-imagined version of Snow White with a traditional Indian look. While Snow White is associated with Yellow, Blue and Red, Anupama's saree slant towards shades of green, giving it a more revised look. Anupama's long curly hair also reiterates the Indian roots of the look. 
Fashion Tip: Pair this saree with Kundan-work Jhumkas for a richer look.
9. Ritu Varma as Tiana:
Tiana's costume is considered to be one of the most elegant looks in Disney, originating from the typical British Ball Gown. This Sharara suit that Ritu Varma has been styled in is what one could wear to a Desi Ball. The Dupatta of the suit can somewhat be considered as a parallel to the gloves. Her mega-sleeved top with floral embroidery all along gives it a more Indian touch to British party wear. 
Fashion Tip: Wear sandals matching the colour of the Dupatta for a simple yet solid look. 
10. Kajal Aggarwal as Moana:
Moana's look is inspired by Tribal clothing. This Anarkali suit look of Kajal Aggarwal, with floral embroidery for the bodice, resembles the bralette that Moana is styled with and perfectly matches the earthy, nature-related theme the movie focuses on. Similarly, the white flow of the net Anarkali is just like Moana's skirt. Kajal's choker neckpiece is a different way to style Moana's pendant.
Fashion Tip: Leave the tresses of your hair open to complete the look.