Travel must enrich the mind, amaze the senses and rejuvenate the soul. It should broaden your vistas, remove prejudices, show you new cultures and different ways of living. To satisfy these spiritual demands and more, look no further than Bhutan!
Most of us are aware that it is the only country in the world to measure its productivity in terms of Gross National Income (GNI), but there are other aspects that make this country truly singular. It has a carbon negative footprint, has fought no wars and is the world's youngest monarch. While most of the world has sunk into material hedonism and promotes unsustainable lifestyles, Bhutan holds a beacon and shows us the way to lead a more empathetic, sustainable and fulfilling life. This unconventional thinking is reflected in its architecture, its cuisine, its people and its landscape. You'll know what we mean when you check out this list of places and things to look out for in your next holiday in Bhutan.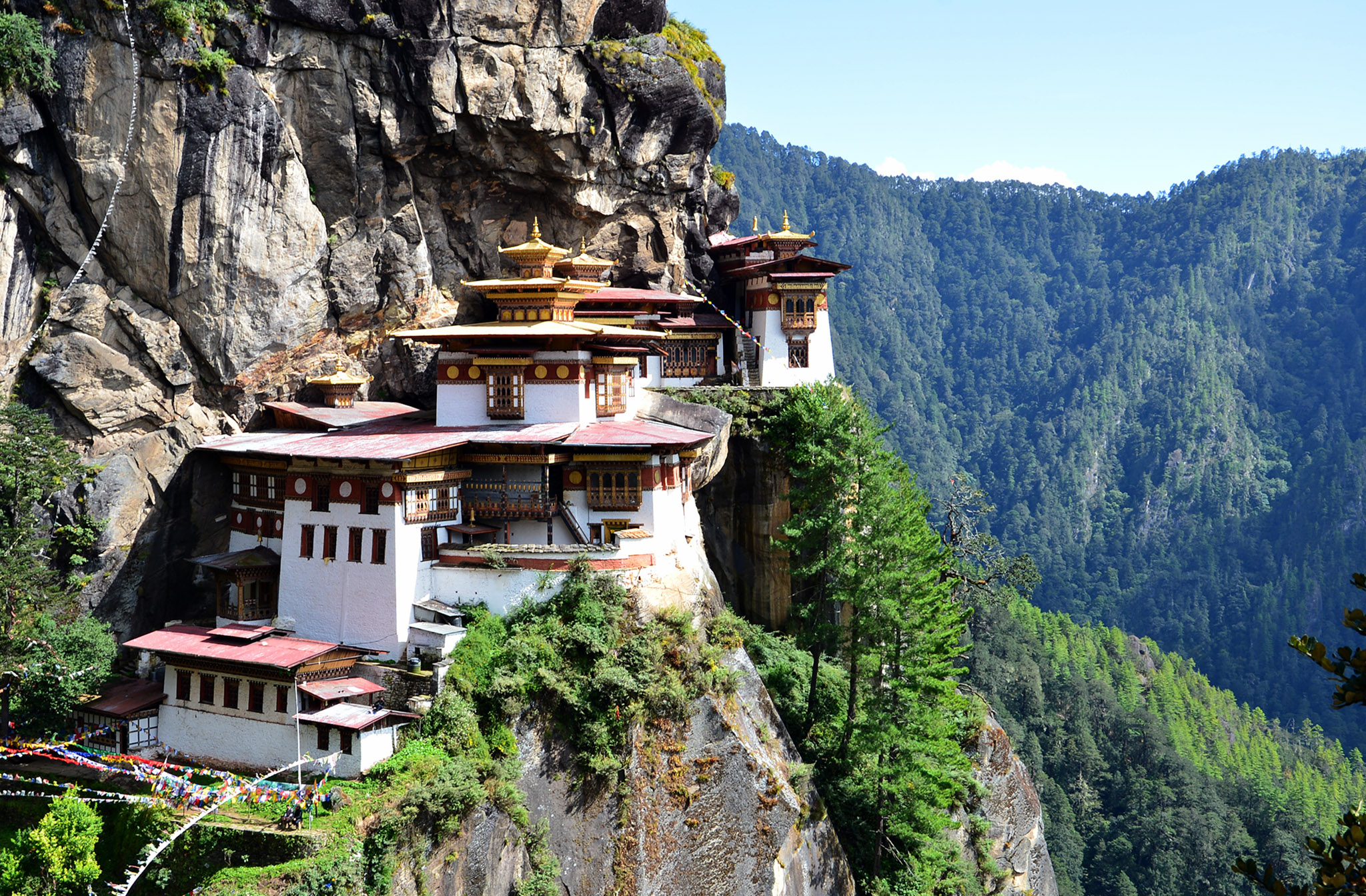 Paro: It is home to the country's only airport and derives its name from the Paro River that gurgles its way from the snowy Himalayan Mountains. Tiger's Nest or Paro Taktsang is the most famous landmark in all of Bhutan. It is a cliff-side temple complex built in the 16th century by Guru Padmasambhava though it existed as a cave for meditation much earlier (the cave is still found deep under the temple complex).The trek to Tiger's nest is scenic as well as arduous; it involves climbing uneven terrain and hundreds of rough rock-hewn steps. It is the dense pine and rhododendron covered hills provide ample oxygen and inspiration to keep going.
Kichu Lhakhang is another picturesque temple built by Emperor Songstan in the 7th century and is believed to hold several treasures. There is an orange tree in the central courtyard that is fruit laden throughout the year.
Rinpung Dzong (temple complexes built in typical Bhutanese architecture which serves as administrative, residential and religious units for the monks ) is an impressive fortress-like structure built on the banks of the Paro river. The inner walls of the dzhong are decorated with colorful and detailed images from Bhutanese/Buddhist mythology. At certain times of the day, the sound of Buddhist chants accompanied by the music of local instruments can be heard and it is a mesmerizing experience.
The National Museum provides a glimpse into the cultural, ethnic, geographical, botanical and zoological diversity of Bhutan. The dance forms, costumes, and their significance are explained through videos and displays.
Chele la Pass at an altitude of 13000 feet provides stunning views of the sacred Jomolhari and Jichu Drake mountains. While at Chele La taste the salty Yak milk tea and other local delicacies sold by villagers from the neighboring Han valley.