It's not everyday that we see badass female characters in Tamil movies. Most of the time, women in the movies are limited to lovers, sisters, or mothers. Unless the movie is "women centric" we don't have any strong characters or characters that leave a mark in the minds of audiences. The tropes reserved for women in the Tamil cinema are quite limited unless it's centred around her story or her struggle. But there have been movies where women were give their due, some grey and flawed characters have made it to the big screens. They were not damsels in distress nor warrior princesses, their characters are layered and they don't do the right thing always. They might be portrayed as villains in most movies but we liked the performances that these actors gave and have made an indelible mark on our hearts. They have their own way of live and they are unapologetic about it. Listing down our favourite characters that defined the word 'badass' for us :
Neelambari – Padayappa
Ramya Krishnan as Neelambari portrays an  antagonist who is strong, confident, and ruthless. Her character is known for its fierceness and determination. Neelambari is probably one of the best roles of Ramya in her career. This Antagonist not just gave a hard time for the lead and his family in the movie but also questioned, took a strong stand against Patriarchy. One of the famous societal myths broken by this character is that arrogance and self-sustaining are not associated with women. She was shown to be quite a negative character but what struck a chord was the fact that was a boss woman. She won our hearts by breaking all the stereotypes set by society and patriarchy for women.

Aruvi – Aruvi
Aruvi is a complex and powerful character who undergoes a transformation from a vulnerable individual to a resilient and fearless woman. The film addresses several societal issues. Aditi Balan's portrayal as a complex and compelling protagonist really defined her acting career.  She undergoes a transformation from a vulnerable individual to a resilient and fearless woman. Aruvi's character is a powerful portrayal of someone who challenges societal norms and discrimination, and her journey is central to addressing various social issues in the film.

Easwari – Thimiru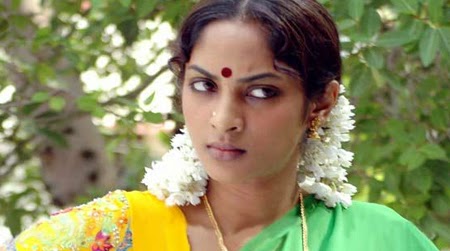 Easwari is a fearless, bold, and fierce woman who is involved in the world of gangsters. Her character stands out for its assertiveness and strength in a largely male-dominated setting. Throughout the movie, Easwari showcases her toughness and her ability to handle the situations she's thrust into. Her character is crucial for the development of the plot and adds depth to the narrative.Sriya Reddy's performance as Easwari was lauded for bringing authenticity and depth to the role, ensuring that her character was both memorable and significant in the context of the movie.

Subbu – Aaranya Kaandam
Subbu, initially portrayed as a hapless victim, cunningly orchestrates a plot to take down her gangster husband. She forms a surprising connection with an aide, Sappai, leading to a convenient love story. When a confrontation over missing money puts Sappai in danger, he unexpectedly becomes the hero by eliminating the gangster. However, Subbu shocks everyone by revealing her true intentions as she shoots Sappai. With a sly smile, she retrieves the money and departs the city. In this twist, the girl outwits them all, proving that it's not just a man's world. Yasmin Ponappa played this part to perfection, a role that most would have declined for its flawed perspectives and actions. 

Geeta/ Smitha – Pachaikili Muthucharam
Geetha and Venkat, two seemingly compatible souls facing the strains of life, form a unique bond. Initially, it appears to be a connection based on shared struggles and empathy. However, as their interactions evolve, it becomes clear that Geetha's intentions run deeper. A shocking twist reveals her sinister side as she orchestrates a violent deception, leaving us astounded by the complex web of vice and seduction she's woven. Geetha is not the typical innocent female character. She gets involved with Venkatesh deceiving him into an illicit relationship, only to later blackmail him. Jyothika's portrayal of Geetha showcases a darker, more mysterious side, which was unique compared to many of her earlier roles.