Dear Turtle neck top,
Love comes in many forms and one constant love tale is between a girl and her clothes. This love is so pure and trustworthy that once the girl lays her eye on the fashion piece, she would never let it go irrespective of its old age, bruises, tears, fade of color, etc. This love is a bit complicated too as with too much love to give it isn't restricted to one clothing piece alone. Fashion has also evolved and becomes worthy of our love. They try to adapt and tune themselves as per their better half's desires.
Over the years, many types of clothing have come, evolved, gone but one constant, and everyone's all-time favorite piece would be the versatile Turtle neck top. To privilege you, here's a love letter from every fashion lover. You have not just saved us from a cold day but also from a fashion miss or sometimes even motivated us by making a bold statement.
We address you with different names like mock neck, polo neck, etc. You come in several facades and we love it all! We celebrate you so much that there is not one girl's closet you cannot find yourself in. Here are a few proofs of how we showcase our love and adorn towards you.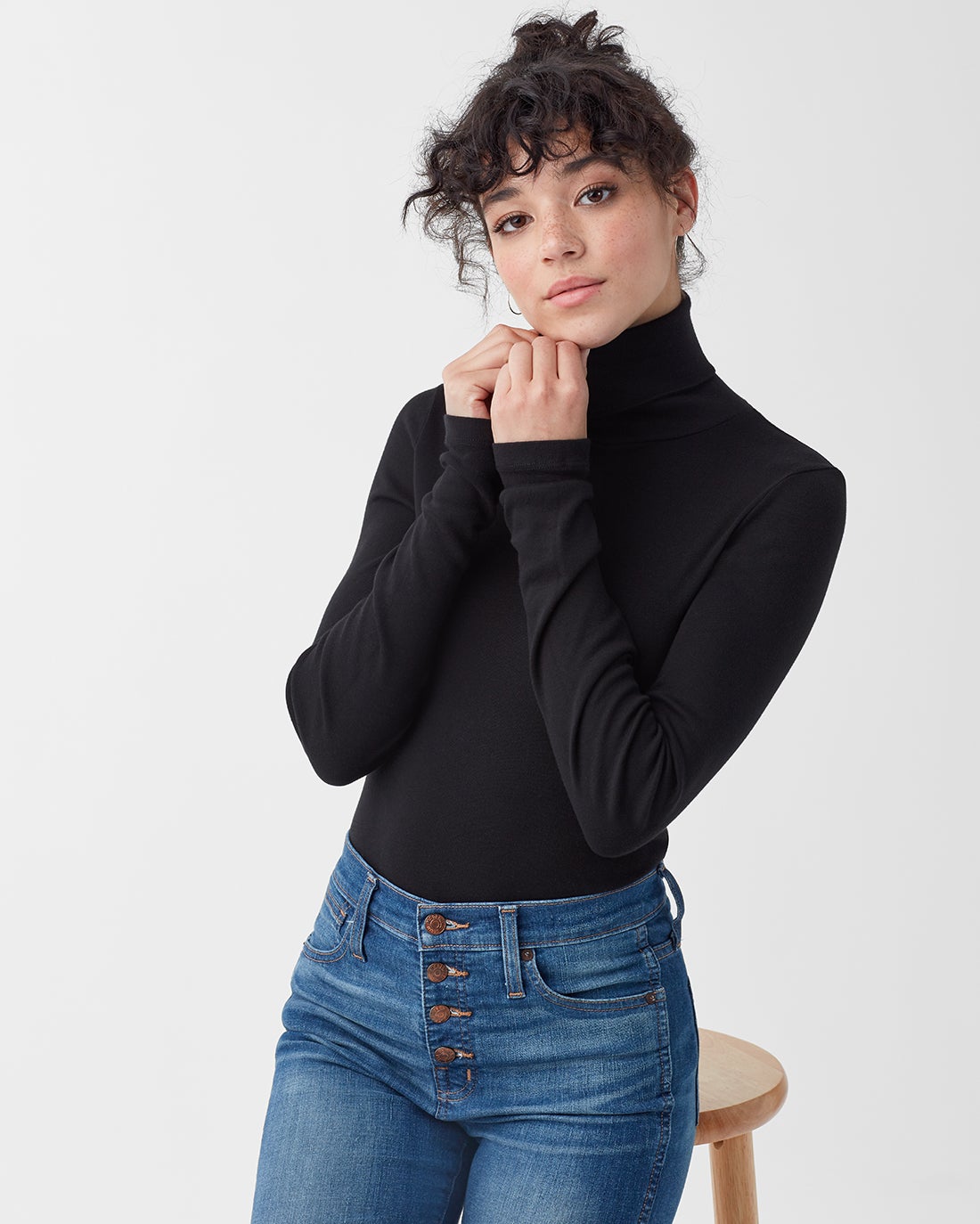 Classic Turtle neck
There's the go-to choice, the classic turtle neck which not only goes with every outfit but for every occasion there is. This cloth is generally styled with high-waist jeans, skirt, or even worn inside a dress during a cold day which gives the lead of a romance novel vibes. This piece has the power to lift our fashion game any day when styled properly. This piece lets us play with our creativity that it can be paired up with a scarf, tote bag, saree, denim jacket, and many more.
Most poplar look: Black turtle neck top paired with blue high-waist jeans accessorized with a gold statement earning or necklace.
Pullover Turtle neck sweater
Unlike the classic turtle neck top that hugs your body, this winter fashion piece is a choice for every comfort clothes lover. Comfort clothing has gained much traction over the pandemic especially for its level of comfort and style associated with it. This is a perfect choice for a cozy day and weather. This sweater comes in many materials, patterns, and colors that are a huge hit among the homies.
Most popular look: A grey oversized cropped turtle neck woolen sweater paired up with a black beret hat and a legging.
Lace turtleneck top/dress
You know what? There's a misjudgment that you just fall under the casual look but this form of yours breaks such stereotypes. This cloth is widely chosen for an ethnic or an elegant event or function. These sheer dresses or tops are also pretty versatile, it can be styled as a blouse with a saree or as a top under a jumpsuit.
Most popular look: A pastel sheer turtle neck crop top paired with a dark-colored heavy saree.
We try our best to make you shine and glam your way to the upcoming decades. Hope we celebrate you and style you as you desired.
Hoping to hear from you soon!
With love,
Another Fashion lover!