Remember the time when everybody scowled at thick eyebrows and always favoured meticulously thin ones? Guess what, thick eyebrows are fashionable again and everybody wants them! From shaping them up to perfection to making them appear thicker and growing them naturally, celebs have brought it back in vogue and we couldn't be more grateful. There's something beautiful about thick, nearly undone eyebrows, giving a more raw appeal. So fret not if you have thin eyebrows for there are absolutely easy and safe ways to thicken them.
Avoid threading for sometime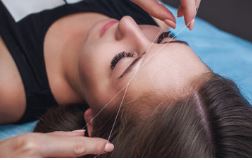 While your regular beauty routine might include plucking and threading, avoid doing it on the eyebrows for a few months. You can take off the extra ones that grow between your two brows but, otherwise, if you let them grow for a little while, they will naturally get thicker. When you think it's enough, head to a professional beautician who will ensure only the extra hairs are removed, and voila! You have yourself a pair of naturally thick eyebrows.
Eyebrow pencils and shapers
With so many beauty products to choose from, you have everything covered right from the thickness of the pencil, the colour, the brush, and what not. Head to a recognised beauty product shop and try it out before you buy them. Let a professional teach you how to carefully shape them and not overdo them, thus making your eyebrows look more thicker, darker, and yet, completely normal.
Coconut oil
There are so many benefits of virgin coconut oil so it should never disappoint you when you have many of these bottles lying around at home. It is believed that they help in improving your skin and the quality of hair. Similarly, if you dab some on your eyebrows every night and wash it off the next day with warm water, the results will appear in a few months. Albeit a slow process, it's still worth it.
Eyebrow extensions
Yes, it sounds odd but it is a trend that's slowly catching up and is extremely popular in Korea. Eyebrow extensions come with a gel and teeny tiny hairs and a brush. So you mix the gel and hair and carefully shape it around your eyebrows. The key is in the technique and if you manage that, then you have nothing to worry about. But the product is not for everybody, so be sure you have a back-up pencil in case this doesn't work.
Fenugreek seeds
Being rich in protein and lecithin, fenugreek seeds help in rebuilding hair follicles. All you have to do is soak them for a few hours in water, then make them into a paste with coconut oil and then apply it on your eyebrows everynight and wash it off the next day. While the smell might be a turn off, the results certainly won't!