Want to do something fun this weekend? Don't want to travel too far or spend too much? There are quite a few fun ways to spend your weekend, here, in Namma Chennai itself. If you like some adventure and adrenaline-pumping activities, here are 5 things you can do with your friends or family in Chennai this weekend!
1.Craash in Express Avenue Mall:
The new entertainment section of the Express Avenue Mall is the place you should surely visit with your family this weekend. This place is for all age groups, as a little bit of a child always exists in you. Craash is a gaming city that is not like any usual gaming avenue in Chennai. In addition to the usual gaming consoles, Craash has a Snow Land, an artificial snowing city where we can enjoy chills and shivers that we seldom experience in Chennai. It also has a small indoor cricket patch and indoor hunting and carnival games. If you have small kids, they will enjoy this place even more. After a day of gaming, you can also do some shopping around the mall before heading home!
2. G Sector Lazer Tag:
For all those who don't know what Lazer Tag is, it is a recreational shooting sport where participants use infrared-emitting light guns to tag designated targets. It is like a game where we shoot targets in front of us. If you just want a day of adrenaline-pumping, then G Sector in Nungambakkam is the place to go. You need a minimum of three people as three is a company. You can have a maximum of 10 people, paying 250 per head for 15 minutes. This is the best activity to do with friends, as you can run around having the most fun shooting each other.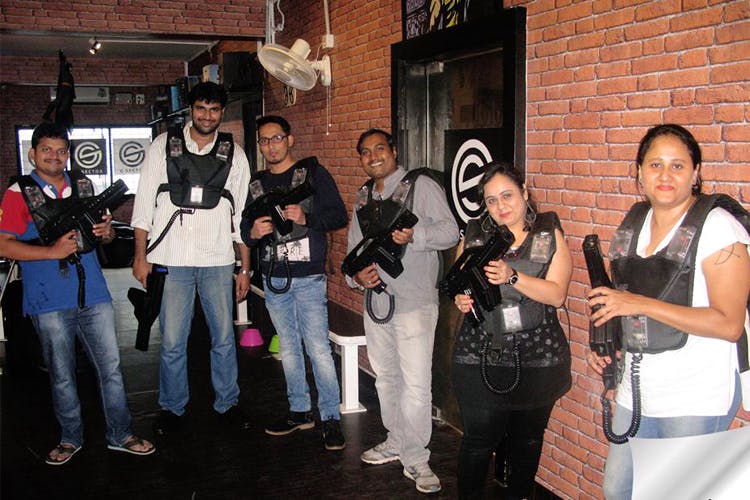 3. Freeing India:
Are mystery and thriller your favorite movie genres? Do you love a good crime drama? Do you put on your detective cap every time you watch a murder mystery? Then Freeing India's escape rooms are the best place for you to spend your weekend at. Situated in Nungambakkam, this place has 11 differently-themed rooms, each different mystery for you to solve. In addition, this is the perfect place for you to go with your colleagues as you all have to work as a team to solve the mystery. You can blow off the steam and bond over some detective work rather than your day-to-day job. Head to Freeing India and solve some badass mystery together!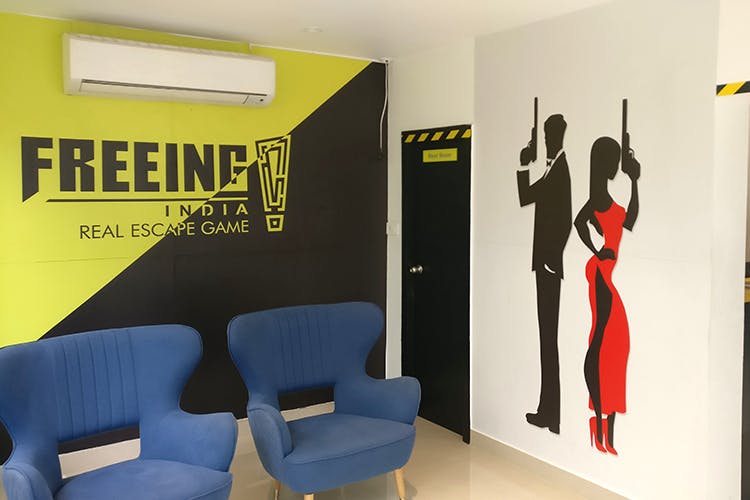 4. Dugout Chennai:
Dugout Trampoline and Sports Arena are the biggest Trampoline parks in Chennai, located at Grand Square Mall, Velachery, and Marina Mall, OMR. It is basically a massive trampoline park but also has a small zip-line facility and badminton court. If you are worried that jumping is just for kids, don't forget to bring out your own inner child. Jumping all day could help relieve all the daily life stress, and rejuvenate in a different way. You can go with family as well as with friends to jump your worries away!
5. Scuba Diving at the VGP Marine Kingdom:
Love Scuba Diving but can't afford a beach vacation? Then the VGP Marine Kingdom is the right place for you. They offer the right amount of training and ensure that you're healthy and brave enough to dive. So, the experience is fully safe and secure. The activity is however available only for those above the age of 12 years. You don't need to know how to swim for this activity and this place is open all through the week. In addition, you can also walk around the Marine Kingdom and drown in the world of fish and other marine animals. Make your scuba diving dream come true with this option in Chennai itself.