The 3rd Edition of the JFW Movie Awards turned out to be a memorable and unforgettable evening with the best of the talents seen under one roof. The sets were chic and extravagant and the whole atmosphere was filled with a celebratory mood for this one-of- a-kind award show.
The JFW Movie Awards presented by Twin Birds and Powered by Tamil Matrimony, Co-presented by Prithvi inner wears, Colour Partner Nippon Paint, Associate sponsors Amrutanjan Roll-On, Lakshmi Krishna Naturals and Supreme Furnitures was held on March 13,2021 to award the winners in Tamil Cinema under various categories for the films of 2020. The highlight of the JFW Movie Awards is that it is the only awards with the highest women based categories in Cinema.
The event witnessed a huge lineup of the best of the best from the Tamil Film Industry. Among the awardees and presenters at the event were actresses Simran, Aishwarya Rajesh, Simran, Sneha, Vani Bhojan, Aparna Balamurali, Poornima Bhagyaraj, Gouri Kishan, Ritu Varma, Parvathy Jayaram, actors Jayaram, Prasanna, Arun Vijay, Shantanu, Kalidas Jayaram, Ashok Selvan, Directors Gautham Vasudev Menon, Sudha Kongara, Arunraja Kamaraj,  Halitha Shameem, Cinematographer PC Sreeram,  Actor/Director Bhagyaraj,  Singers Srinivas, Vijay Yesudas, Uthara Unnikrishnan, among others.
The winners were adjudged in 15 categories, based on their work in 2020. The event saw all the awardees and presenters acknowledging the importance of women in cinema, be it in front or behind the camera and lauded JFW for initiating this platform to focus on such talents.
Here's a look at winners list of JFW Movie Awards 2021:
Best actress in a women-centric film
Aishwarya Rajesh won the Best Actress in a Women-Centric Film award for her terrific performance as Ariyanachi in the film Ka Pae Ranasingam. The award was presented to her by her friend and Kanaa director Arunraja Kamaraj. "I have heard of families that struggled with bodies of their loved ones and have remained helpless. I have seen their tears, felt their pain and this is exactly why I chose to do Ariyanachi. She is a rebel with a cause and I know every woman is as well," stated Aishwarya Rajesh as she received the award. Aishwarya further added that this is her hat-trick award at the JFW Movie awards, having won previously for Kanaa and Namma Veetu Pillai.
Best Actress in a Lead Role
Aparna Balamurali won the Best Actress in a Lead Role award for her terrific performance as Bommi in the film Soorarai Pottru. The award was presented to her by her director Sudha Kongara and Mr. Mohan, Managing Director of Lakshmi Krishna Naturals. Aparna said, "Sudha Ma'am is my everything and I cannot thank her enough for giving me Bommi and making her my own."
Best Actress – OTT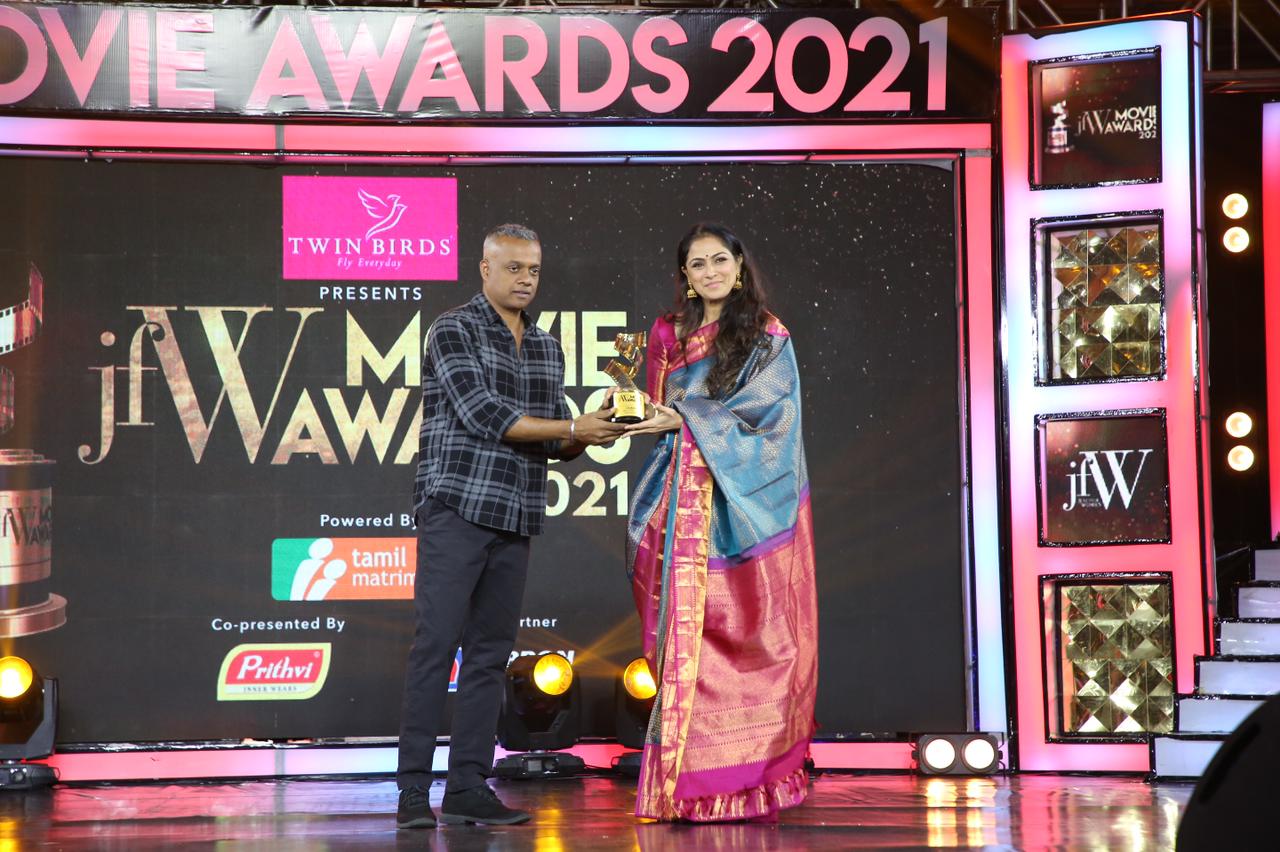 Simran received the Best Actress in a lead role – OTT award for her brilliant performance in the OTT anthology Paava Kadhaigal. The award was presented to her by her co-star and director of Vanmagal , Gautham Vasudev Menon. Simran shook a leg with anchor Kiki after receiving the award. "I cannot thank Gautham enough for trusting me with a role as intense and amazing as Madhi. It was very emotional for me playing this role. Madhi represents every doting mother who is fighting everyday to keep herself and her child strong," stated Simran in her winning speech. GVM for his part said how he had only Simran in mind for this role while conceiving this story and further added that he may have written a different story if she had refused the role. The director-actor duo then went on to recreate the iconic proposal scene from Suriya's Vaaranam Aayiram. 
Best Actress in a Lead Role – Critic
Sneha received the Best Actress in a lead role – Critic's Choice award for her impeccable action sequences and performance in the film Pattas. Sneha's husband and the amazingly talented actor Prasanna surprised her with his entry with her award and presented it along with Actor/Director Bhagyaraj. In fact, Sneha went on to celebrate her mother's birthday on the stage and talked about how she and Prasanna have been a huge pillars of support in her career and personal life.  "I had the best team to take care of me on the sets of Pattaas. I was seven months pregnant when I shot the scenes of Adimurai for the film. Everyone usually ask us to stay extra cautious during pregnancy which I did but I also made sure that it never stopped me from doing what I love," stated Sneha. To this, Prasanna added, "I have seen her work day and night for this film and her other films during her pregnancy. She is beautiful, talented and an amazing mother. I have never surprised her as much and I am glad I got to do that today for an award she truly deserves."
Director of the Year
The brilliant Sudha Kongara bagged the Director of the year Award for creating a film as amazing as Soorarai Pottru and showcasing different narratives to her audience. The award was presented to her by the super talent actor Jayaram.
Best Women-Centric Film of the year
Ponmagal Vandhal bagged the Best Women-Centric Film award for carefully and sensitively curating a film that narrates an important message on child sexual abuse. The award was collected by Mr Rajasekhar Pandian of 2D Entertainment. The award was presented by singer Srinivas and Mr. Balan, the Managing Director of Prithvi Inner Wears.
Best Cinematographer
Preetha Jayaram won the Best Cinematographer award for her beautiful visuals in the film Vaanam Kottatum directed by Dhanaa. The award was presented to her by legendary cinematographer PC Sreeram.
Best Director of a Women-Centric film
Debut director JJ Fredrick took home the Best Dirctor of a women-centric Film award for the film Ponmagal Vandhal which starred Jyothika in the lead. The award was presented to him by Sillu Karupatti director Halitha Shameem and Mr. Srinivasan, General Manager, Supreme Furnitures. "I had only Jyothika Ma'am in mind when I wrote the role of Venba in my film. She knows to subtly yet sensitively reach the message to the audience," stated JJ Fredrick.
Best Director – OTT
Director Gautham Vasudev Menon won the Best Director – OTT award for his sensitive potrayal of child sexual abuse in the film Vanmagal in the anthology Paava Kadhaigal.  The award was presented to him by the handsome actor Arun Vijay. The director-actor duo went on to perform a scene from their film Yennai Arindhal much to the audience's delight. Gautham Menon stated, "Actors like Arun Vijay are the kind you need to improvise a scene you have visualised only five minutes ago. He is dedicated and he is the kind of talent that requires more diverse roles from directors." To this, Arun Vijay said, "I think a visionary like Gautham Vasudev Menon is the kind of director you could blindly trust when it comes to good quality films and roles." The director has successfully completed 20 years in the film industry and JFW did not miss the opportunity to celebrate his journey, on stage.
Special Recognition – OTT
Kalidas Jayaram received the special recognition Award for his stellar performance as Sathaaru in the film Paava Kadhaigal. His Thangam and the talented Shanthnu Bhagyaraj, surprised the former with his award. The duo went on to recreate a crucial scene from the film that brought the audience to tears. Talking about his difficult role, Kalidas said, "The intensity with which I had to prepare of the role was unbelievable." To this Shanthnu added, "Even after a shot, Kalidas would find it hard to snap out of the role and continue talking to us like Sathaaru even off-set. He completely deserves the award."
Best Playback Singer
Dhee received the Nippon Paint Breeze Star – Palichchidum suvargalin Superstar Best playback singer award for her unique voice in the song Kaattu Payale from Soorarai Pottru. She received the award from actor Kalidas Jayaram. Dhee went on to perform the amazing Enjoy Enjaami which is breaking records currently. Her performance simply mesmerised the audience.
Best Costume Designer
Poornima Ramaswamy won the Best Costume Designer award for carefully curating the costumes for the entire team of Soorarai Pottru. The award was presented to her by actress Poornima Bhagyaraj and actress Gouri Kishan. Poornima Bhagyaraj stated, "Only after I quit acting, I realised my passion for clothes and design. Poornima's mother was the one who encouraged me to takeup fashion designing and today, I am so glad that I did."
Best Debutante
The Best Debutante award was awarded to Ritu Varma for her performance in the film Kannum Kannum Kollaiyadithal. Ritu stated that this was her very first award in the Tamil film industry and felt proud that that is from the JFW platform. The award was presented to her by singer Vijay Yesudas and Ms. Sai Chithra, Chief Portal and Mobile Officer, Tamil Matrimony.
Best Actress in a Supporting Role
Vani Bhojan received the Amrutanjan Roll-On Best Actress in a Supporting Role award for her performance in the film Oh My Kadavule as Meera. Vani went on to add, "When I went on to read the script I fell in love with Meera. She is someone I can vibe with," to which presenter and actor Ashok Selvan stated, "When no one agreed to do the role, Vani effortlessly carried this role on her shoulder."
Best Child Artist
Aangelina Abraham won the best Child Artist award for her brilliant performance in Gautham Menon's Vanmagal in the anthology Paava Kadhaigal. The award was presented to her by child prodigy and National Award winner, Uthara Unnikrishnan.
Anchors
The awards night was hosted by the very lively duo Deepak Dinakar and Kiki Vijay who kept the audience entertained with their witty humour and engaging questions.
Performance:
Bigg Boss fame Gabriella Charlton set the stage on fire with her killer moves. She grooved to the tunes of Vaathi Coming, Vaathi Raid, Chellama Chellama to name a few.