Ace on a roll!
In an exclusive interview with JFW, sensational Sania reveals insights into being a new mother and aiming for a 2020 spectacular comeback. Read on to be inspired by a woman who has earned it all, seen it all and is always ready for more with a gorgeous smile!
Photography by G Venket Ram
Hair & Makeup by Tamanna F Rooz, Tamanna Makeup Studio
Styled by Anam Mirza
When Sania walks in, the glow of pregnancy cocoons her, making her look like a mirage of mysticism almost angelic to our eyes. A stark contrast to the fierce warrior we have seen on the field swerving every ball that comes her way, her tennis bat replaced by the locks of her hair she's playing with now. One cannot help but agree that when a baby is born, a mother is too. And Sania, as a mother is just pure elegance personified. The Ace is on her next role.
"This is the next stage of my life!"
As the infamous rhyme goes, first comes love, and then comes marriage. Then comes a baby in a carriage. For Sania, the plan worked to the T and now that she is entering motherhood, she recollects memories of the last decade from marriage till now. "I feel like marriage hasn't changed me much. I have grown more patience after it but I am still my own person and Shoaib is who he is which is exactly what I wanted and fell in love with. Motherhood is incredible because of it a new stage in life that my body is going through and am enjoying it. When I broke the news to Shoaib he was just ecstatic! Even family for that case, I am 6 months into the pregnancy and with every month the bond is increasing, and I am showered with love!"
"I love being pregnant"
All it took was one cute post on Instagram to send the country into a flutter. With the introduction of, 'Baby Mirza-Malik', Sania Mirza's pregnancy came to spotlight around January and we ask her what it feels like to be pregnant and she can't stop gushing. "Actually I love being pregnant because all of a sudden everything I say is deemed right. This doesn't usually happen this way with my husband. He is actually going out of his way pampering me a lot. At home, my mum, my sister they are all waiting on me and it is a good experience being pregnant." So what is the sweetest thing Shoaib did during this time we ask? Sania says, "The toughest part of our relationship is the amount of travel from home that we undergo. Ever since I became pregnant Shoaib has been really sweet and cutting down on his travel so much for me and it is very sweet. He has been taking so many flights back and forth literally almost flying back home to me every day at times. Some flights almost take a day to even reach so I think that's really nice of him to make it a point to be there for me. I do feel guilty that he has been missing some practice sessions. Apart from travel, he recently bought me my favourite pair of shoes which I had eyeing months ago; I just hope my feet haven't enlarged too much from pregnancy. He also got me this little charm to put on a bracelet and I am really moved because these are not things he usually does and he's going out of his way to do them for me."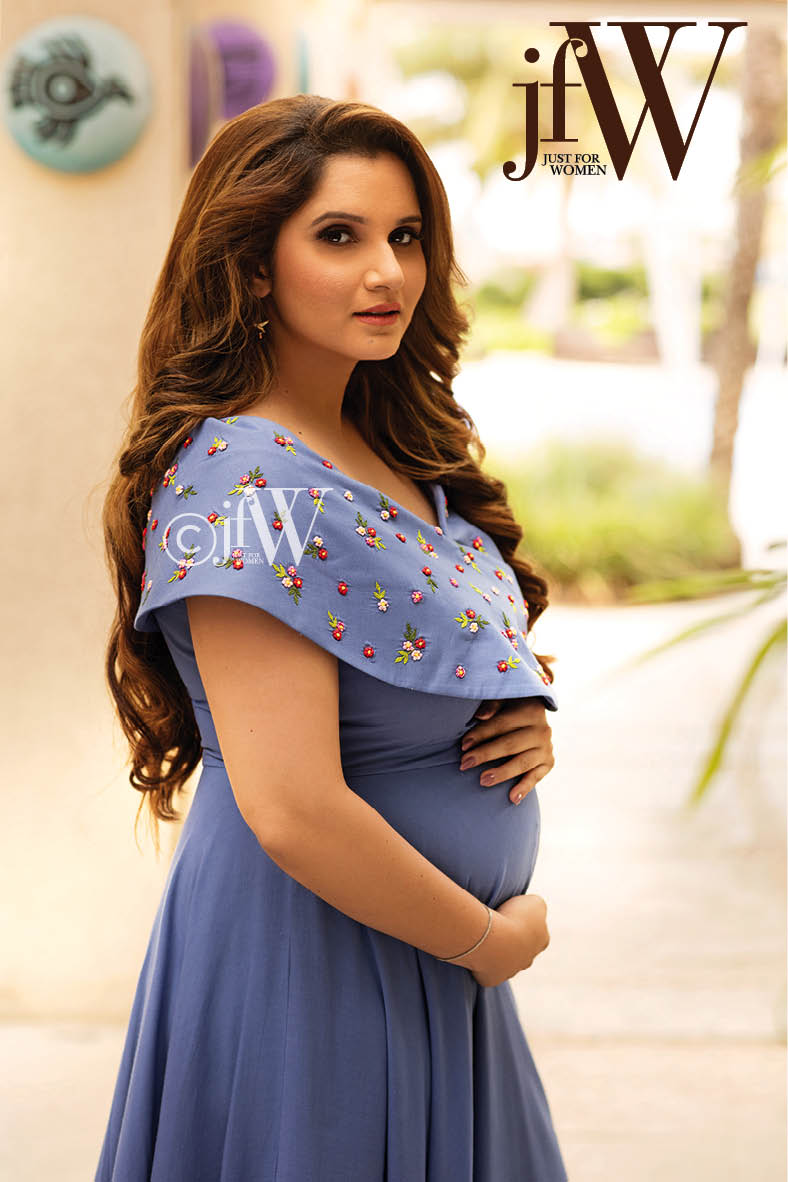 "I listen to my body."
I believe the best pregnancy advice I have gotten is from my friend in London. She has 3 kids herself and she told me to just be normal. She also told me to be as active as possible and not to sit and rest if my body is not accustomed to do so. My body just won't allow me to not be proactive so I do my bit of walking around and exercises and stuff.