Written by Radhika Ramesh
Yesterday's episode of Bigg Boss could easily be rated as one of the best and that is not just because Julie's true face was revealed but also because Kamal's unbiased hosting was brilliant and his reactions towards Julie's lies were more adorable than anything else. I mean who wouldn't love these reactions of his while Julie was narrating her defensive story?
While we can adore our 62-year-old forever young host always, let's get to the point. We all knew Julie had been lying behind everyone's back for a long time now and Kamal being the mediator he is, did justice to both the contestants. He made sure they all had a say in this and what shocked him was that everyone was against Oviya without any evidence. They all had literally judged that Oviya was the one at fault and none even had a proper evidence.
However, after Kamal played the video of Julie using her method of double standards once again, every housemate was in shock, they were shocked to have blindly believed her and never expected she'd talk behind their backs, thought that she had finally "changed" after Gayathri's piece of "advice".
But we also realized that what we calculated about Julie wasn't false and we had the evidence to prove it through Kamal yesterday. Julie lied, even after watching the video clip. She lied to Kamal who had collected every evidence to prove she lied. She said that there is a video they left out where Oviya was the one who triggered. However, Kamal's response won a million hearts where he said there is no such video to prove your statement and that these are just your "hallucinations".
While the entire audience clapped massively at this response (both live and the ones watching through television), Julie was unable to accept her mistake. She screamed, cried like she lost all her everything after Kamal signed off. However, even after the contestants realized that Julie was the one at fault, they made sure to be with her.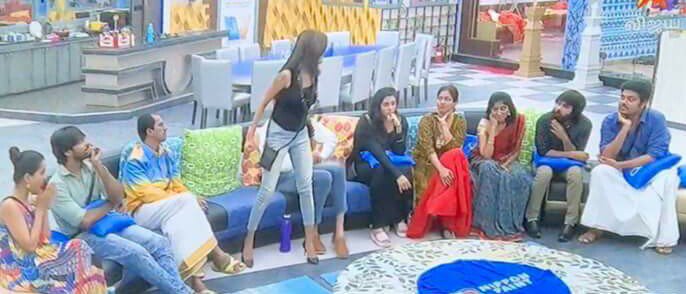 Gayathri said, "Nee Bayanthula poi sollita Ippo vidu. (You were scared so you lied so leave it)." In the other end, we can see Oviya fight with Sakthi saying, "Ava ivlo panniyum ellarum avaluku support panrange (even after everything she did, why are they supporting her?)"
On seeing the contestants switch off their brains while she speaks, she walks out in order to calm herself down (remember she promised to not lose temper and use foul words?).
Oviya may have won a million hearts yesterday, but, the contestants only seem to be with Julie who was unable to digest or accept her foul self. She seeks more sympathy from Gayathri and Snehan than she wants from Kamal or the audience.
Oh, by the way, Oviya has been saved by the people yet again and the memes that followed the celebrations were absolutely creative and brilliant.
Here are some of them: