By Ancy Donal
Double roles are like two sides of the same coin. Be it as identical twins caught in extreme situations or lookalikes becoming the cause of confusion. Moreover, it allows an actor to embrace the challenge of conveying double personalities in one go and these women have enchanted their fans with their double avatars. They have been bold and convincing in the dual characters they have played. Let's take a look at the 6 impressive double roles played by Kollywood actresses over the years.
Sneha
Sneha played a dual role in Parthiban Kanavu as Sathya and Janani. Both the characters are complete contrast while Sathya is an introvert and conservative homemaker and Janani is an extrovert and a fun loving person who takes life in an easy manner. Sneha perfectly differentiates the characters and this is one of the best roles she has played.
Jyothika
Jyothika in Perazhagan plays the sweet uptown girl, Priya and the blind orphan girl, Shenbagam. Priya is a violent college student while Shenbagam is an innocent girl from a wandering roadside circus troop. Jyothika plays the role of a blind girl with grace, the way she places her eyes at odd angles, the gesture and the facial expressions all are way too natural.
Samantha Akkineni

Samantha in 10 Endrathukula, plays Shakeela, an orphan girl who has failed her driving test 14 times. And Gadgi Moi, a cruel, merciless upper-caste leader who has been sentenced to death for orchestrating a massacre against the lower-caste people. Shakeela, unlike Gadgi Moi, is a pretty girl who behaves like a nutcase. Samantha played the contrast roles with ease.
Trisha
Trisha had dual roles in Mohini, the vengeful spirit of a dead woman who lives at the bottom of the river. She posses the look alike and goes on a killing spree. Vaishnavi a popular chef is the one the possessed. Vaishnavi is a homely, soft and smiling while Mohini a typical spirit frowns every time. Trisha plays the dual role quite good and keeps the film going.
Priyamani
In Charulatha, Priyamani plays the dual role of conjoined twins. Charu is a soft and timid girl while Latha is a short-tempered and a fierce one. She shows varied emotions in two different characters of Charu and Latha. Priyamani brings out the true essence of the negative character of Latha, and subtle variations as Charu.
Asin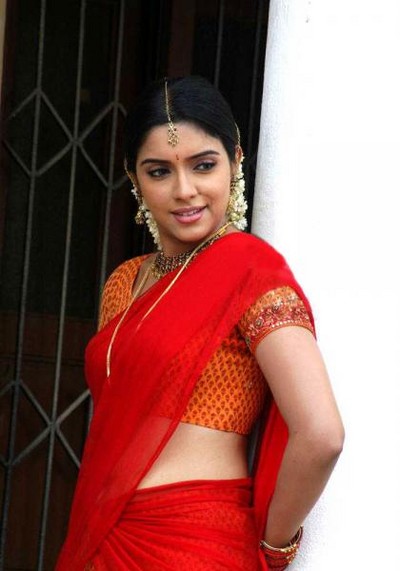 Asin plays the role of Andaal and Kodhai Radha in Dasavathaaram. Kodhai Radha, a conservative woman and wife of a Vaishnavite, kills herself seeing her husband's punishment.  She has just a few minutes in the film. Andaal is a typical Brahmin girl who is inquisitive, religious and traditional. Though it's a role that lasts for a few minutes, Asin still left a lasting impression.