Jyothika is a fine actress, she is versatile and uber-talented. Her performances over the years have been iconic and she has given a wide range of characters to love. Her career spans over two decades and each year, she has acted in films from different genres. Whether it's a comic role or an action-packed one, a romantic movie or a social commentary, she portrays every character with perfection. Looking at her films, we have chosen 6 characters that we thoroughly enjoyed watching and have become memorable for the audiences:
RAATCHASI
In the movie Raatchasi, Jyothika plays the role of Geetha Rani, a newly appointed headmistress at a poorly run government school. Her character is strict and courageous but also kind and vulnerable. Her performance really shines in the film as she single-handedly carries the movies plot. She essays the role with such finesse that it has made a special place in our hearts. 
KUSHI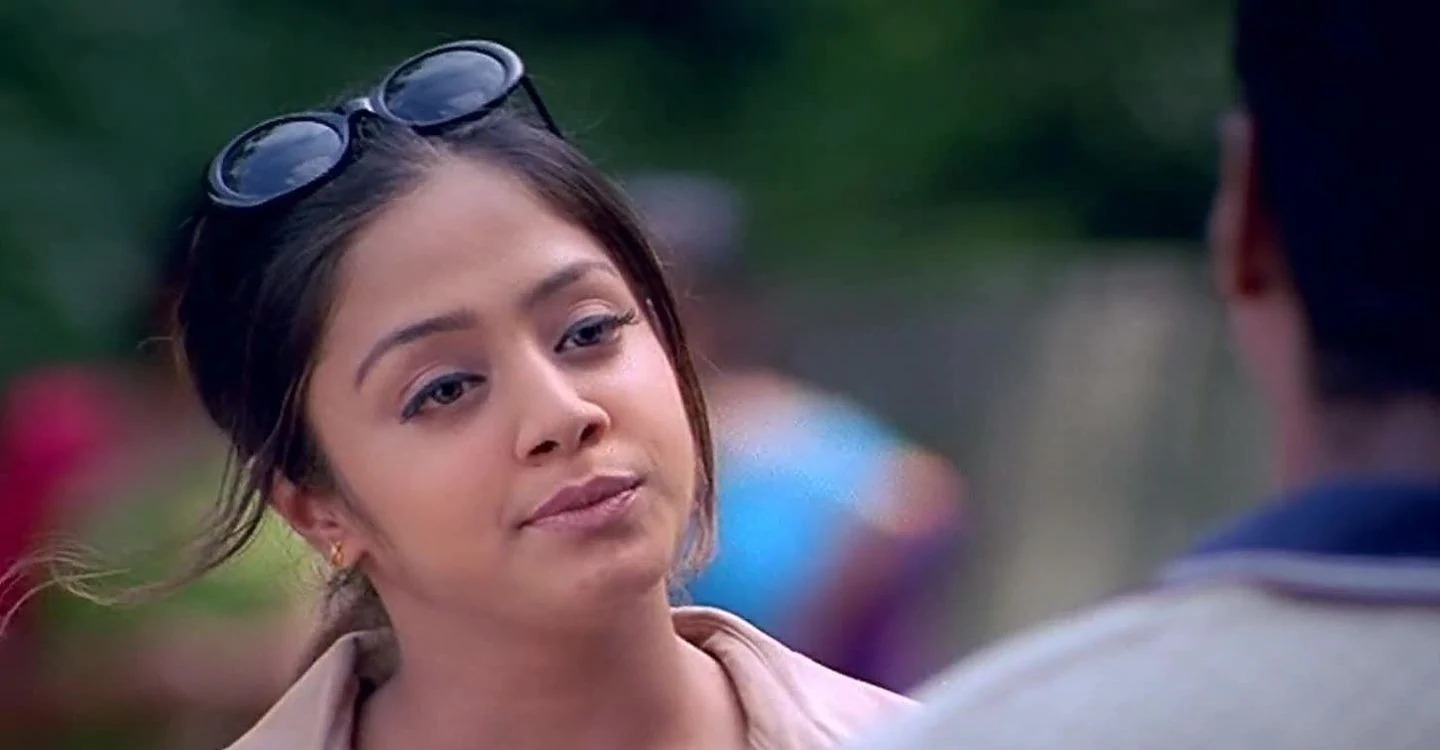 Jyothika's portrayal of Jenny in Kushi is of a girl who has dreams and aspirations that go beyond her parents, mostly father's imagination. She is daring and caring at the same time. The role had many layers and Jyothika aced it. A good friend, a loving daughter, a fierce individual and self- respecting partner, she aced this role.  
CHANDRAMUKHI
Jyothika played dual roles in the famous Chandramukhi movie as Ganga and Chandramukhi. An adaption of the Malayalam movie Manichitrathazhu,  this movie was a tough act to follow. But Jyothika brought her own personality and charm to the reprised role. She  showcased many different emotions in this one movie that its regarded as one of her best. Fear, anger, jealousy on one side and cool, calm and loveable on the other, her range is exemplary. 
36 VAYADHINILE
In the movie 36 Vayadhinile, Jyothika plays the role of Vasanthi Tamizhselvan – a clerk and an innocent mother who does a lot for her family but never gets the respect she deserves. This one is about rediscovery, of a middle aged woman reclaiming her worth. She is fabulous as Vasanthi, an endearing woman who fights back all struggles to be independent and self-loving. 
KAAKHA KAAKHA
Maya is a schoolteacher who falls in love with a police officer in Kaakha Kaakha. She is self-assured, empowered and loved by all. Her performance was greatly appreciated and this role is one of our all time favourites. Also because, it's rumoured that Suriya and Jyothika fell in love during the filming of this movie. 
SILLUNU ORU KAADHAL
Jyothika character forms the later part of Gautham's life story but the story is about this married couple's tryst with their past. She plays a loving, dutiful wife who is happy until she finds out about her husband's previous love. Her portrayal of a simple woman who is emotional but also straightforward won the hearts of many.
MOZHI
Jyothika plays Archana in Mozhi, a girl who is verbally and hearing impaired. Her character grows up in an unloving home and when she finds love in Karthik played by Prithviraj, she is taken aback. The role is flawed but real, very sensitively played by her.  She is daring and honest, uncompromising and blunt. She truly is one of a kind.