By Humsika J
Suriya and Jyothika have always been couple goals in the Tamil Film Industry. The love that exudes every time they talk about each other makes everyone yearn for someone like the two to enter their lives. The couple has acted in many movies and their onscreen pairing has always had a separate fanbase. It is always amazing to see equal screen space for both the male and female lead in all their movies. Scroll to go down a memory lane of Suriya-Jyothika blockbusters:
      1. Poovellam Kettuppar
'Poovellam Kettuppar' released right after Jyothika made a smashing debut in Vaali opposite Ajith Kumar. Jyothika was paired with Suriya for the first time in this Crazy Mohan Universe created by Director Vasanth. Suriya and Jyothika were seen as the children of friends-turned-rivals in the music industry and their love brings both the friends together again. The story is filled with funny moments and witty dialogues by Crazy Mohan. Yuvan Shankar Raja created magic with his music, his tunes are hummed even today: Poove poove for a happy mood, Chudithar Aninthu for some romance, Irava Pagala for a heartbreak. This movie was probably the fetal stage of the couple's romance.
      2. Uyirile Kalanthathu
'Uyirile Kalanthathu' was a movie with many big names: from Sivakumar, Raghuvaran, Radhika to Suriya and Jyothika. The movie mainly dealt with the sibling rivalry between Suriya and Raghuvaran's character. Jyothika played the love interest of Suriya's character. The movie was the directorial debut of K. R. Jaya and it was appreciated for dealing with an untouched topic with a lot of sensitivity. Deva's music played a major role in taking the movie to the next level for which he won the Tamil Nadu State Film Award for Best Music Director in 2000 (Along with the albums of 'Kushi' and 'Sanditha Velai')
      3. Kaakha Kaakha
After working for two projects, the duo was seen in Gautham Vasudev Menon's Cop-Thriller 'Kaakha Kaakha'. Interestingly, Jyothika was the one who suggested Suriya's name to the director for the role of Anbuselvan. Love blossomed between the two while shooting for this film. The movie was a new take on the life of a cop and the impact of their profession on their personal lives. The realistic portrayal by Suriya won a lot of praise and acclaim. The movie had positive reviews pouring in and bagged many awards in the year 2003. Harris Jayaraj's music and Anthony's editing created a universe within a universe.
      4. Perazhagan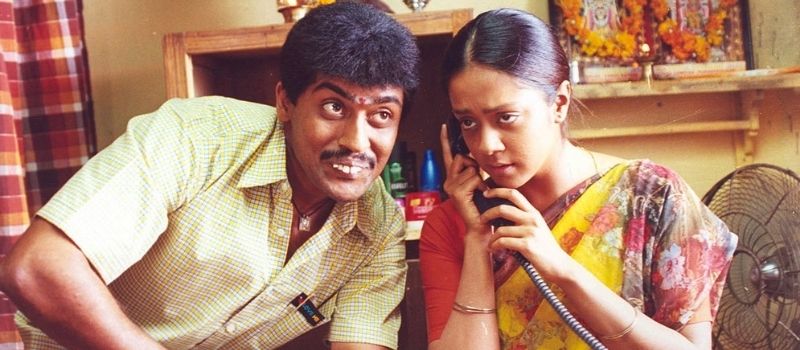 'Perazhagan' was an experimental film in which both the actors took a risk with their characters. Suriya took up the role of a hunchback while Jyothika played the role of a blind girl. However, there exists another world where there are two other characters who are from well-off families and no deformities played by the same actors. When the people from these two worlds meet, the story takes shape. The actors were appreciated for the roles they played and they went on to win various awards as well. Comedian Vivek gave dimension to the movie with his one-liners and subtle jokes.
     5. Maayavi
Singampuli's 'Maayavi' was an action dramedy movie with a lot of hilarious components in an unconventional script. The actors always had an eye for quality of content over anything else. They have always been a little better than what they were in their previous projects. The story goes like this: A thief with no plans gets into the apartment of an actor and keeps her hostage at her own place. A very crazy plotline, this movie was a laugh riot from beginning to end with a few sequences of romance here and there.
     6. June R
June R, a Jyothika starrer, was a based on a novellette written by Revathy Varma. While the author wanted to release it in Hindi, Jyothika insisted that it be made in Tamil first. The movie explored adoption and ageism in a new light with a beautiful storyline. Suriya played a cameo role of being the love interest of Jyothika's character, June, and this really shows the mutual respect the couple holds for each other. They are complete professionals and don't let their egos get in the way. The movie saw Kushboo's strong cameo appearance as well in the role of a lawyer.
     7. Sillunu Oru Kadhal
A movie which sealed the deal, we must say. Jyothika and Suriya were the celebrity couple everyone was rooting for and their wedding announcement created all the hype for this movie. 'Sillunu Oru Kadhal' showed how arranged marriages can be perfect too. It showed a mature tale of how a past baggage doesn't necessarily create animosity in the present relationship. The movie went on to become a box office hit. It still remains to be a cult classic in the romance genre. 
The couple gave us a slice of their life with their 'Sunrise' advertisements before Jyothika took a break from acting. After a long gap, while we see both of them working in the industry, we do want to see them sharing screen space as well. But, the dichotomy between the mature roles Jyothika is taking up and the youthful stories Suriya is taking up might be the reason behind not being able to see the offscreen couple on screen. However, as Jyothika says in all the shows and interviews, a good script is all that they are looking for. Till then, we have seven movies to watch and rewatch, laugh and cry!