Keerthy Suresh during several occasions has expressed her love and closeness for her sister Revathy Suresh,. However, Revathy has not had an easy journey coming from a family of great actresses like Menaka and now Keerthy. Revathy has shared on social media about how she was constantly body-shamed by people surrounding her.
In her long post, Revathy wrote, "All my life I have been struggling with managing my weight. I was ridiculed for my weight, in constant comparison with my mother and even my sister. Therefore, never in my teenage years I felt confident about how I looked and even convinced myself that this is all I am, not as beautiful as them. I always felt like I wasn't normal and something was indeed wrong with me. People made me believe in those things, even to a point when my husband proposed, I wondered what he actually saw in me! Even strangers whom I just meet feel it is OK to talk to me about what will and won't work to lose weight. One lady complimented how beautiful my sister and mom were, and the moment I thanked her for her kind words, she responded "What happened to you?" I had already made peace with the Universe for the way I looked but I never was ready to be judged constantly about how I looked. I had spent several hours in front of the Mirror wondering, what was wrong with me? Why don't I find myself beautiful? At one point, I hated myself; didn't believe that I even deserved to be happy!! Although work and responsibility kept me busy, I never felt beautiful. My sister has always been very protective of me and would defend me from these predators. She once told me that her friends would always say that I was more beautiful than her! And I would laugh at her joke.
View this post on Instagram
A proud and emotional Keerthy Suresh shared her sister's story on social media writing, "Apdi Podu. Love, love, love. Revathy, so proud of you!"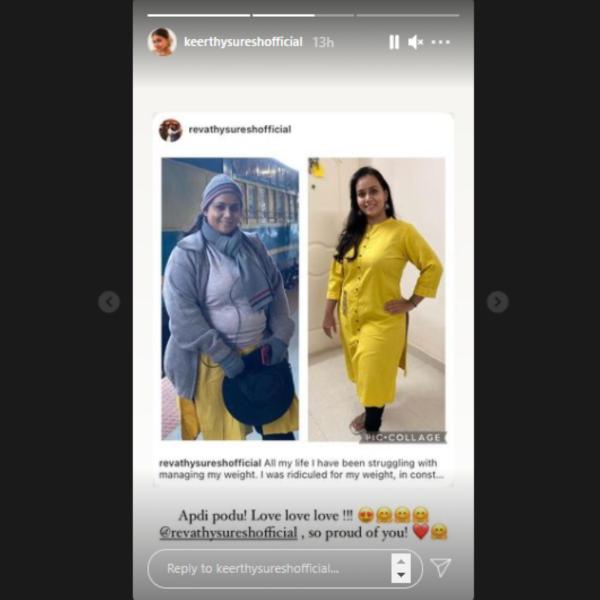 Revathy's journey is very inspirational and her story will uplift a lot of under-confident women.
On the work front Keerthy Suresh is currently shooting Sarkaru Vaari Paata in Dubai. The film will see her opposite to Mahesh Babu and is directed by Parasuram Petla. The film is slated for release next January. Anirudh is currently basking on his sucess in the film Master and is all likely to compose for a Pan-Indian film directed by Shankar starring Ram Charan.