Bollywood Actor Shah Rukh Khan has been struggling for quite some time now to save his son from the drug peddling case. While the case is being tried in court, a lot of celebrities have  conveyed their support and prayers for the actor and the family during these tough times. In addition, singer Chinmayi who is always active on social media, has penned a thread of tweets recalling her past experiences with the actor and conveying her support and prayers for his family. 
She recalled how the actor recognised and appreciated her during the audio launch of the movie Chennai Express. She said that the actor  appreciated her singing and went onto narrate an incident when the actor met her mother. "My mother noticed, and put out a long tweet, about everything she observed and a general thank you – because I am not the type to get excited in general for anything at all. I went to the Chennai Express Audio launch. A person remembered that LOOOONG essay my mother wrote, word for word – and asked me to convey his respects to my mother. Cut to a few hours later, I was saying bye, taking leave of everyone, and he said he'll speak to my mother. I thought he was joking and he wasn't. He took my phone, spoke to my mother for some 15 minutes," she had written. 
Thread.
Years ago, when I sang Titli in Chennai Express, a superstar tagged me and said I sounded like love. If I remember right, it was the first time an actor, anywhere had said anything nice about my singing.
I remember laughing and crying at the same time.

— Chinmayi Sripaada (@Chinmayi) October 21, 2021
She also added that the actor took her mother's blessings on another occasion when they had met. She ended her thread by calling him a 'Superstar' and 'A breath of fresh air' and also by conveying that she prays for his family during these difficult times and hopes it passes.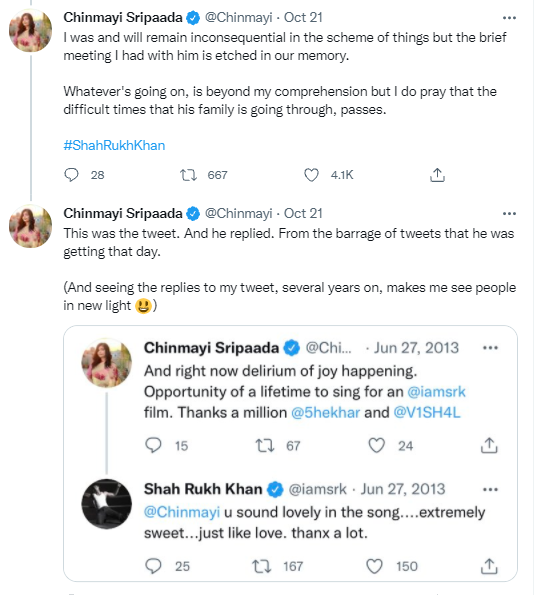 Chimayi Sripada has been a part of the South Indian Film Industry for over a decade now. She has given various unforgettable melodies and has dubbed for all top actresses in the industry. Chinmayi has always been active on social media, and has been vocal about issues of Feminism.In the wake of the #MeToo movement, the singer shared her story because of which she faced a lot of backlash from the Tamil industry. She has also helped many tell their stories.  
The artist has proven her versatility with the various genres she has sung and her knowledge of languages has always blown people away. She has remained a popular singer in Tamil, Telugu and the Hindi industry. She still continues to be a singer in all industries but remains a dubbing artist only in the Telugu industry. Her social media posts are inspiring for a lot of young women.