This Women's day let us take time to appreciate the journey of women both young and old who have through selfless act, bravery, strength and power fought for their place in the society. There is a struggle behind every brave step a woman makes in this world. But there are women out there who are still fighting for what they believe in and to live up to their fullest potential. As these feminist movements drive on relentlessly, resolute as ever, it is important to acknowledge the achievements and victories that are being made – as well as knowing how much further there is to go.
Women have always been the forefront of change. Their undeniable power has questioned myths, broken oppressive traditions and fought for opportunities against all odds. Every woman has a tale to tell. Here are such tales of  magnificent women who broke the glass ceiling and paved their path to success.
Rajji Akka
You can call her in the midnight and she will be there to save your life. Raji Akka has been driving for 20 years and serving all the women around the city of Chennai when in need. She receives calls from various women working in various fields. She once received at call at around 12 AM from a woman working at a graveyard who wanted a pick up and she selflessly went there.
"Whether it is the middle of the night or an insufferably hot afternoon, I never refuse a ride to a woman. Even after my 8-9 hour shift has ended," said 48-year-old Raji who has been driving an auto for 20 years now.
In a scenario when women are finding it hard to trust cabs and autos in the midnight, here comes Raji who would not consider time an obstacle and pick them up on time.
PV Sindhu
She made the entire nation proud winning silver, but she wasn't one to stop there. Winning the title of World Championships, she proved that nothing is impossible if determination takes centre stage. In conversation with JFW, PV Sindhu talks about retaining the title until 2022, life post-lockdown and her ideal fitness mantra.
When PV Sindhu proudly represented the country with her Olympic silver, she was already thinking about the next immense change in the way people looked at her wins. She decided to never be a runner-up again and so she won the title of World Champion in the year 2019 and has now globally made India proud. Even with the lockdown in effect, Sindhu has found enriching ways to keep her life as dynamic as ever. From exciting fitness classes to some amazing social media campaigns, Sindhu is bringing good things back to her nation virtually.
Nikhat Zareen, is already a dominant force inside the boxing ring and a strong role model outside.  In 2010, she earned her first title as 'Golden Best Boxer' at a national tournament in Erode. The following year, she claimed the gold medal at the AIBA Women's Junior & Youth World Boxing Championship in Turkey. Born in Nizamabad of Telangana, Nikhat entered this sport thanks to her father.During a casual walk with her father Nikhat crossed a boxing  field and asked her father why there are only boys in the class. "Girls don't have guts" replied her father.  Her passion for the sport started as a way to prove her father wrong. That girls are equally strong as boys and can fight. Initially trained by him, she was later mentored by IV Rao, and was initiated into the Sports Authority of India in Vishakhapatnam.
Dr Prithika Chary is India's first and only woman Neuro physician and Neuro surgeon. She specialises in brain related disorders like stroke, epilepsy, parkinsonism, developmental delay in children etc. Her journey of coping with cancer and bouncing back like never before is a true inspiration. 
Challenges faced: Being a woman in a man's world
In India, being a doctor was a woman's profession. Abroad, that came much later. So my challenges came about after I became more senior. When I entered Post Graduation, it became a little tougher. In my MD in General Medicine, we were 21 students in a batch  with me being the sole female student. After that stage, I'm often the only woman in a room full of men. I was the first lady to have enrolled in DM in Neurology, Madras Medical College. Till then it had only been men.
While most injuries leave behind a mark, a few leave behind a legacy. The story of Malvika Iyer, a 30-year-old amputee is one such.  A social worker, a Ph.D. scholar, an international motivational speaker, a disability rights activist, a Global Shaper and so much more, giving up was never an option for Malvika. At the age of thirteen, she lost both her arms and greatly injured her legs in a bomb blast. She was bedridden for eighteen months, but that didn't stop her from advancing in life. She emerged as a state topper in her tenth grade which was a shock to many considering she was in the hospital the entire time of preparation. This was not the only time that she would be surprising people; it was just the beginning of a long successful and inspiring journey of Malvika Iyer. Travelling across the globe to give motivational speeches today, she is a spark to a million flames.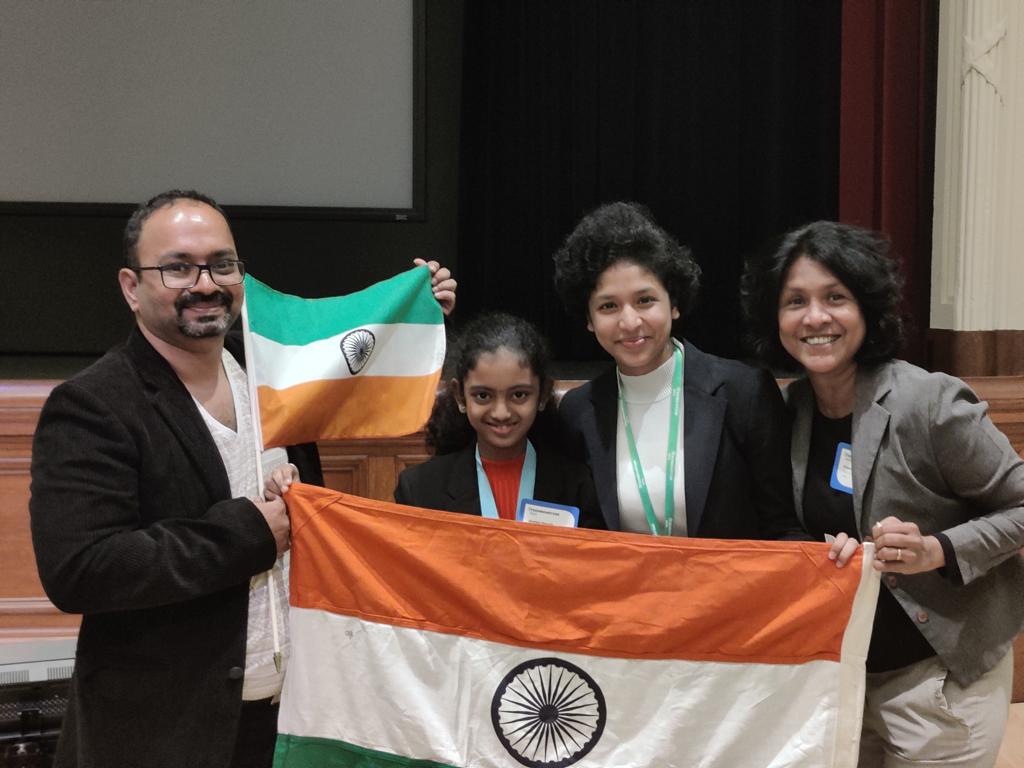 It started as a matter of curiosity when 14-year-old Tanya Elizabeth Ken was intrigued by the world of technology, and fascinated by the concept of ethical hacking, brought it up with her parents while in her 8th grade. With their help, Tanya continued to carry out her research on the topic of cybersecurity – its concept and key factors, as her aim is to become a cyber-security architect. "I realized that to achieve my goal, I needed to learn programming. Hence, I went on to learn C and C++. My teachers saw my interest in programming and persuaded me to participate in the Technovation Challenge," says Tanya. The Technovation Challenge is a global competition held in the US, for the past seven to eight years. She won first place in Technovation Challenge 2019. The challenge aims at solving real-world problems through technology. Tanya is currently the student ambassador of the competition and is responsible for making girl students aware of the same.
Women are warriors in their truest forms. When a woman believes she could do anything, nothing will stop her and that is exactly what Priya Ravichandran, the Joint Director of the Fire and Rescue department, Chennai, did. She stays confident, beams with enigma and most of all, she is a superwoman who saves lives of people, literally. This courageous fire officer elaborates on her journey which may sound heroic but not without immense struggle, motivation, and support. 
Where it all started:
Priya has always known that she wanted to be a part of the Government. Her petite frame doesn't quite match her job, and she laughs saying, "Though I had that inclination since childhood I never really did anything like joining the NCC or being an active participant in sports, to take it forward. In truth, I was the dainty sort, being more interested in dance and drama." Hailing from a conservative family she adds, "My father is my strongest support system as he has always backed me in whatever I aspired to do. He was unique himself. In my community, he was probably one of the very first Chartered Accountants. We both loved breaking the glass ceiling. He was by no means hesitant to send me to JNU, Delhi for my higher studies, a very rare thing in those days. She worked towards her intent only after she went to Delhi for her higher studies, completing her Masters and M. Phil in Sociology, while simultaneously preparing for the UPSC and TNPSC exams.
For Narthaki, her love for Bharatanatyam became her life right from her childhood. She sought out her own opportunities to pursue the art and became an eager disciple under the tutelage of K P Kittappa, who remained her guru for 15 years.
Besides being a deserving Padma Shri recipient, she has been granted distinctive honours such as the Sangeet Natak Akademi Puraskar Award from the President of India, the title of Nrithya Choodamani, and the Kalaimamani title from the government of Tamil Nadu, among other accolades. For her undying devotion towards the love of traditional dance forms, we proudly present Narthaki with the JFW Award for Excellence in Performing Arts.
At 107 years of age today, Saalumarada Thimmakka may not seem like she is built for hard labour, but her hands and her determination are solely responsible for making her part of the country significantly greener.
Born into a life of financial difficulties, Thimmakka has faced all kinds of struggles at quite a tender age. Post her marriage she chose to channel her maternal nurturing by bringing plants to life all along the 4-kilometer-stretch from her village Hulikal to Kudoor.  "Unfortunately I could not have children of my own. So I decided that every tree I plant is a child of my own" she says. She raised over 400 banyan trees, the national symbol of shelter and sanctuary. Her mission became the planting and tending of trees wherever she could. Along with her husband, she watered, fenced and fostered each of the 8000 of them, watching them grow from seeds into trees, earning her the name 'Vriksha Mathe' meaning 'Mother of Trees'.
Meenakshi Vijaykumar wears her police uniform with pride and purpose. Coming from a lineage of family members in administrative roles, public service is nothing new for her.
The first Indian woman to join the fire service department, she began her stint as Divisional Fire Officer for 6 years in Chennai, with over 400 fire and rescue calls to her credit. Working shoulder to shoulder with men in difficult terrains, massive fires, risky buildings, and natural disasters, Meenakshi was soon recognised for her successful rescue operations.
Muthayya Vanitha 
Vanitha is the project director of ISRO's Chandrayaan 2. Just in her early 40s, Vanitha has achieved a lot already being a part of ISRO adding this beautiful feather to her cap. She was initially reluctant to take this project up but Chandrayaan 1's project director Annadurai, who knew she was more than capable to do this, persuaded and convinced her to take it up.
Winning the best scientist award at the Astronautical Society of India in 2006, Vanitha, who is the electronics system engineer at ISRO is known for her great problem-solving skills.
Ritu Karidhal
Known as the 'Rocket Woman' of India, Ritu Karidhal has been closely working with Muthayya Vanitha and she is the mission director of this project. However, this is not Ritu's first time, she was the deputy mission director for Chandrayaan 1 in the year 2013-2014. However, Ritu's responsibility kicks in once the Satellite is launched and is up and onward. It was she who designed the onward autonomy system, that is, when the spacecraft becomes relatively independent it would have the ability to navigate its trajectory and respond to satellite signals.
This engineer has received the Young Woman Scientist Award from Dr. APJ Abdul Kalam in the year 2007.
Yagna Prabha
Daughter of veteran actress Sowcar Janaki, Yagna Prabha has taken the standard of humanity to a special level, dedicating 45 years of her life to the care of four-legged furry friends on the street. She turned 70 this year, and continues her work, inspiring the world around her to push a little closer to kindness.
A typical day in her life begins early in the morning in her kitchen, where she cooks for herself and the 300 street dogs that await her eagerly. "Since we are all strict vegetarians, I have a separate fridge and utensils for the dog feed. After finishing my household chores, I head out. From my home at Thoraipakkam to Perungudi and T Nagar to Adyar, I would drive no less than 70 kilometers each day feeding my children on the road. I get the food wrapped in small packets and then go around feeding dogs. Now, unfortunately, I'm now not allowed to drive owing to a recent knee injury. So I take an auto."