Iswarya Prabakar was one of the most popular faces in the television industry in the early 2010s. She was an anchor, dancer, and performer; she is now a Guinness world record holder. She talks about her journey in the industry and her dance performance and record in an exclusive interview with JFW.
How did the journey in the industry start?
My journey commenced with a deep-rooted passion for dance, which has been with me as long as I can remember. I initially specialized in classical Bharatanatyam but found my heart drawn to the unique charm of Tamil folk dances during my middle school years. From captivating routines like karakattam, demanding intense focus and balance, to dances like poikkal kuthirai, where a stick is skillfully incorporated into the performance, and silambattam, involving artful stick movements – these art forms became a central focus during my middle school years.
Surprisingly, my journey took an unexpected turn during my 10th-grade holidays. It was my brother who aspired to be a VJ (Video Jockey), and during a VJ talent hunt organized by Vijay Tv, he applied and made it to the semi-finals. I, on the other hand, found myself in the audience. However, destiny had other plans. A female participant failed to appear, and the producer offered me an impromptu opportunity. I seized it and not only got selected but also emerged as the winner, marking the inception of my career as an anchor.
My venture into the media industry as a dancer began with my participation in "Vijay Jodi no.1," a show where many of the famous Vijay TV personalities competed. In this competition, I was paired with Sivakarthikeyan, who had previously won a show called "Kalakka Povadhu Yaaru." Together, we secured the position of runners-up in the competition, with me showcasing my remarkable karakattam skills once again.
Why did you choose karakattam as your main art form?
I hold a deep appreciation for the distinctive folk dance art of karakattam. What truly captivates me about this form is the exceptional level of concentration and equilibrium it demands. As I delve into this art, I'm driven by the realization that karakattam is an endangered dance form, with only a few adept practitioners left. My aspiration is to preserve and pass this tradition on to the next generation, contributing in every way I can. This commitment was a significant motivator behind my pursuit of karakattam, and it played a pivotal role in my decision to set a Guinness World Record, further promoting this remarkable dance form.
Did you get any formal training? If so, who is your guru?
My journey into the world of folk art dances began at Jawahar Bal Bhavan, an institution established by Jawahar Lal Nehru with the noble purpose of nurturing children's interest in regional art forms. There, I embarked on my learning journey, studying Karakattam and receiving guidance from my guru, Mr. Srinivasan. While Karakattam was taught by my guru, I took the initiative to self-learn Poikal Kuthirai. As for Silambam, my mentor was Master Lakshmanan. These foundations laid the groundwork for my passion, and I've continued to practice and nurture my skills in these art forms for over two decades.
You have a Guinness world record, and you did it with Karakattam. What inspired you to create a record?
As I previously mentioned, the endangered status of karakattam was my primary motivation to pursue setting a Guinness World Record. When traveling abroad, we're often seen simply as "Indian," irrespective of our regional backgrounds. However, the world tends to recognize only a handful of Indian art forms, with Bharatanatyam being the most familiar. Yet, India boasts a rich tapestry of traditional art forms, many of which remain underappreciated. This realization led me to connect with various Tamil sangams and convey my dedication to karakattam, which I had been practicing for over two decades. I sought to introduce this art form to the younger generation by both performing and explaining its significance.
In my workshops for enthusiastic young learners, I offer my expertise without any charge. My primary goal is not financial gain but rather to ensure that the next generation understands the beauty of this art form. This commitment led me to conceive a plan to set a world record, as I believed it would significantly raise awareness of karakattam. I am determined to showcase this art form to the world and convey its essence. My initial plan was to set the world record in 2020 while I was living in the US, but the COVID-19 pandemic disrupted those plans. Even in 2021, while pregnant, I continued to practice.
In 2023, during my trip to India, I seized the opportunity to make it happen. With the invaluable support of my family, I devoted countless hours to practice. With determination and the assistance of media friends and event planners, I successfully completed this ambitious endeavor. My performance spanned from September 25th at 2 pm to September 26th at 5 pm.
You've been a dancer here and in the US too. What are the major cultural differences, and how is our culture, especially folk dance, being perceived there?
Experiencing culture shock is a common part of relocating from one part of the world to another. In the United States, I've observed that genuine talent tends to be recognized, regardless of the art form. When I initially began my journey, my audience consisted mainly of Tamil sangams and Indian communities, with limited representation from American crowds. Even in Canada, the audience was predominantly Indian, and there was a sense of familiarity. However, as I shared my passion with my American friends, I noticed their genuine curiosity and eagerness to learn about our culture and the art form.
In fact, it sometimes seems that Americans are more intrigued by what I do than the Indian audience. To bridge this cultural gap, I began to incorporate Western music into my karakattam performances, allowing them to relate more easily. Subsequently, I expanded my repertoire to include performances at American events, fusing Western music with karakam to offer the best of both worlds. Some people prefer that I dance to Western music, while others appreciate the authenticity of traditional music. I believe that any art form can adapt to the era we live in, and my aim is to create a framework for the next generation that speaks their language, making it accessible and understandable.
By sparking their interest in this art form, I hope to inspire them to delve into its history and carry it forward into the future.
How did you prepare for the Guinness World Record?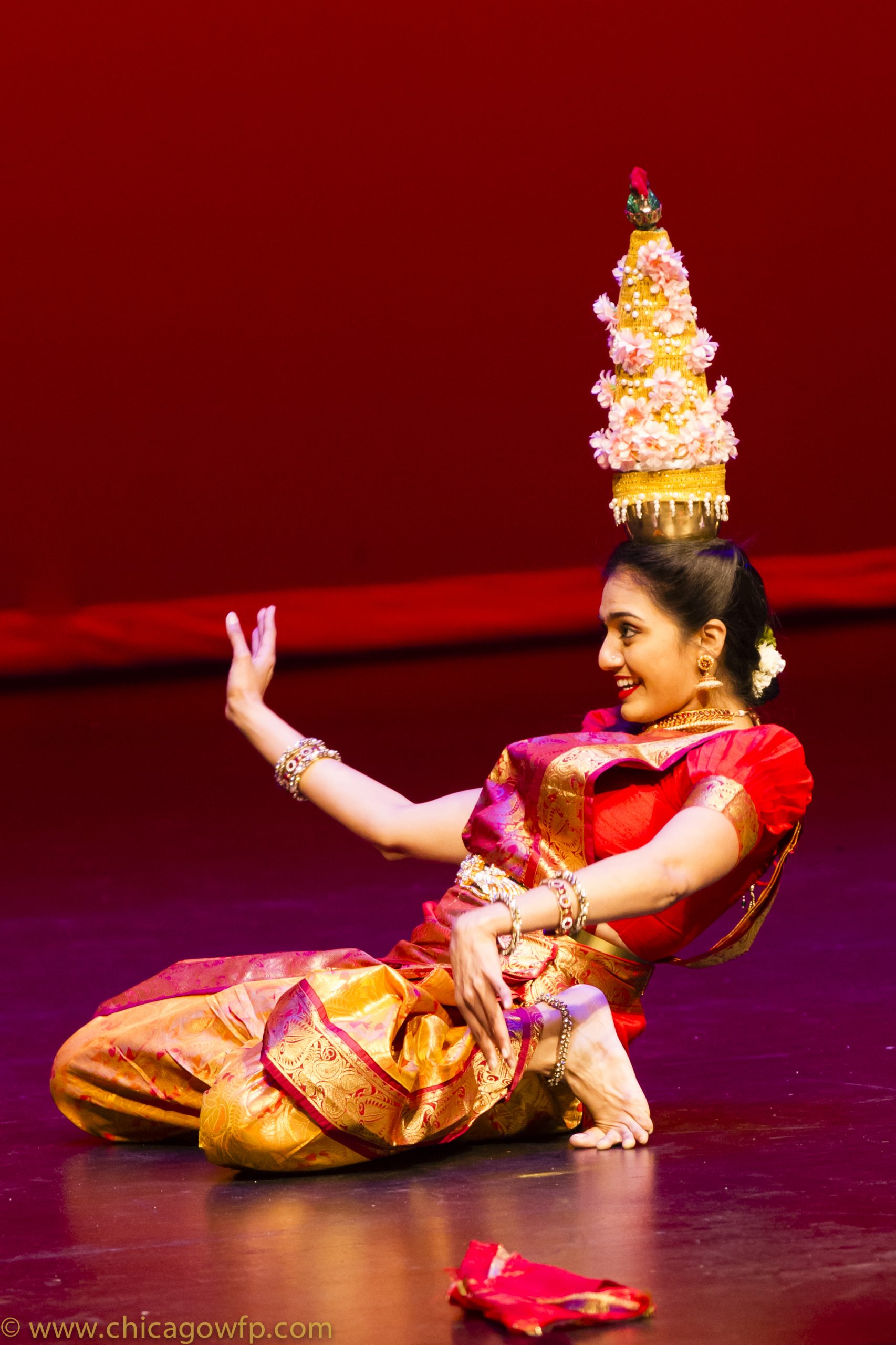 My journey towards preparing for the world record began in 2020. First Covid happened and in 2021 when I discovered that I'm pregnant, I continued dancing but I did put a pause on the World record goal.
Upon my arrival to India in 2023, I thought this would be the perfect time to reignite the goal. I sought professional guidance, Physiotherapy from Dr. Ayaan, strength training and conditioning from Coach Ganesh Singh at the Focus Sports Academy and this entire event was curated from start to finish by my friend Narmada Veni (Art Director). Building a strong team was crucial; it wasn't a one-person show. To meet Guinness World Record requirements, I needed two witnesses with backgrounds in dance and athletics every four hours, even during the night.
Finding these witnesses proved challenging due to the restrictions. Additionally, recording the entire dance performance without any glitches was essential for Guinness World Records officials. Thanks to Focuz studios, Chandru Bharathy & team for that. My entire team supported me throughout, and I'm immensely grateful for their commitment. My training included a 12 hours practice session 2 weeks before the world record date. My approach towards this world record was purely that of mind over matter.
Why did you do this?
Throughout my life, I've been through many major transformational periods. Be it my weight transformation from 90 kg to 60 kg back in 2018, giving birth to a kid in 2021, going through the postpartum journey. Throughout this incredible journey, my family has been an unwavering source of support. When someone questioned why I embarked on this endeavor, my answer was simple: For my mother and my daughter. My mom has been my true inspiration and the driving force behind me. Even during moments of self-doubt, she would always remind me that if I couldn't do it, who else could? Her unwavering belief in me encouraged me to reach my full potential. My daughter on other hand is 2years old now. I want her to know that nothing is impossible. I wanted to lead by example that when you set your mind on one thing and put in your full efforts then anything is possible!
As for the purpose behind this extraordinary feat, it's my role as a mediator. I am dedicated to passing down this art form from one generation to the next and ensuring this folk art tradition continues to be alive.