In the world of cinema, a fictional character is brought to life with the help of many factors. From the actor who plays the part to the director's vision, from dialogues to music, a lot goes behind creating a persona. One such aspect of character building are the costumes and make up. Characters are written on paper, but brought to life when an actor gets dressed for the part, instantly making it real. 
Eka Lakhani is a renowned stylist and costume designer who has worked on films across languages and industries. Whether it is creating Kundavai's historic  look in Ponniyin Selvan or Rocky Randhawa's luxurious wardrobe, Eka has nailed every single look to perfection. She weaves magic with her nuanced aesthetics, in-depth research and her ability to transform a person into a movie character. In an exclusive interview with JFW, we get to know how every thread and stitch contributes to the fabric of cinema.
Did you always have an inclination towards fashion? How did your journey into the world of styling and cinema begin?
I was a very studious girl from the beginning and pursued Science. But after completing that, I spoke to my father and told him that I wanted to study fashion. He was very excited. I studied fashion at SNDT Mumbai and then I went to FIT New York. I got a feel of what fashion designing was all about. I had a feeling that I was going to work at a magazine or something hi-fashion. That's when I got to know that Sabyasachi Mukherjee was looking for an assistant for the film Raavan, which was directed by Mani Ratnam. With Aishwarya Rai, Abhishek Bachchan, Vikram,AR Rahman-  i was fascinated with every single person and so, i decided to give films a chance. This is how my costume design journey began. I enjoyed working in films and that's when I realised that designing costumes was my calling.  
After doing this for 10 years, I started styling. It started with Kiara Advani for Shershah, then I styled Aditi Rao Hydari for promotional events for her films. But this was all on and off. Only when I was working on Rocky Aur Rani with Ranveer Singh, it opened the doors of styling for me. 
What are the current projects that you are working on?
My love for films is bigger than my love for fashion. So films are what I'm extremely passionate about. I'm working on this extremely interesting Bollywood movie titled Dunki , by Rajkumar Hirani. This is the second time I'm working with him, Sanju being the first. I'm really excited because I'm getting to style Shahrukh Khan for it and it's always been a dream. The next Tamil film I'm working on is Mani Ratnam's next which is tentatively titled KH 234. 
What have been your favourite movies so far?
When I'm working on a film, I get completely obsessed and involved with it so much that it's really difficult for me to pick one film. I've been very fortunate and lucky that I've worked with the best of directors and actors. I worked with Dulquer and Nithya Menen for Ok Kanmani, styled Aditi Rao for Kaatru Veliyidai, Ranbir Kapoor for Sanju. When I styled Ranveer Singh for Rocky aur Rani Ki Prem Kahani, I got obsessed with his wardrobe. I think it's one of the most different kinds of projects I have done, in terms of costumes, in my entire career graph. I never really knew that i had that side in me, that glam quotient, i always felt like my strength was in doing realistic characters. 
The most difficult and the most rewarding films has been Ponniyin Selvan 1 and 2. It was the most challenging, the research that was required was enormous, my team strength was enormous, We were working on a scale that I wasn't sure if I would pull it off. When we finally saw the film and all the characters came to life, it was extremely fulfilling. When all these actors transformed into the periodic characters, after 4-5 years of hard work, when the films released, it was so well received, it was very rewarding. I'm so grateful and so happy that I was part of this iconic film. 
How would you describe Trisha's look in LEO?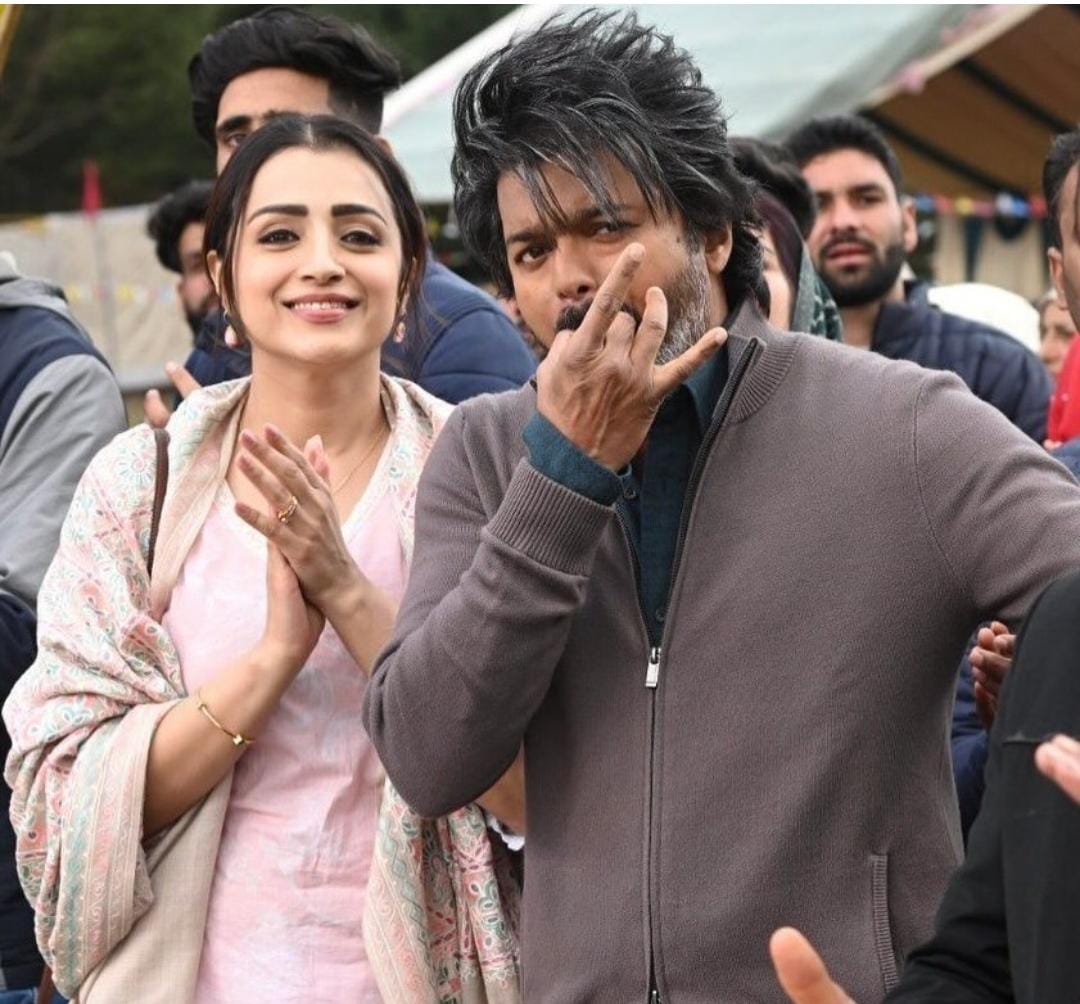 Leo's my third film with Trisha after Ponniyin Selvan 1 & 2, the look in Leo is drastically different from what I had done with Trisha in the past. Trisha is gorgeous, it's very easy to make her look glamorous and beautiful but it gets difficult when you have to do it the other way round. What we wanted to achieve with Trisha's look in Leo was something relatable. We wanted to portray her as someone who didn't work too hard to look a certain way. We wanted her to be warm, so we added a lot of earthy colours to add that warmth to her characters. There is a lot of winter layering with natural fabrics and prints. 
How do you arrive at a particular look, what inspires you to create an ensemble for a character?
I'm someone who drives inspiration from people i meet everyday, so when we were starting the journey on Leo, we were trying to understand what kind of a person she is, what would she like or not like, would she wear a saree or salwar kameez, are sweaters her thing or she prefers shawls. Trisha was involved in these discussions , so me, her and my team narrowed down on how the look would be in her daily life. This character is someone who is comfortable in her own skin and we wanted the look to emulate that. 
With all the inputs from Lokesh, we had to keep in mind that she is a mother of a teenage boy and while we don't emphasise or change her look in any dramatic way, we do keep that in mind while styling her. 
You also styled Trisha in Ponniyin Selvan films, how do the processes differ?
Ponnyin Selvan and Leo are drastically different when it comes to styling. In PS we were playing with historical characters. The film was very resource-heavy and  we were trying to cater to the perception that audiences already had in mind about Kundavai and add the Mani Ratnam magic touch to it. She was a princess, she was born into royalty and all of this had to be reflected in the way she dressed. In Leo,she is  completely opposite, she is a mother, she is modest, she is approachable and relatable.
Styling plays a crucial role in the character's storyline. Can you tell us about Sathya in LEO in that regard?
As a costume designer, it is very important for me to design for a character in a way that the director has imagined the character to be. I like to use costume designing as a tool to take the story forward. I always give clothes that once an actor gets into, they start feeling like the character they are playing on camera. Many designers were involved in the film so we had to harmonise how every character looks together. It was very important that we follow the director's vision so we aren't clashing with one another.