The Indian filmmaker Selvaraghavan who has a separate fan following for his cryptic films posted a tweet last week that let his fans buzzing on what this message would be about. There were speculations that the tweet was indicating his divorce from his wife Gitanjali Selvaraghavan.
இன்னொருவர் இருந்தால்தான் நிம்மதி என்று ஒரு பொழுதும் நினைத்து விடாதீர்கள். உண்மையில் அதைப் போல் ஒரு இம்சை எதுவும் இல்லை. தனிமையில் இருப்பதே பேரின்பம். பெரும் நிம்மதி. 🤓🤓

— selvaraghavan (@selvaraghavan) September 25, 2021
Gitanjali fell for the director when she worked as an assistant to the director alongside him. She fell over her heels when she heard the script of a movie he was working on. The movie was later made into Irandam Ulagam that starred Anushka Shetty and Arya in the lead. This director duo got married in 2011 and has three kids together. They got their third kid early this year. Sounds like a perfect marriage, yet this tweet from the director left everyone confused.
But, the recently married actor and Gitanjali's cousin Vidyulekha Raman posted pictures as an Instagram story that calmed our hearts. The actor posted pictures of her sister Gitanjali's birthday dinner party. In one of the pictures she is seen posing alongside her husband, Sanjay, actor Dhanush and Gitanjali with the caption, "Happy Birthday Big Sis!".
Followed by another picture where she was seen along with her husband, Gitanjali, and Selvaraghavan with the caption, "The one with the Hubbies" This cute selfie proves that the director's last week tweet was just a random buzz and had nothing to do with his marriage or wife.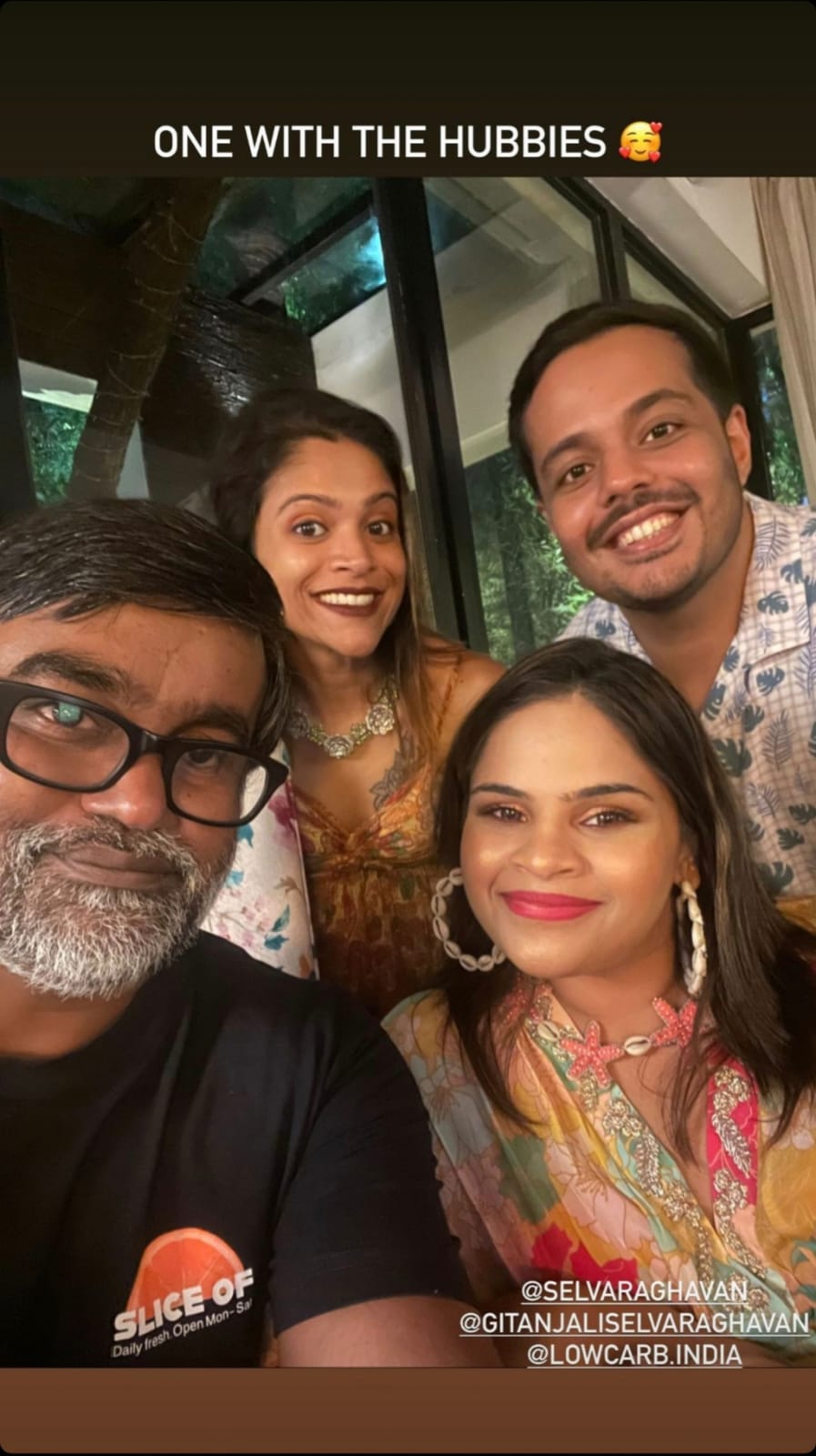 Gitanjali was one of the first persons to give us insights into Vidyulekha's Mehandi and Bachelorette party by posting such lively and colorful pictures of her little sister's dream wedding.
On the professional front, Selvaraghavan last directed Nenjam Marappathillai that released in early 2021 and has the movie Raayan which is to be released next year. He is all set to direct a sequel to his ever-hit movie Aayirathil Oruvan casting his brother and National award winner Dhanush as the lead. He is also making his debut as an actor in the movie Saani Kayitham alongside Keerthy Suresh and a cameo performance in Vijay's Beast.