Over the years, Tamil cinema has changed and evolved in terms of storytelling and technique. But as far as women characters are concerned, there is still much to be desired. Even as stars like Nayathara and Trisha are doing films as solo leads, the space for women characters in hero-led narratives has shrunk considerably. 
Overt sexism and misogyny like glorifying violence against women, particularly stalking by the hero, may have reduced due to consistent criticism against such depictions. But there's still much to be desired, especially when it comes to casual sexism – a term used to describe a form of sexism that happens so often that it is considered normal, and we don't question it. 
Here are five such tropes that are still very common in Tamil movies:
The sister who has to be married
Women may have gone to space in real life, but as far as Tamil cinema is concerned, the thangachi mostly exists just to be married off by the hero who is her brother. "Thangachiku oru kalyanam panni vakkanum" (I must get my sister married) is a very common line in Tamil films, and the fact that she isn't yet married is a source of stress for the hero. It is true that there is immense social pressure on women to get married in patriarchal societies, but these films don't merely reflect that reality – they glorify it as sibling love and project it as aspirational. 
The girl child is already considered to be a burden in many families, the prime reason for female feticide and infanticide. Such depictions add to the perception that marriage is the ultimate destination for women, and that the expenses always have to be borne by the bride's side. The hero never questions such traditions. Moreover, he also does everything to keep the sister in a marriage, even if it is toxic. In Pandiraj's Namma Veetu Pillai (2019), for example, Sivakarthikeyan and Aishwarya Rajesh play brother and sister respectively. Arumpon's greatest dream is to get Thulasi married. There is no discussion on what she can do with her education. When she ends up getting married to a violent man, he does everything in his power to preserve the marriage, and of course, everything works out in the end. 
The 'selfish' sister
The other kind of sister in Tamil movies is the one who 'betrays' the brother by eloping with a man of her choice. Never mind that the brother is so controlling that she can't actually speak her mind to him. His controlling behaviour is depicted as love, and the fact that she can't even make such a life-changing decision on her own doesn't get the same attention. 
Director Siva's Annaatthe (2021) with Rajinikanth and Keerthy Suresh playing brother-sister had the same plot line that we've seen in several other movies. Kaalaiyan is obsessed with his sister, Thanga Meenatchi. But though she goes all the way to Kolkata to study from their village, it doesn't occur to him that she may have dreams and ambitions of her own. He decides to get her married to someone of his choice, and when she elopes on the day of the wedding with her lover, we're meant to feel sorry for Kaalaiyan. Towards the end, Thanga Meenatchi apologises to Kaalaiyan for all the trouble that she caused, and Kaalaiyan responds by saying the "respect" she had for him had come between them like a mountain. Many young women are treated brutally by their families for choosing a partner on their own, and such films reaffirm the idea that the men of the family have a greater right in deciding who a daughter or sister should marry than the woman herself. 
 The heroine with a job that only serves the hero
We always know where the hero in a film is working because he's shown at his workplace frequently, and the profession is a part of his identity. But what about the heroine? Most films don't bother giving the heroine a job because she's only there as a "love interest". She appears in a few scenes where the hero is bowled over by her beauty and then a few songs, but she doesn't aid the plot progression beyond this. 
It's no better when the heroine has a job, even if this is slightly more progressive than her appearing as purely decorative material. She still has limited screen time, and the only reason she's in that job profile is so she can help the hero with his personal or career growth in some way. Nayanthara's role as a physiotherapist in Atlee's Bigil (2019), for example. The job title exists so Angel can follow Michael around as he builds the women's football team that he's coaching. There are barely any hero-centric films where the heroine's professional ambitions are presented as a part of who she is. 
The pregnant heroine who has to die
Pregnancy in Tamil cinema is used as a plot point mainly to kill off the woman and amplify the rage of the hero. So, if there is a second heroine in the cast, you can be assured that the minute the first heroine announces her pregnancy, the latter is going to die. The trope allows the hero to romance with multiple women while giving him a motive to fight a righteous battle.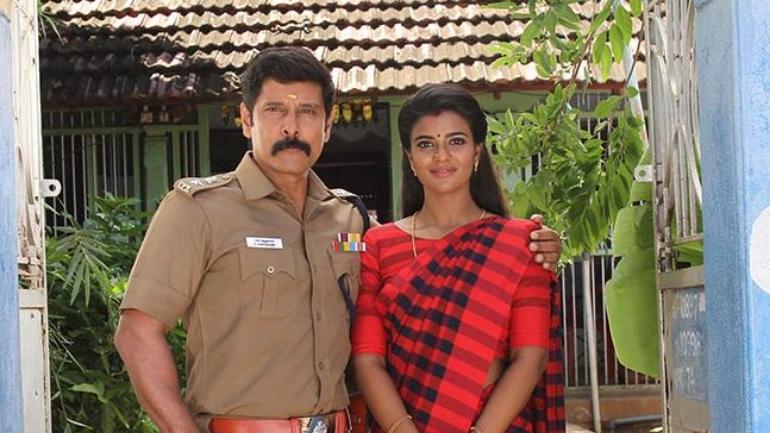 There are several films that follow this template. One such example is Hari's Saamy Square (2018), the sequel to his blockbuster cop film Saamy (2003). While Trisha played the heroine in the first film, she walked out of the second one due to "creative differences". As it turned out, Bhuvana's role in the sequel – which was eventually played by Aishwarya Rajesh – was reduced to her being brutally murdered by her policeman husband Aarusamy's (Vikram) enemies. Vikram gets to play dual roles in the film, as father and son, and the "young man" version romances Keerthy Suresh.
The heroine who reminds the hero of his Amma
Amma sentiment is very popular in Tamil cinema, and there are many films that glorify motherhood and have songs about the greatness of mothers. But there are several films that take this to a whole other plane by making the hero fall in love with the heroine because she reminds him of his mother. In psychoanalytic theory, this is called an Oedipus complex, but it's presented as normal in Tamil cinema. This is because a woman's traditional role in a patriarchal society is that of a "nurturer", and our films view the to-be-wife as a substitute for the mother. Her primary duty is to take care of the hero.
Muthaiah's Viruman (2022) is a recent film where you see this trope. Viruman (Karthi) is deeply attached to his mother who passed away (Saranya Ponvannan), and becomes attracted to Thaen (Aditi Shankar) who reminds him of her. In fact, Thaen appears on screen for the first time after Viruman says that his mother will somehow reunite their estranged family. The next shot is of Thaen lighting lamps at a temple. In another scene, Viruman is staring at a portrait of his mother in Thaen's house and sees the latter's face reflected in the glass.