Talk about the Cholas has been running wild as the movie Ponniyin Selvan is all set to release on September 30th. The movie revolves around the Chola empire and mostly about Ponniyin Selvan, also known as Raja Raja Chozhan or Arunmozhi Varman. Ponniyin Selvan is originally a Tamil novel based on the life of Raja Raja Chola, written by Kalki. While there have been several attempts in the past to make it a film, Mani Ratnam has now started this project, which will be released in two parts. Starring Vikram, Jayam Ravi, Trisha, Aishwarya Rai, Aishwarya Lekshmi and Sarathkumar in lead roles, this is considered Mani Ratnam's magnum opus. Jayam Ravi is said to play Arun Mozhi Varman, while Trisha plays his sister Kundavai. Karthi will be seen as Vanthiya Thevan, while Aishwarya Rai will be Nandini. Jayaram, Prakash Raj, Lal and Kishore will be playing prominent roles.
The cast and crew were busy promoting the film across India, for the whole of last week. They made trips to Trivandrum, Hyderabad, Bangalore, Mumbai and Delhi. The team included Trisha, Jayam Ravi, Karthi, Vikram, and Aishwarya Rai Bachchan. Director Mani Ratnam and Music Composer AR Rahman also joined the vast in some places. Last week, these actors flew Economy class along with other commoners. This became sensational news as they are top stars that we are talking about. Another photo has gone viral from the promotional event. Trisha and Aishwarya Rai are seen posing adorably along with the Musical genius AR Rahman.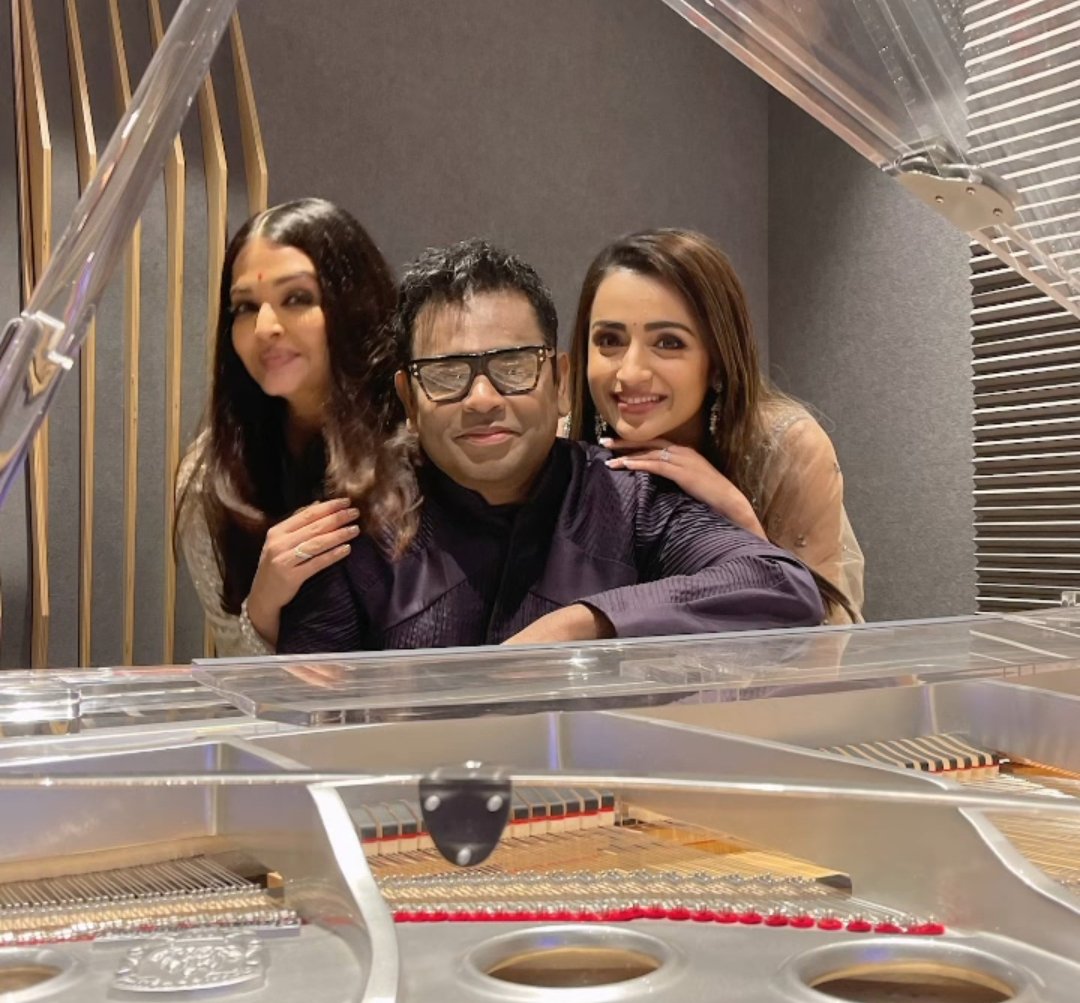 In a recent press meeting, Mani Ratnam was quoted as revealing that the second part of the film is all set to release precisely 9 months after the first part's release. As the first part is all set to release on September 30, the second part will most likely be somewhere around June end or July beginning next year. Ponniyin Selvan is to be released in 2 parts, and the first part is releasing on September 30th.  The runtime of the film is apparently 2 hours and 50 minutes or 170 minutes, which is less than several large-scale movies. Probably, Mani Ratnam went for a short and sweet first half, in order to hook the audience with a longer and more detailed second part.
The team announced that Ponniyin Selvan will be the first Tamil movie to be released in the IMAX format. This will ensure that the audience will have the larger-than-life experience of watching the film, just like the movie itself. While Ravi Varman is handling the camera for the film, Sreekhar Prasad is handling the edit and Thotta Tharani is designated for the Production Design of the film. The film is bankrolled by Lyca Productions and Madras Talkies. The music director for the movie is AR Rahman. PS-1 is slated for a worldwide release on September 30, 2022, in Tamil, Hindi, Telugu, Kannada, and Malayalam.