Cast: Vijay Sethupathi, Revathy, Prakash Raj, Ashok Selvan
Director: Bejoy Nambiar
Navarasa, an anthology of 9 emotions, created by Mani Ratnam and Jayendra Panchapakesan has brought together 9 directors and a bunch of popular actors to convey 9 stories. This series was a very new take on anthology series in Tamil cinema. Out of the lot, some episodes were a hit while some were misses. While it is a great way to convey 9 stories with the performances of brilliant actors, not all the episodes hit the mark we expected. 
The first episode 'Edhiri' directed by Bejoy Nambiar was based on the Karuna Rasa or Compassion. The opening scene shows us parallel shots showing Revathy and Vijay Sethupathi going about their day with the song 'Manithan Enbavan' in the background. The shot looks like a callback to Thalapathi where Superstar goes searching for his mother. The purpose of the shot however is not understood until the end of the episode.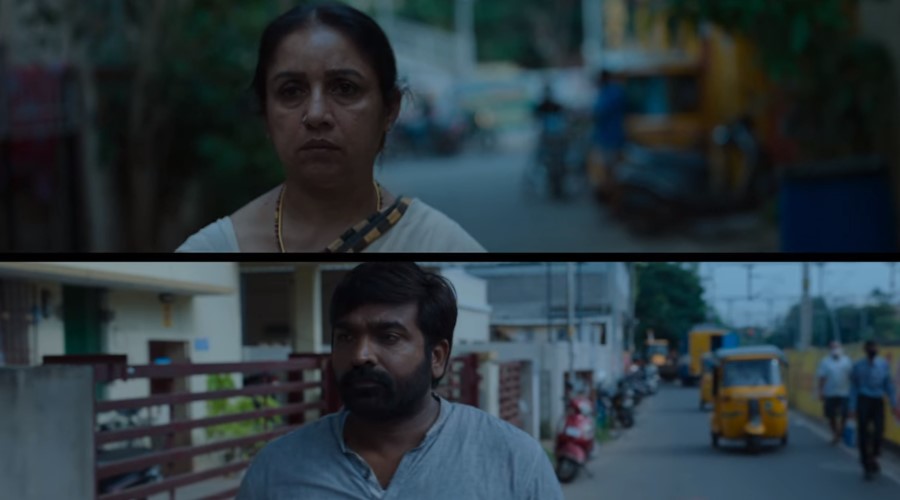 The Parallel shots entailing the lives of Dheena and Savithri
Revathy as Savithri has done full justice to her role and thanks to the director we see every single expression that she's capable of emoting. The episode revolves around Revathy being a doting wife yet we sense some kind of conflict between her husband and herself. On one fine day when she goes about her tuition classes as usual, an uninvited guest (Vijay Sethupathi) enters the house and goes straight into her husband's bedroom. Dheena commits a crime at a fit of his rage, but what are its repercussions? 
This episode talks a lot about guilt, remorse and revenge, but falls short of actually conveying the Compassion part. The 30 minutes of the episode does not give you enough to understand why it portrays Karuna Rasa. The characters in the episode have a lot of depth but it is not explored given the fact that it is a short film. After seeing the respective performances of Vijay Sethupathi, Revathy and Prakash Raj you want to know more about their individual characters. At the end of the episode the audience is left abruptly with a lot of questions in their minds. 
When Savithri expresses her feelings through a single expression at the end of the episode
On the whole, 'Edhiri' had a lot of Potential to tap from its actors and the characters that they played, but fell short of actually conveying the idea of the story. 
Check out the detailed Navarasa review here!