Agency describes one's ability to take Independent action(s); to assert control over their circumstances. Female agency, in the context of film reading, is the ability of the female characters to take action(s) or make their own decisions that affect their lives and the course of the story. While agency seems like the most organic act any character in a story would do, else the story would stagnate—more often than not, the female characters in Tamil cinema don't move the story forward.
Balu Mahendra's Marupadiyum (1993) is the story of Thulasi (Revathi), a wife caught up in marital discord. Her husband, Muralikrishna (Nizhalgal Ravi), a movie director leaves Thulasi to live with Kavitha (Rohini), the female lead in his film. In the end, when Muralikrishna is deserted by Kavitha, he decides to return to his wife. She asks him whether he would take her back if she had been living with another man. When he shakes his head in the negative, she says, "Neither will I."

Being a patriarchal society where many folklore and mythological texts revolve around a man's polygamy, Tamil cinema has a long history of treating adultery as a comical theme or that which sides with the woes of the man stuck between two women. From the Tamil epic novel Silapathikaram to the recent Kaathuvaakula Rendu Kadhal (2022)—the adulterous men receive the crowd's sympathy.
Even in Balu Mahendra's earlier film Rettai Vaal Kuruvi (1987), Gopi (Mohan) justifies his infidelity by his need to become a father and ends up happily with children from both women. In the recent Varisu (2023), directed by Vamshi Paidipally, Vijay's sister-in-law Aarthi (Sangeetha) ends up forgiving her husband's (Srikanth) extra-marital affair as a harmless mistake. In times like this, it is wildly riveting to imagine that Marupadiyum was released 30 years ago on the same Pongal festival week as Varisu.
Establishing Agency
Thulasi is a simple housewife with middle-class dreams of owning a house, growing plants in her balcony, and embracing life within her immediate circle. When her house-help Sarasu (Pasi Sathya) complains about her husband's adultery, Thulasi quickly says, "If something like this happens in my life, I'll walk away from the marriage," and she does it.
After Thulasi learns about her husband's extra-marital affair with the actress Kavitha, she feels lost at first. When her husband walks out of their home shortly after confessing his infidelity, Thulasi goes through waves of grief—slowly and then all at once. She bargains, wails and begs for her husband to come home to her and their marriage. In several instances, her denial leads to self blame for his unfaithfulness. But when the wave subsides, she accepts. Though clueless about her next steps in life, Thusali gracefully walks out of the marriage and never looks back.
Finding Autonomy
In the 1930s, when Tamil cinema began, similar to Hindi films, it adapted stories from mythology to screen—familiar stories in a new medium. Since then, Hindu mythology characters like Sita, Savitri and Kannagi were considered female archetypes for women on screen. In most films, these archetypes were blindly followed and rarely questioned. The reason why Thulasi from Marupadiyum is still widely remembered and appreciated is that she challenged one of the prevalent female archetypes—Kannagi.

Kannagi from Silapathikaram is eulogised as the epitome of chastity and is worshipped as a goddess in select regions. The story of Kannagi, in short, is—though her husband cheats on her and empties her wealth, she not only accepts him when he comes back but also sets out to defend his honour in front of a King—all the while never questioning his infidelity. Similarly, when her husband Muralikrishna returns to her after being questioned about his loyalty and deserted by the woman he left her for, Thulasi breaks the cycle by asking him what he would do if she was in his place. Marupadiyum raises the right question and places the power in Thulasi when she chooses to not reunite with her husband due to peer pressure.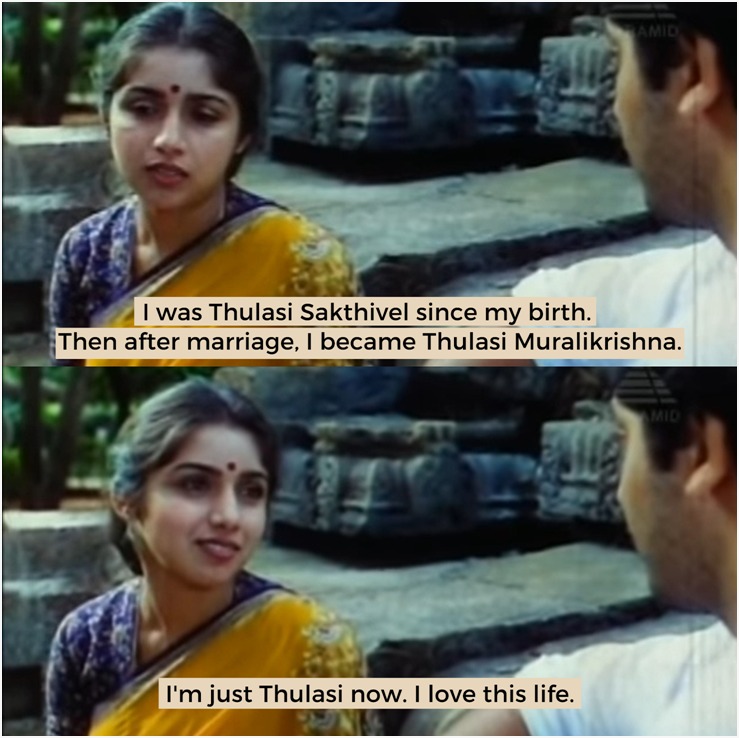 When Gowri Shankar (Arvind Swamy), a budding singer enters Thulasi's life, he is everything that her husband wasn't—an ally, friend, supporter and understanding human. When the right time arrives, Gowri expresses his desire to marry her but Thulasi respectfully declines, citing her past experiences. The film in no way (I hope) promotes this as an ideal survivor behaviour for people who've moved on from their previous marriage(s); the emphasis is on Thulasi's individual choice to embrace singlehood and not be dependent on any man.
30 years ago, Thulasi held the torch of what could have been a wave of stories woven around a single unattached woman—not as glorified mothers, timid wives, or objectified lovers, but as single women on their beautiful journey of self discovery carrying their conflicts, their dreams, their aspirations, their tragedies, their revenge, their desires and their heroism. And like you, we are still waiting for that trend to catch like a wildfire in Kollywood and beyond.