Chinmayi Sripaada made the #metoo movement visible to the South Film industry after it became evident that women from all around the world started opening up about sexual harassment they faced in their work places. In a series of tweets, Chinmayi announced how she knew her career would get jeopardised soon after she rallied for the #MeToo movement where she spoke about facing sexual misconduct from noted lyricist Vairamuthu and shared other peoples' stories on the same.
In what is being regarded as a shocking overturn of events, singer and dubbing artist Chinmayi Sripada had been removed from the dubbing union, run by Radha Ravi as well. However, Chinmayi never stopped fighting. In a recent, famous producer K. Rajan at an event stated that it was not right of Chinmayi to name and shame a reputed lyricist like Mr. Vairamuthu who took years to build his reputation. He further stated that 50 women from his locality are enough to "finish her off". He then went for the obvious of threatening her by saying that if Chinmayi destroys Vairamuthu's name any further, he has men who could destroy and shred her to pieces.
Chinmayi retweeted this video:
Producer K Rajan and his open threat to deal with for naming Mr Vairamuthu.

Sidhaikka aal ellam vechurkkaarame. Bayappdnuma? pic.twitter.com/D6MBqU5sRb

— Chinmayi Sripaada (@Chinmayi) April 14, 2019
It did not go down well with a lot of Vairamuthu "fans". One stated, "There is only one solution for this. You better marry Vairamuthu. Really dunno what you were doing all these days. Stupid don't you have any work. Always talking about him and we know you are part of BJP."
But, what we loved more was Chinmayi's funny response to it. She said, "What an idea. Sorry not interested."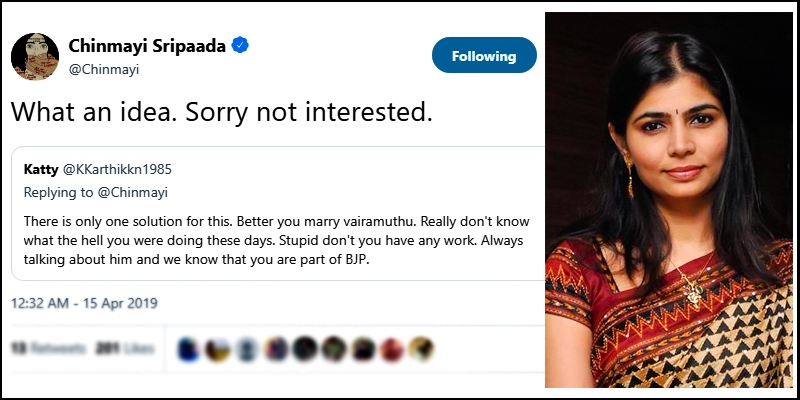 As usual, when Chinmayi was attacked yet again, we thought none from the film industry would step forth and voice for her. However, director Pa. Ranjith made she he makes his opinion sound loud and clear. During an event, the 'Kaala' director stated that the producer's comments are completely unacceptable and that he condemns the comments.
"We should not look at this as only the accusations of women. Cinema is an industry that has been sexually abusing women for ages. We cannot deny this and it is time we accept this openly. When women like Sri Reddy or others raise a complaint, instead of taking it just as an accusation, we will have to investigate it further. Only then it will move to the next stage. A woman cannot be made a victim or the offender just because she raises a complaint. It is very wrong and I condemn it," he said.
"I look at the #MeToo movement as a very important one. It's not about where one should talk – one should have the right to speak about the violence one has experienced anywhere. There's also space to prove whether an allegation is true or not," he has said in an interview to The News Minute.