Ringing in 2019, the JFW one-of-a-kind calendar with photo shoots based on alternate career choices and impactful power women roles they love is alive and kicking! The stars have dressed up in different looks with each of the looks bearing significance to pop culture elements and strong and feisty roles, juxtaposing it with fantasy and magic realism. The artist behind the lens is photographer Sunder Ramu, whose vision for each frame translated into the star giving her best. Working as the backbone of each look were the sets, intricately conceived and executed by celebrated art director Rajeevan.
Popular stylists and designers,Chaitanya Rao and Shilpa Vummiti weaved in each of the stars' fantasy with reality by their deft work. Keeping the looks, sets, costumes, and vision aside, the JFW 2019 Calendar is more than just a chronology for the New Year; it's about bringing more fantasy into your life, celebrating it in style.
Check out all the pics here:
We have Aishwarya Rajesh as a dancer, twirling and twisting with grace with mirrors reflecting her.
The next look features gorgeous Taapsee Pannu, who is showcasing an alternate career choice. If not an actress, Taapsee, with her deep rooted passion for squash, would have been a sports woman, she claims.
The next look we have Bigg Boss contestant turned actress Raiza Wilson nailing the whole corporate chic look, something which she had always wanted to be while growing up!
Shriya Saran takes us on a magical journey, where you watch her elegantly float in the air amidst hyperbolic elements. While the setting is far-fetched, it implores you to dive into this magic realism and feel calm watching this rather serene picture.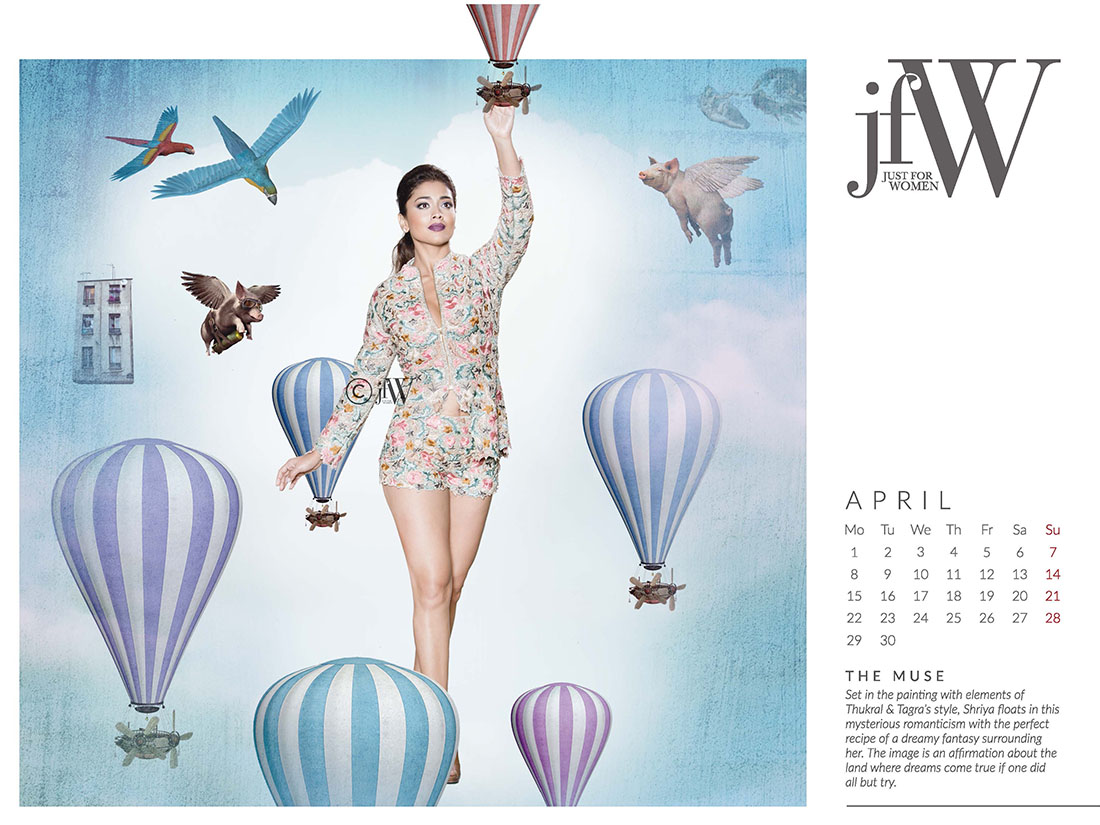 Andrea Jeremiah is ethereal as a mermaid. Always making way into new places like water, her fluid passion is calm but therein lays a deep undercurrent of versatility.
Regina Cassandra shows off her emotional bond with exploring the traveller inside her. Right from the setting to her outfit, pose and the objects around her, the picture screams wild wanderlust!
In this look, Aishwarya Rajesh plays an Indian warrior princess who is fiercely protective of her land and people. Does anybody get Baahubali vibes too??
A superheroine in her own right, Taapsee Pannu kicks ass in this uber cool avatar as femme fatale Black Widow!
Raiza Wilson is all sultry and stylish as Cat Woman, with her feline alter-ego pawing for some mischief. Right from her cat ears to her pose, one can totally see her channel this comic anti-heroine!
The show Game of Thrones might be a few months away but with Shriya Saran giving us her own version of the iconic Mother of Dragons, you can't help but root for this version of the Targaryen queen!
Andrea Jeremiah gives a new spin to Wonder Woman, the one who saves the day and she clearly looks the part! Turns out, many have been calling her the Indian Gal Gadot so she went ahead with donning this look!
She's a hero too, fighting with fire and her trusted bow and arrow. A take on the Hunger Games, Regina Cassandra invokes her inner-Katniss to fight off enemies and ward off all things negative coming her way. She fights with fire but she's not someone to be bogged down by it.