Manjima Mohan entered the world of cinema with the popular Malayalam movie titled Oru Vadakkan Selfie where she played the female lead opposite Nivin Pauly. Her performance was greatly appreciated and loved by the audience. She landed her first Tamil film, Achcham Enbadhu Madamaiyada with Simbu and became a popular face in the Tamil industry too.
She married Tamil heartthrob Gautam Karthik and when their wedding pictures did the rounds on the internet, she received a lot of criticism and was subjected to trolling. She has always been vocal about body positivity and how she feels confident in her skin. Speaking to Manjima about life after marriage, her recent makeover and work, we got to know more about her.
Her latest is a movie titled Boo that's a horror film, a genre she wasn't very sure of doing initially but when approached, decided to jump into it nonetheless.
So, the movie was shot during the second lockdown. Horror was on my bucket list and I didn't want to let go of it. I'm not the biggest fan of horror films. But shooting for this has been a learning experience.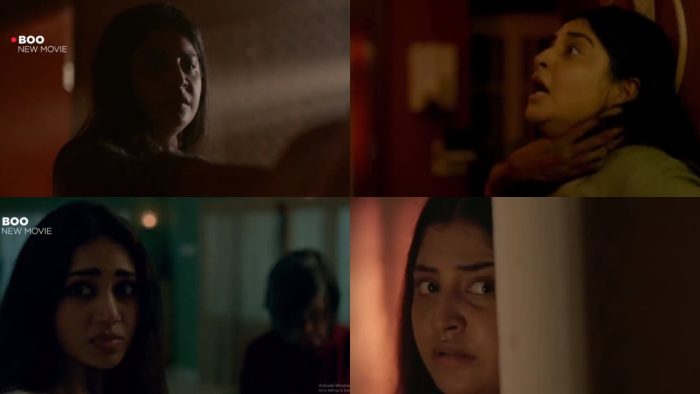 What's next in the pipeline for you?
After the release of the FIR, I have been on an unofficial break. I wanted to take a pause just before the wedding and also after because all that gets a bit overwhelming. I wanted to enjoy my wedding and take some time off to just be. Interestingly, I got a lot of offers from people I have. Always wanted to work with. Looking at scripts but haven't finalised anything yet.
It's been 8 months since your wedding. Tell us about your love story.
Funnily, it's been the same. We have been together for 4 years now. We worked together in 2018 on a movie called Devarattam. And it was a time when I wasn't looking for a relationship. It was very random. I remember our conversations about how relationships can be so draining. We weren't even that close, we were co-actors who just became friends. We had both come out of our respective relationships. But in 2019, when I had gotten my leg surgery done, it was when we grew closer together. He was with me pre and post the surgery and that's when we got into a relationship. We got very attached.
You and Gautham are very active on social media. We love seeing your stories and pictures. What's the secret to your chemistry?
We fight, we argue a lot. Any couple who tells you otherwise is lying. Gautham and I are completely different from each other. We are opposites, he's the calm one and I'm the storm. Also, we don't need each other to make us happy. When you depend on the other person for happiness, problems arise. We like our space, we respect each other's individuality. I don't need a filter to talk to him, I'm a straightforward person which many people don't like.
When their wedding pictures made the rounds on the internet, you were subjected to a lot of unpleasant comments. How do you react to these trolls?
I faced that a lot even before my marriage, but it was never this harsh. Post Covid, it became worse and during my marriage, it became personal. I was mentally prepared that people would come at you for something or the other since you are a public figure. But whatever is said, it does affect you. A wedding is about 2 people coming together, but people went on to say mean things that were uncalled for. It reached a point where I deleted my old pictures from Instagram. But because Gautham stood by me, cheering me on, I just let the trolling die its death.
But when I took a blood test because of a health issue, I was particularly asked to shed some kilos. And that's when I decided to alter my lifestyle and focus on my health. So, for purely these reasons, I got professionals to help me in my journey. I had to reset my system for my betterment and that's what I did. It took 3 – 4 months and they were really difficult.
A message for the girls who are being body shamed, for being too thin or putting on too much weight.
I have been listening to comments about my weight for so long, I empathise with all the girls out there. Be the way you are! Be confident, be happy and look after yourself. Your health, physical and mental health are important. When I lost weight also, people came to me and said that I look sick, or old. People are going to continue saying these things, if you're going to try to get them shut up, you will end up wasting your life.