By Harshitha Kumaran
The cute dalgona coffee,the many workout challenges and of course the banana breads all seemed to take up a lot of our Instagram feed the last few days as the world battles a pandemic together. While many of us have the luxury of staying at home with a roof over our heads and three hot meals a day on the table, it is not the same case for a large population of Indians.
Dr Issa Fathima Jasmine, the brains behind the community fridge 'ayyamittu unn' opens up about the struggles and needs of the underprivileged during these trying times.
'Ayyamittu unn' was started in 2017 in Besant Nagar, Chennai by Dr.Jasmine who wanted to help the starving population in the city. The community fridge follows a system where people leave cooked food, vegetables, fruits and provisions which the hungry can access through the day. The fridge boasts of a security guard who keeps a log book to track the inflow and outflow of the fridge. All the provisions are marked with the expiry date and consumption period while clothes books and other commodities are accepted only if they're in a good and useable condition. 
" We've closed all the refrigerators due to the regulations imposed by the government." she says. "We feed close to 500-700 people everyday. There's not much of a need to ask people to come forward and donate. There was an automatic method, people were willing to donate like they do regularly."
As a large population relied on these refrigerators for food, Dr.Jasmine thought it would be better to close the refrigerators to prevent contamination. "None of the government officials approached us and asked us to close the refrigerator. I took a decision on my own." The main reasons for this decision was of course the fact that it's a refrigerator which attracts a lot of people to it. "I don't want anything to happen to the people who rely on us." She adds.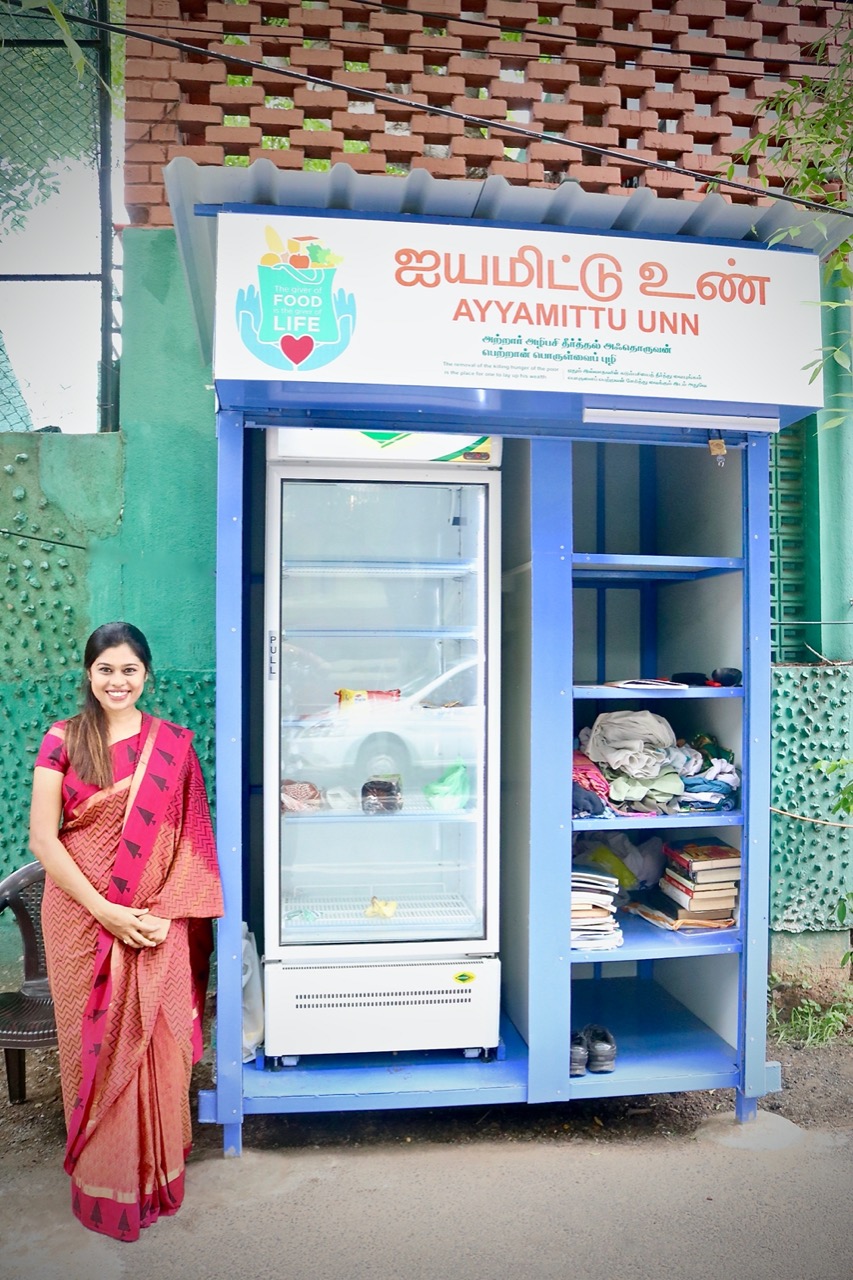 "We're supporting the daily wage labourers in Semmencherry and Kannagi nagar by providing them with dry rations." She explains. "Cooked food goes through our volunteers from the kitchen that we've set up. It's a minimal amount of food that is distributed amongst the road side dwellers."
When asked about the impact of the lockdown on people who live their life based on a daily income she says, "There's two sides to a coin. Most people don't realise what the lockdown is like for another set of people, the lockdown looks like a sabbatical break for them while another set of people, when you go and see them on the road the question about their next meal appears on their face, you don't even have to ask them a question about what they're going through."
Talking about the silver lining even through such hard times, Dr.Jasmine expresses her joy about NGOs joining hands to do their bit to make this situation a bit better. "The government is trying to support those needs but I doubt we can sustain like this for a long time."
"A lot of organisations have opened up their channels in terms of donations and a lot of organisations including my own don't focus on collection of money, rather we ask people to donate rations directly to our office but right now securing  these dry provisions has become a tedious task." She says. "People can send funds based on the organisations that are close to where they live and based on their experiences with other NGOs. If people can donate to 5-10 people within their locality that would be great."
Adding her personal belief, Dr.Jasmine explains how people focus on the daily wage labourers but tend to forget about those working close to them. "Our drivers,maids and office staff get wages below ten thousand rupees and these are people who aren't going to come out and ask us for money. We should deposit a small amount to help them with their provisions, and I think that's the most important thing that we need right now"
"People are waiting to get food, no matter the amount the food gets vanished in 30-40 minutes. A larger set of people should come forward to contribute for the cause." She also adds that she is aware of the risk of volunteers getting infected is high and suggests the opening of a common community area where all regulations like social distancing are followed so that those in need could come to collect food. She explains that this would reduce the burden on the volunteers as well as those in need.
Speaking from first hand experience,she talks about a maid known to her who was fired from her job for not turning up to work for 30days although it wasn't her fault. "In cases like this it would be better for people to help those known to them,be it a milkman, newspaper man or even the drivers and maids."
In a closing note she adds that all companies and individuals are impacted by the lockdown in some way or another. "It is not an easy situation for us. It is a learning period for everyone and there are different things that people have learned through this period. We are very blessed to have many things that other people do not have and in that context we should take this lockdown in a more positive way."