On the brink of World Emoji day, we spoke to a few of your favourite celebs and find out which ones they love using the most and why.
By Yagna Saravanan
Let it be the tears of joy, smiling with heart eyes or the not-so-amused face, we can't help but love our emojis. What was once introduced as a marketing gimmick has now become an easier form of communication and using playful expressions. Not only have they inspired movies and merchandise, they've arguably changed the way we communicate; they help to inject tone and body language into what otherwise would be plain text. An alternate way to convey nuances and, in some instances, also have the ability to affect an emotion or thought across language and cultural barriers.
In 2017, the Empire State Building was lit up in yellow and New York's Museum of Modern Art staged an emoji exhibit, including a showing of the original 176 emojis that started it all, to celebrate the day. July 17th of this year marks the sixth year of this celebration. Read on, to find out which ones your favourite celebrities like using the most and why.
Laila
My favourite emoji is 😂. Because I love to laugh and make others laugh with me. I like making others happy and spreading fun and positivity. Naturally even my Instagram handle is Laila laughs.
Kiki
My favourite is the 😘 emoji. I use it the most with my hubby and especially when he is shooting out of town because I'll be missing him a little too much.
Harish kalyan
This 🤗is one of my favourite emojis because it is very warm and positive. Its like saying hey let's not worry much, give me a hug and everything else can wait.
One of my most used ones has to be the🤦🏻‍♂️. I often use this when the situation is absolutely hopeless or when there's no understanding.
😊&👍 is also something I use very often. It's rather simple and makes everything look perfect.
Ramya
My favourite emoji is the hug emoji 🤗. I like using it because I think a hug can spread positivity and warmth. It's a feel good thing both in real life and virtually. I relate to it because I've learnt to be an expressive person and want to show my friends / family the affection and care that I feel for them.
Regina Cassandra
The heart️ emoji. Because I believe in doing everything with love.
Nivetha Pethuraj
It touches my feminine side.When you see a beautiful flower, you just stop and admire it for a few seconds. I like to pause time once in a while to admire the beauty of life.
Pooja Kumar
I use the joining of the hands, namaste, vannakam 
  emoji the most because it means I now go the divine in you. Which is the very essence I feel when I speak to anyone. It also represents India in America and the rest of the world which I take very seriously.
Simran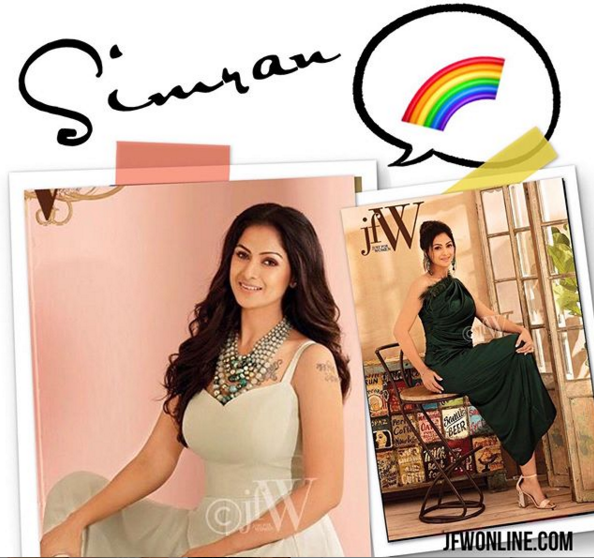 The rainbow is my favorite. Because it is colourful and joyous"
Rakul Preet Singh
"This is my favorite emoji 😝 because it's naughty and fun. I relate a lot to it because most of the time when I talk, I'm
Sarcastically talking or joking, I like to make fun of situations or myself or people around. It's a fun emoji and I find it very cute. And also I think that sometimes you can put across your point and then put this smiley 😝and people can keep guessing if you are joking or actually giving back to them."
Aishwarya Rajesh
"I like this emoji 🤪 because it has got many emotions in it. It can mean many things like Ayyo pocha, teasing, pulling other, flop show etc!! This emoji 🤗 is for happy note always. I use it to denote stay cool, relax. keep smiling."
Did you know?
1) World Emoji Day began in 2014 when users of Apple devices noticed that Apple's calendar apps showed July 17 as the date on the calendar on its icon.
2) The word emoji comes from the Japanese word 'e' for picture, 'mo' for writing, and 'ji' which means letter or character.
3)  In 2015, Oxford Dictionaries named the Face with Tears of Joy emoji the Word of the Year.
4) In December 2017 a lawyer in Delhi, India threatened to file suit against WhatsApp for allowing use of the middle finger emoji on the basis that the company is "directly abetting the use of an offensive, lewd, obscene gesture" in violation of the Indian Penal Code.