As Indians across the globe gear up to dance to
Naatu Naatu
from RRR (2022) performing live at the 95th Academy Awards stage on March 13, 2023, at 5:30 AM IST, here's a big shot out for all our Indian women who made and continue to make history at the Oscars.
Bhanu Athaiya – Best Costume Design
Bhanu Athaiya is the first Indian to win an Oscar. Her work in Richard Attenborough's period biographical film Gandhi (1982), based on the life of Mahatma Gandhi won her the Academy Award for Best Costume Design at the 55th Academy Awards along with acclaimed British designer John Mollo.
Reminiscing about her big night, Athaiya in an interview says, "I still remember that night in Los Angeles. The other nominees (costume designers of La Traviata, Sophie's Choice, Tron, Victor/Victoria) were sitting next to me and said 'We don't stand a chance to win because your film's canvas was so huge." Her costumes in Gandhi had to capture Gandhi's appearance across five decades of his life.
Born on 29 April 1929 in Kolhapur in Maharashtra of British India, Athaiya grew up during India's Independence period which was also the core of the film. Her deep knowledge of Indian history and cultural context elevated her craft even while working in a time when the internet was not wide spread to research periodical references. "We covered a huge span of 50 years of his life. To do that, and be a part of showing his life to the world, was a high for me," she said. "The work on Gandhi is closest to my heart."
Kartiki Gonsalves & Guneet Monga – Best Documentary Short Film
A natural history and social documentary photographer-turned-director Kartiki Gonsalves's debut film The Elephant Whisperers (2022), produced by Guneet Monga is one of three Indian films nominated this year for the 95th Academy Awards.
This 40-minute heart-warming Tamil documentary tells the story of an indigenous couple Bomman and Belli as they fall in love with an orphaned baby elephant named Raghu. Filmed in Tamil Nadu's Theppakadu Elephant Camp at the Mudumalai Tiger Reserve, this film highlights the beauty of the wild spaces in Tamil Nadu and the people and animals who share this space.
"The most special thing about the story is the unusual family dynamic that Bomman and Bellie share with Raghu," Gonsalves beams with fascination. "There are less than 5% women filmmakers making films in India. I feel it's my mission to be part of projects made by women filmmakers. I was overjoyed to be part of Kartiki's journey when she reached out and I hope I can add value to more such projects made by women," says Monga about the challenges faced by women to bankroll projects in an interview.
Mira Nair & Sooni Taraporevala – Best International Feature Film
At the 61st Academy Awards, Mira Nair's debut film Salaam Bombay (1988) became India's second film to be nominated for Best International Feature Film, 30 years after Mother India. The Indian-American filmmaker Mira Nair directed, co-produced and co-wrote along with her friend Sooni Taraporevala. Through Salaam Bombay, the film adopted a journalistic approach to unpacking the lives of children from marginalized backgrounds living in the streets of Bombay.
Rooted in her belief in realism and her documentary film-making experience, Mira Nair chose actual street children as her actors to hold a mirror on society. By authentically portraying the lives of children who survived in the streets and were deprived of a true childhood, Salaam Bombay documents the third-world countries in the late 80s.
Bombay Jayashri – Best Original Song
Pi's Lullaby / Kanne Kannmaniye from Ang Lee's Life of Pi (2012) written and sung by Indian Carnatic singer and musician 'Bombay' Jayashri Ramnath was nominated for the Best Original Song along with Adele at the 85th Academy Awards. This humble Tamil lullaby is the first Tamil song to be nominated at the Oscars.
"A child sleeps not because he is sleepy, but because he feels safe' These were the initial words of director Ang Lee when he was explaining to me what he wanted to hear in the lullaby which opens and brings down the curtain of the movie Life Of Pi," Jayashri shared about her working process on her socials.
Rintu Thomas – Best Feature Documentary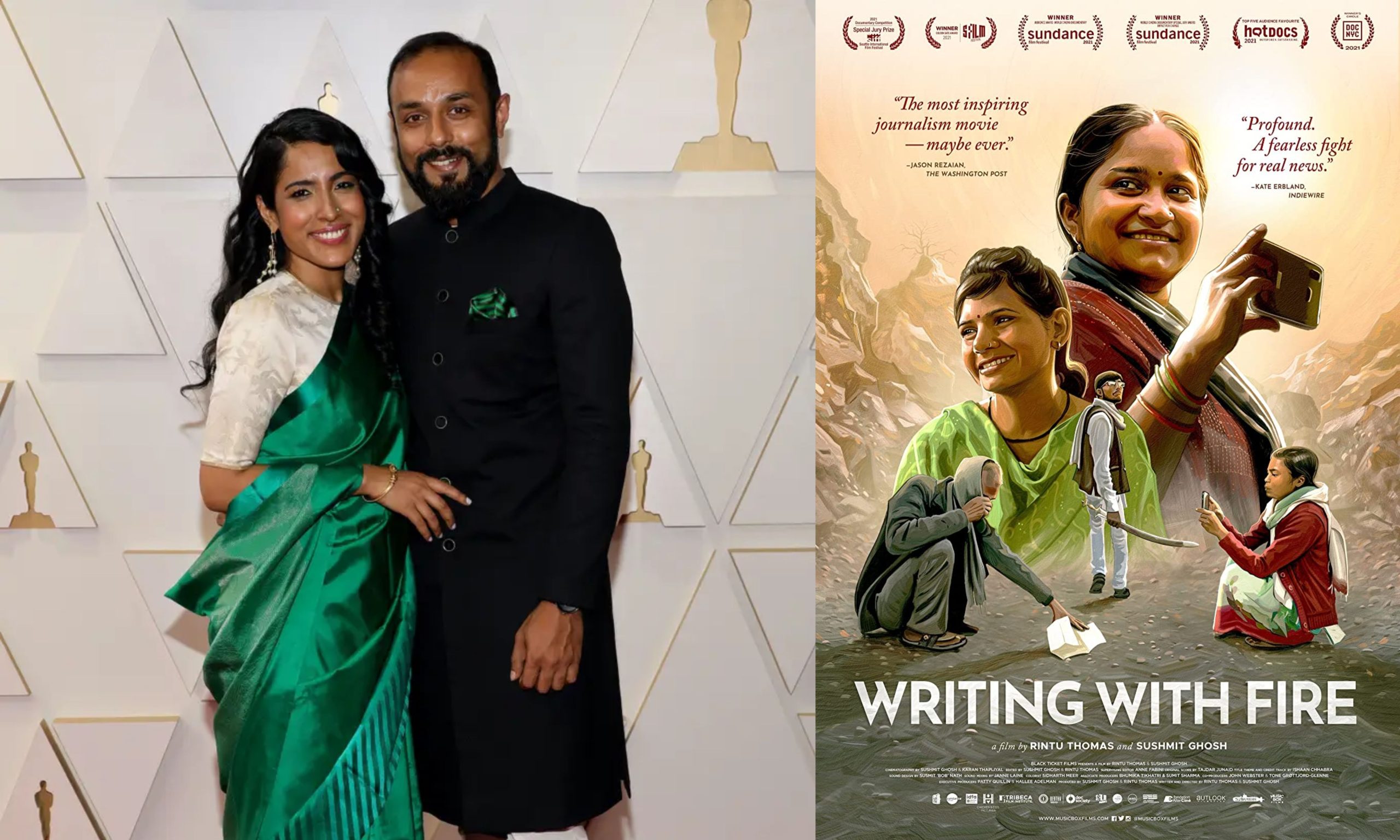 Writing With Fire (2021), is the first Indian documentary to be nominated for the Academy Award for Best Documentary Feature in 2022. Rintu Thomas co-directed the documentary along with her partner Sushmit Ghosh. The film sees the rise of the rural news agency 'Khabar Lahariya' run by Dalit women in Uttar Pradesh. Armed with smartphones, these women journalists report from some of the most difficult regions of the country, where the mainstream press is dominated by upper-caste men, risking everything to speak truth to power.
"An incredible amount of power and strength in the film's narrative comes from the way the women at Khabar Lahariya lift each other, spending time and efforts in creating solidarity and mentoring. It's firm, yet gentle," says Thomas in an interview.
However, Kavita Bundelkhandi, editor of Khabar Lahariya released a statement that they were proud that a documentary had been made on their achievements but wished it had been a more rounded portrayal; "The documentary portrays our work inaccurately because it shows only a part of what we do, and shows that ours is only about one political party."
While there are a lot of hidden financial and cultural factors involved with Indians making it to the Oscars, because it is essentially designed to reward Americans, our women here have made all us proud and paved a path for women like them in the future.