As we continue to 'physical-distance' through these tough times, cover girl Shruti Haasan turns photographer to bring to you portraits of herself from her home in Hyderabad. 
"Being born into stardom you start developing a perception at a very young age that fame is not the have-all." Shruti Haasan was born to privilege with a fabled last name but is determined to create her own legacy. The cover star for JFW July opens up about her journey in life, she talks about her early memories of childhood, being broke, facing rejections, and finding her own way, shattering every misconception one might have about a star kid.
Today, it's easy to say that Shruti Haasan has made a mark globally. Having starred in more than thirty movies across Kollywood, Bollywood, Tollywood, and a Hollywood TV series on the way, Shruti is also an internationally recognised musician who can perform Metal or Blues in London to a Tamil 'kuthu' in India. The journey here however, was far from being easy. Here are a few extracts from her cover story interview for JFW July!
CHERISHING CHILDHOOD!
I don't attach myself to places; I make a home wherever I feel comfortable.
After spending the first seventy-five days of her lockdown in her apartment in Mumbai, Shruti only recently drove down to Hyderabad for work. "I can make a home anywhere. My memories of childhood are mostly associated with Chennai because I grew up there. I have a special connection with Hyderabad also since I've worked so much here. London feels like a home away from home, it's a city that I love. I'm very nomadic that way. I don't attach myself to places; I make a home wherever I feel comfortable."
My memories of Chennai are great, filled with friends, music, love…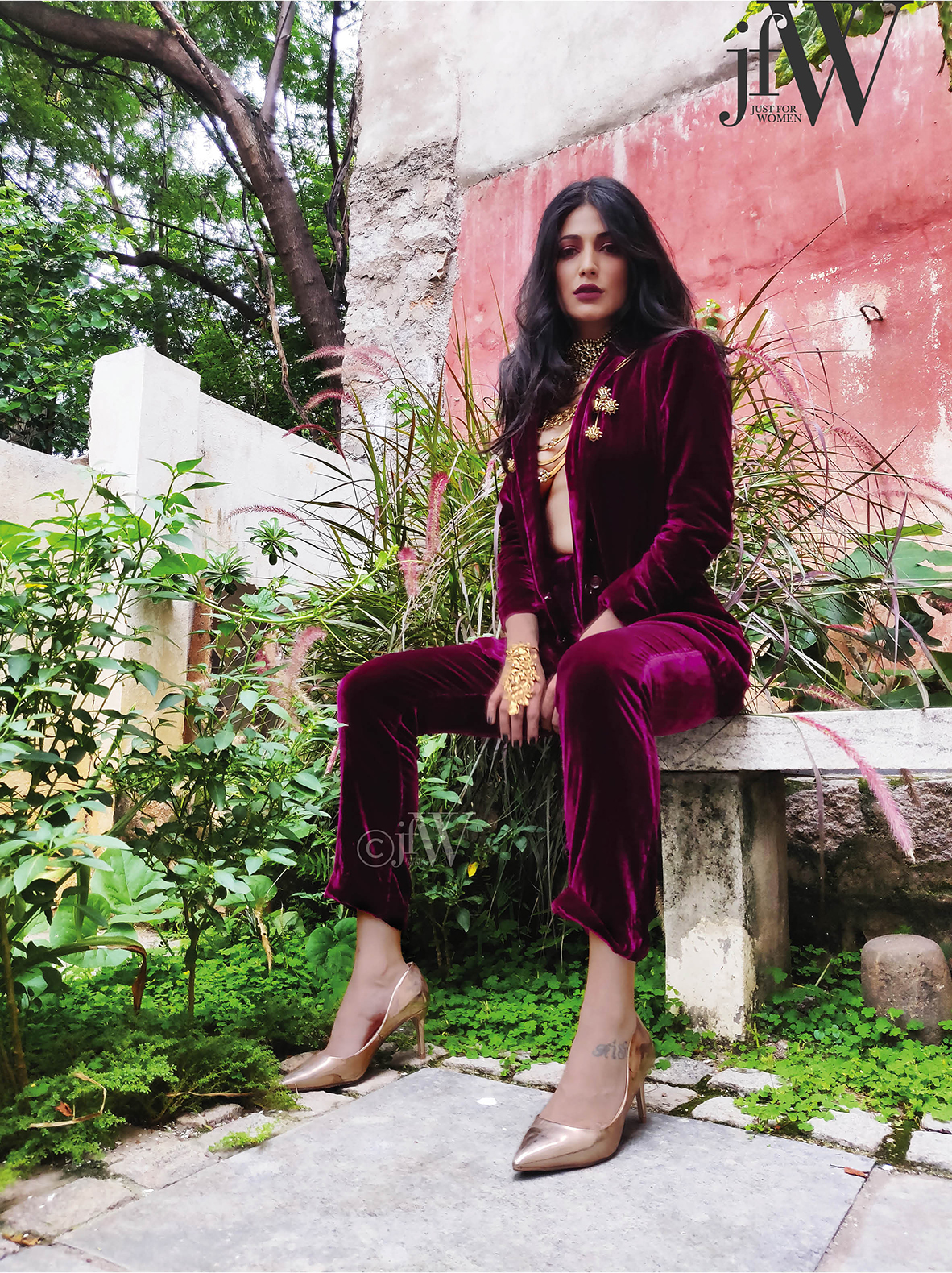 "I grew up in Chennai and I went to this amazing school called Abacus Montessori School. I studied there till 10th grade. It was a very utopian and a lovely environment to study and grow up in. I had a close circle of friends, very much like family. My friends from that school are still my best friends today.
"Nepotism is not just about my surname!
 "I understand the privilege I bring with my surname, but I have never had my mother or my father pick up phones and get me a job.
I have lost many jobs just like anybody else. I understand that the door to opportunities opened because of my surname but I stayed because of me. Hand on my heart, nobody kept taking me because I'm Kamal Haasan's daughter.
I faced my rejection, I was rudely asked to leave the business, I was tagged unlucky, bad-luck for movies, I was called unworthy. I fought all this and came up on top and I'm not going to let somebody else's opinion take that away from me. But I understand my privilege, I value and preserve that, but I don't depend on it. I think that is something the audience in the south knows about me.
Also, it is not just nepotism in our industry, favoritism also exists and that has nothing to do with nepotism, right?"
To read the whole transcript click here and turn to page  22