The
Tamil poet and lyricist Vairamuthu has been chosen for the fifth ONV literary award instituted by the ONV Cultural Academy in Kerala. This is the first time that the award is being presented to a non-Malayali writer, according to reports. The ONV award has been presented annually in memory of great poet O.N.V Kurup. Chinmayi Sripada and many others have protested this decision of the jury as they plan on felicitating a person who has been accused by nearly 17 women of sexual misconduct. 
Mr. Vairamuthu gets the fifth ONV literary award instituted by the ONV Cultural Academy.

Wow.

Late Mr ONV Kurup would be proud.

— Chinmayi Sripaada (@Chinmayi) May 26, 2021
In 2018, Singer Chinmayi Sripada took to her Twitter and highlighted claims of sexual harassment in the Indian Music Industry. She had accused Vairamuthu and gave a voice to many others who were harassed by OS Thyagarajan, Raghu Dixit, Mandolin U Rajesh and the list goes on. The case has not seen the day of light, however, the singer has been facing a ban from the Tamil Nadu Dubbing Union without going into proper trial. This not only reflects the state of women in the industry, but also the power dynamics that work in this space. 
The singer recently raised her voice against the sexual harassment and misconduct that took place in a reputed educational institution in Chennai. To this, even DMK's Kanimozhi extended her voice and promised to take action against the perpetrators. It was oxymoronic to see the political leader take her side for one case while she didn't respond at all to the other. The highlight however has to be the power play as the poet donated to the COVID relief fund, thereby seeking refuge in the ruling party. This makes him invincible for the next few years for sure. A few months ago, when the election campaigns were in full swing, DMK was criticised for giving a #MeToo accused a platform. He was asked to chair the event and was addressed as the 'Thalapathy Thalaivar Mudhalvar'.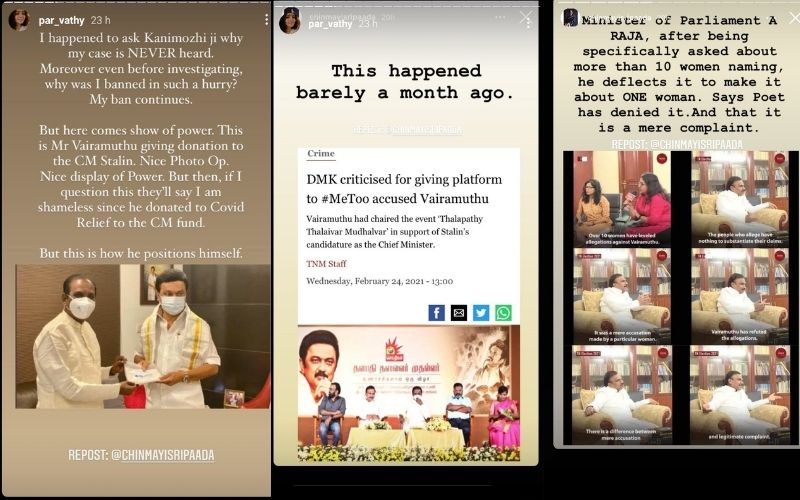 Minister of Parliament, A Raja, explained in an interview that the entire accusation has been denied by the poet even after being told that nearly 10 women have accused the same man of harassment. He even added that this is the work of ONE WOMAN and that it is baseless until and unless there is a legal complaint. A Tamil Politician also took to Youtube and used abusive language against the singer as she had accused the 'Pride of Tamil Nadu' Mr. Vairamuthu and he also called all of this a Brahmin conspiracy. Mr. Thol Thirumavalan called the #MeToo movement a master plan of Modi in a video. The singer wrote that it seems like 'Overall every man who said he is pro feminism and women's rights in politics gave Mr.Vairamuthu the innocent certificate. Why? What's your guess?' The singer has presented her followers with screenshots of all these accusations on her Instagram account.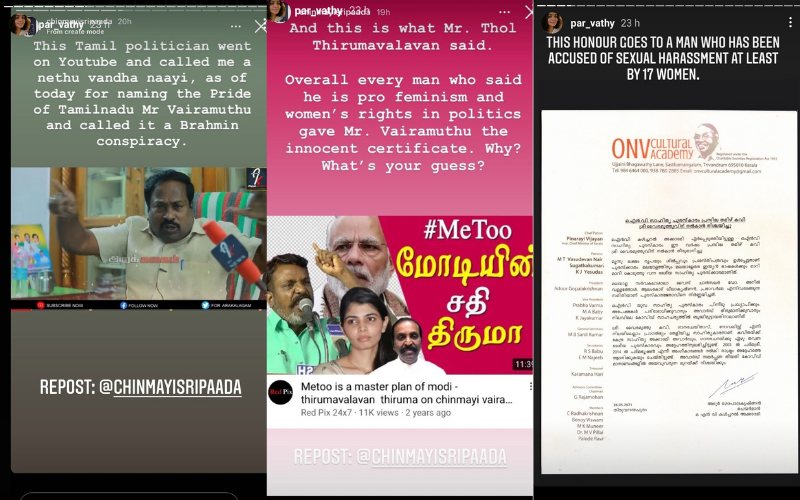 Malayalam actor, Parvathy Thiruvothu, joined hands with the singer and expressed her anger and frustration at how the ONV Award was handed over carelessly to a man who has been accused of sexual assault. She wrote "ONV sir is our pride. His contribution as a poet and lyricist is incomparable; how it has nourished our culture. Our hearts and minds have benefited through his body of work. This is exactly why it is immense disrespect to give such an honour in his name to the accused of sexual assault crimes." She also took to the caption and wrote "17 women have come out with their stories. We don't know how many more have been wronged. There seems to be enough whataboutery to continue wronging those who are wronged. Only to uphold the reputation of those in power. Nothing is more important than humanity. If you come at me with the art vs artist debate, let me tell you that for me the humanity of the person creating the art is the only thing I'd choose to look at. I can live without the "art" of those who hollow out lives with absolute impunity." 
View this post on Instagram
She reshared the stories of Chinmayi along with the stories of Smriti Kiran, an artistic director. The stories mainly speak about how the giants in the industry get away easily. The fight isn't an easy one but it surely needs more people to join hands. Quoting the cases of Tarun Tejpal and Harvey Weinstein, she spoke about how the ecosystem is so toxic that it would take many more voices to serve justice for all those who went through any form of assault or harassment. When one uses religion or caste as an identity and to call that merit, they are blind to all the privileges they access. She reiterated the fact that this battle requires more people to join and stand in solidarity. Providing a few glimpses of the Tarun Tejpal case, she also shared how absurd it was to expect a particular behaviour of sexual assault survivors. She added, " There will be all the reasons in the world to wrong a woman who has been wronged. Not enough reason though to bring her justice." She also shared a video in which there is a debate between Humanity and Reputation. How powerful people give up on the most basic virtue in order to maintain their name and fame. 
View this post on Instagram
Filmmaker-actress Geetu Mohandas and filmmaker Anjali Menon have also expressed their support on social media. Director Anjali Menon wrote "ONV Sir's name resounds with deep sensitivity, dignity and respect for any Malayalee. Therefore very disturbed to know that ONV Academy has chosen an alleged perpetrator (called out by 17 women) for the #ONVAward. Are these the values they celebrate?"
Vocalist TM Krishna tweeted: "This is how our society validates and gives more strength to someone who has been called out by several women as a sexual predator.  Utterly Shameful!"
This is how our society validates and gives more strength to someone who has been called out by several women as a sexual predator.
Utterly Shameful! https://t.co/WB3VMjFTff

— T M Krishna (@tmkrishna) May 26, 2021
Until the DMK officially distances itself from Vairamuthu, it cannot claim any moral space within the #metoo movement.

— T M Krishna (@tmkrishna) May 27, 2021
The battle is still going on. The people in power are still being questioned. But the numbers aren't enough. There is a need for more people to come together and stand for one another in this fight. Parvathy has often been vocal about her beliefs and it is great relief to see people within the industry stand for one another . It looks like time to lend a voice. It looks like time for justice.