By Jayabhuvaneshwari B
Ever since the lockdown began, OTT platforms have become famous and have made it easier for movie-buffs to watch movies from home. On the other hand, various platforms are also releasing  a variety of movies on their respective platforms. Here are a few movies that have released or are yet to be released on various platforms, that are worth your time. 
1. Nayattu:
Nayattu, which was recently released on Amazon Prime is a malayalam-language social thriller tragedy film. directed and co-produced by Martin Prakkat and written by Shahi Kabir. It stars Kunchako Boban, Joju George and Nimisha Sajayan in the lead roles. The story revolves around Three police officers who are on a run for life, escaping the outbreak against them due to the unlawful arrest and torture of a civilian.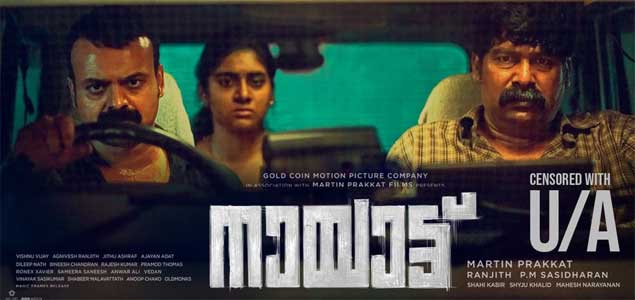 2. Nizhal:
Nizhal, is another Malayalam-language mystery thriller which was released on Netflix. It was directed by Appu N. Bhattathiri and written by S. Sanjeev and stars Kunchako Boban and Nayanthara in the lead roles. The story is about John Baby, who is recouping from a traumatic accident,  who meets Nitin, a young boy who interests him with murder stories. When Baby explores the possibility of Nitin's stories by mapping the events, it matches with the real-time incidents.
3. Sulthan: 
The Tamil movie which initially had a theatrical release was released on Disney+ Hotstar recently. It stars Karthi and Rashmika Mandanna in lead roles and is an action film directed by Bakkiyaraj Kannan. The story is about Sulthan, a motherless child raised by a group of hardened criminals who work for his father Sethupathi. He loves these 100 men as brothers but despises their taste for violence. Following the death of his father, the responsibility to take care of these men falls on the shoulders of Sulthan.
4. Karnan:
Mari Selvaraj's Karnan is a Tamil-language movie starring Dhanush, Lal, Yogi Babu and Gouri G Kishan in lead roles. The movie which initially had a theatrical release, has been released on Amazon Prime as well. The story is about Karnan, a fearless village youth who must fight for the rights of the conservative people of his village. The storyline is loosely influenced from the 1995 Kodiyankulam caste violence that happened in Thoothukudi district.
5. Kavalthurai Ungal Nanban: 
This Tamil-language crime thriller is yet to release on Zee5 and is directed by Ranjith Manikandan (RDM) and stars Suresh Ravi and Raveena Ravi in lead roles. The story revolves around a terrible series of events that occur when a public employee unexpectedly enters a police station. What happens next forms the major twists in the story.
6. Hero:
Hero is a Kannada dark comedy film written and directed by debutant director M Bharath Raj. The  movie, which is available on Zee5, stars Rishabh Shetty and Ganavi Laxman in lead roles. The story is about a barber who stumbles upon his ex-lover in the home of a notoriously bloodthirsty gang leader. Misadventures follow when he tries to help her escape with the gangster's men in hot pursuit.
7. Shadow:
Directed by Ravi Gowda, Shadow is Kannada-language action drama that has Umesh Anna, Sharath Lohitashwa, Khiladi Lokesh, Vinod Prabhakar in its lead roles. The movie which is on Zee5 is about a common man who lodges a complaint about his missing shadow at the police station. The investigation and revelations of the common man hints at an accident that might have been a murder.
8. Cinema Bandi:
Cinema Bandi is an upcoming Indian Telugu-language comedy drama film written and directed by debutant Praveen Kandregula. It was released on Netflix  and stars debutante actors like Sandeep Varanasi, Vikas Vasistha, Rag Mayur in lead roles. The plot of the movie revolves around a struggling rickshaw driver's life which takes a turn when he comes upon an expensive camera and decides to make a film with his fellow villagers.
9. Nenjam Marappathillai:
Nenjam Marappathillai on Zee5 is a Tamil-language horror film written and directed by Selvaraghavan and stars S J Suryah, Regina Casssandra and Nandia Shwetha in lead roles. The story revolves around a  pious young woman who takes a job as a nanny to a wealthy family and tries to stay out of the way of her married employer's perverse and lustful plans.