By Jayabhuvaneshwari B
The lockdown has made many of us miss our friends and gangs. We are not able to have a great social life or go shopping or even to watch movies because of this situation. Apart from work or studies, the only other thing that acts as consolation is watching movies or series online. But if you really want to cherish your friendship and take a trip down your memory lane, here are 8 series you could watch.
1.The Bold Type:
Starring Katie Stevens, Aisha Dee and Meghann Fahy, The Bold Type is an American comedy-drama series on Netflix. Created by Sarah Watson, this series is inspired by the life and career of former editor-in-chief of Cosmopolitan magazine Joanna Coles, who is also the executive producer of this series. It portrays the lives of three millennial women, who are employed in the fictional magazine called 'Scarlet' in New York. It deals with all social issues like gender identity, racism, white privilege, etc. It also delves very deep into the working of a magazine and has an interesting take on Journalism on the whole. The series is loved by many because of the friendship of the three lead characters, who stick together no matter what goes wrong. The first 4 seasons of the series are on Netflix while the last and final season has started premiering on Freeform and Hulu on 26th May, 2021.
2. Girls Hostel:
With 2 seasons, Girls Hostel is a Hindi comedy-drama series that is available on Sony Liv and Netflix. Starring Ahsaas Channa, Parul Gulati, Srishti Shrivastava and Simran Natekar, this series is directed by Chaithanya Kumbhakonam. While it shows a lot of girls who live in the same hostel, it focuses on 4 girls who come from different backgrounds and become friends once they join SVM Dental College. The rest of the series is filled with how they deal with different conflicts and politics that arise within their hostel. It also shows how the Dental girls come together to fight against the Medical hostel girls. The series is very short with just 5 episodes in each season. However, within these 10 episodes, the director has managed to convey a complete story with very relatable conflicts and comical scenarios that one really experiences in a hostel. One gets the desire to live in a hostel at least once in one's lives after watching this series. 
3. The Trip:
Starring Swetha Tripathi, Lisa Haydon, Sapna Pabbi and Mallika Dua, The Trip is a Bindass original series available on YouTube. It tells the story of 4 girl friends who go on a road trip in Thailand as a part of the bride's bachelorette. The journey though, turns into an emotional roller coaster. The second season is a little different with Amyra Dastur playing the lead role of a runaway bride and the trip the other three girls take along with her. Lisa Haydon does not play a part in the second season. This series makes you want to take that 'Friends Trip' you have been planning with your girl gang. It makes it even more emotional to watch during the lockdown because we don't know when we can travel next.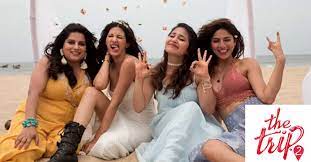 4. Ginny and Georgia:
Created by Sarah Lampert, Ginny and Georgia is an American comedy-drama series streaming on Netflix. In 1 season, it tells the story of Georgia who has Ginny in her teenage years and keeps moving from one city to another with her children. It follows Ginny Miller, a "15-year-old who is more mature than her 30-year-old mother", Georgia, in a New England town where Georgia decides to settle down with her daughter Ginny and son Austin to give them a better life than she had. In the series, Ginny gets settled in the new town with her girl gang and the story revolves around the conflicts and drama they face within the gang. Starring Brianne Howey and Antonia Gentry in lead roles, Ginny and Georgia is the high-school drama entertainment that will make you want to go back to your own high-school days. The series is now renewed for a second season.
5. Sweet Magnolias:
Sweet Magnolias is a romantic-drama streaming Television series on Netflix, based on the Sherryl Woods novels with the same name. Developed by Sheryl J. Anderson, this series stars JoAnna Garcia Swisher, Brooke Elliot, and Heather Headley in lead roles. It follows the lives of three South Carolina ladies who are childhood friends and who help each other with complexities surrounding romance, career and family. It has a wonderful take on family-life and gives importance to the concept of women having solid careers for themselves. While it steers through the lives of these three friends, it also deals with the lives of their children giving it an old and new look at the same time. The series tends to remind the viewers of their childhood friendships and might even make you reconnect with them, if you are not already in touch with them. The series is also renewed for its second season.
6. Trinkets:
Trinkets is an American teen drama streaming television series, based on the 2013 novel of the same name by Kirsten Smith. With only 2 seasons, this series stars Brianna Hildebrand, Kiana Madeira and Quintessa Swindell in lead roles. It follows the story of three high-school girls from completely different backgrounds, who unite after finding each other at a Shoplifters Anonymous Meeting. The characters have different personalities and personas in school, keeping their friendship a secret: Elodie is an introvert; Moe favors punk style; while Tabitha comes from a wealthy family. They form a deep bond after finding out that they all have a shoplifting habit. Each also find in the others' strength, as they navigate their own problems such as family and school issues. The series talks about a range of issues including gender identity, domestic and sexual abuse, and self-harm. The unlikeliness of their friendship is the main factor carrying the series forward. The series is entirely available on Netflix.
7. 4 More Shots Please:
Starring Sayani Gupta, Kirti Kulhari, Manvi Gagroo and Gurbani Judge, 4 More Shots Please is an Amazon Prime Original series with 2 seasons. Directed by Anu Menon and Nupur Asthana, this series entirely deals with Feministic ideas. The series follows the story of four unapologetically flawed women (two in their 30s and two in their early 20s) as they live, love, make mistakes and discover what really makes them tick through friendship and shots of tequila in millennial Mumbai. The first season gained a lot of reception because of its unique storyline showing women as raw as they are. Its second season came out a year ago and was also received very well. This series encourages you to explore and experiment life along with the support of your girl gang!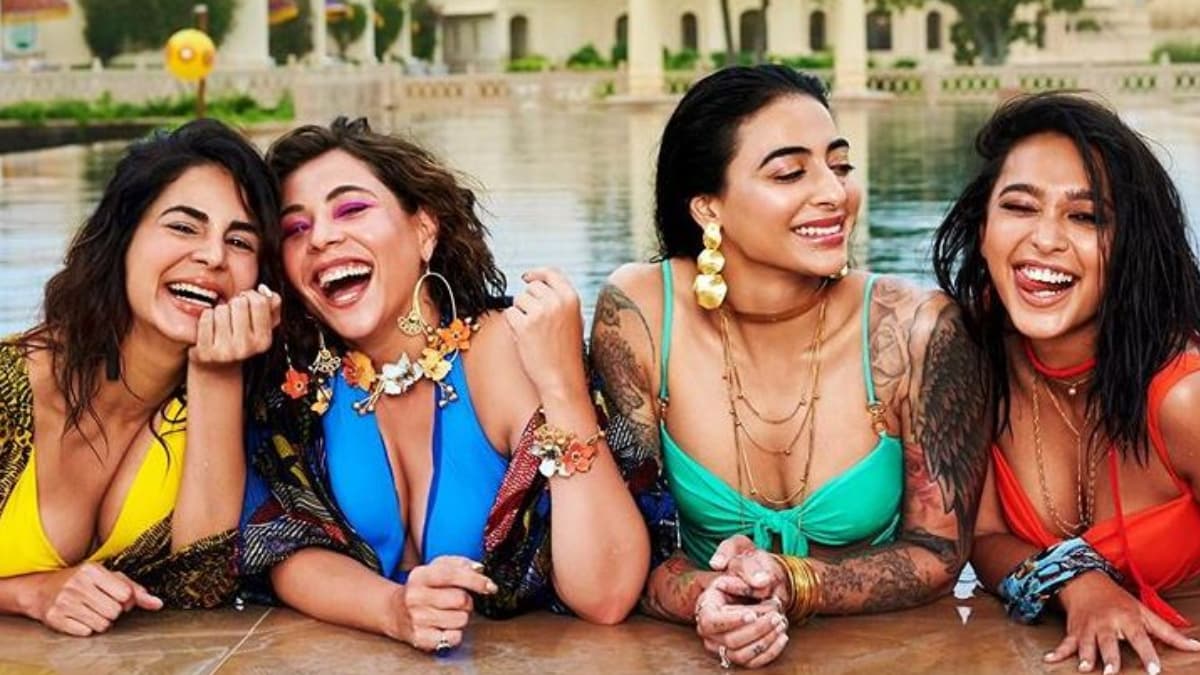 8. Good Girls:
Good Girls is an NBC original crime-comedy drama series starring Christina Hendricks, Retta and Mae Whitman  in lead roles. Directed by Jenna Bans, the story revolves around three suburban Michigan mothers, two of whom are sisters, who are having a hard time trying to make ends meet. They are tired of having everything taken away from them so they decide to pull off an unlikely heist by robbing a supermarket, only to discover that they are in for more than they expected. The series has 4 seasons out of which 3 are available on Netflix. The latest season released only in March 2021. While the plot of this series may not be entirely believable, the performances of the lead actresses are very strong and worth watching for.