By Jayabhuvaneshwari B
Movies are an easy escape from reality. For 2-3 hours straight, you disappear mentally into the world of the protagonist and then come back to reality only after the movie ends. Sometimes, when movies are very predictable, it is very irritating to watch them because you can easily guess what comes next. Only when movies are unpredictable will you be biting your nails, sitting at the edge of your seats till the end. Tamil cinema has a fair share of such movies that have done justice to the idea of finishing with an unexpected turn. Here are 7 movies with unexpected endings that made them even more worth it! 
1.Dhuruvangal Pathinaaru:
Released in 2016, Dhuruvangal Pathinaaru, also called D-16 by fans, is directed by Karthick Naren and stars Rahman in the lead role. The story starts with Deepak (Rahman) narrating a Police Incident that led to his limp to the son of another Police Officer. The latter comes under the pretext of taking career advice from the former. Deepak narrates the case which involves a murder which he tried to solve along with a new Police officer Gowtham but ended up getting into an accident. The identity of the murderer and why the murder happened is not revealed till the very end, which makes the movie even more interesting. Karthick Naren received a lot of appreciation for this debut movie of his. 
The Twist: The man who poses as a police officer's son is actually Gowtham, who lost his entire career and life because of the burns he experienced during the accident. When he comes to Deepak's house in an earlier situation to solve the case, he sees the murderer in the house, who is then revealed to be Deepak's son. Deepak does not solve the case entirely in order to save his son. Gowtham figures this out and visits Deepak to take his revenge.
2. Jigarthanda:
Jigarthanda is a 2014 film directed by Karthik Subbaraj starring Siddarth and Bobby Simha in lead roles. The movie was Karthik's second one with a very different take on a gangster/don story. The story seems like a proper don movie until the interval where you are really kept anxious as to what is the fate of Karthik (Siddarth). The story is about Karthik wanting to make a movie like Nayakan or Thalapathi and therefore trailing Assault Sethu to base the movie on his life. He gets caught by Sethu and his men who are ready to even kill him, but change their minds after Karthik opens up about his intention. Sethu then threatens Karthik that he will be the one who acts in the movie as well. How Karthik makes Sethu act and how the movie turns out, forms the rest of the story. The twist in the story is placed at a very crucial space which makes the audience lose their minds.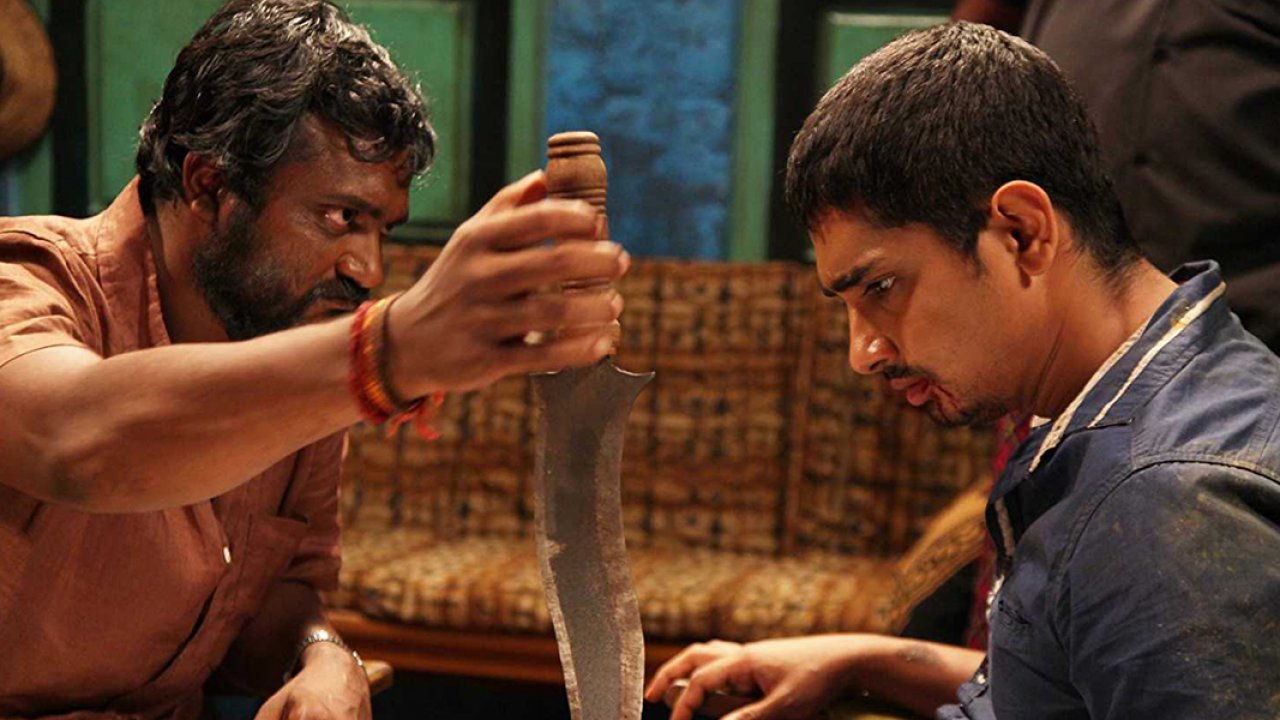 The Twist: The film directed by Karthik featuring Sethu turns out to be a comical one. He replaces 'Assault Kumar' with 'Azhuguni Kumar', a don who cries to get his way. He uses all the documentation that he does when he forces Sethu to attend an acting class because he doesn't know how to act. The film becomes a big success leaving the audience with tears from laughter. However, Sethu realises it only after the release of the movie and is angered by the same. 
3. Pizza:
Pizza was the first Karthik Subbaraj movie which was also a success because of its massive twist in the end. Starring Vijay Sethupathi and Remya Nambeesan, Pizza is a horror-thriller that was released in 2012. The story revolves around Micheal Karthikeyan, a pizza delivery boy who lives with his girlfriend Anu. They live together and get married after Anu announces her pregnancy.They are desperate for money as they both do not earn much. The story moves to a day where Micheal's boss asks Micheal to deliver a package to his house while delivering Pizza. However, Micheal comes back shocked, bruised and empty handed. He narrates that he had a scary and horrific experience in a Bungalow where he came in contact with supernatural beings. Micheal's boss is distraught to find out that he left the pizza delivery bag at the Bungalow itself, because he had left Diamonds worth Millions in them. But, he does not even think about entering the place, given his supernatural belief. The audience thinks that the movie ends with Micheal's colleagues considering him mentally unstable and helping him out. But in reality, the twist comes after, which blows the minds of many.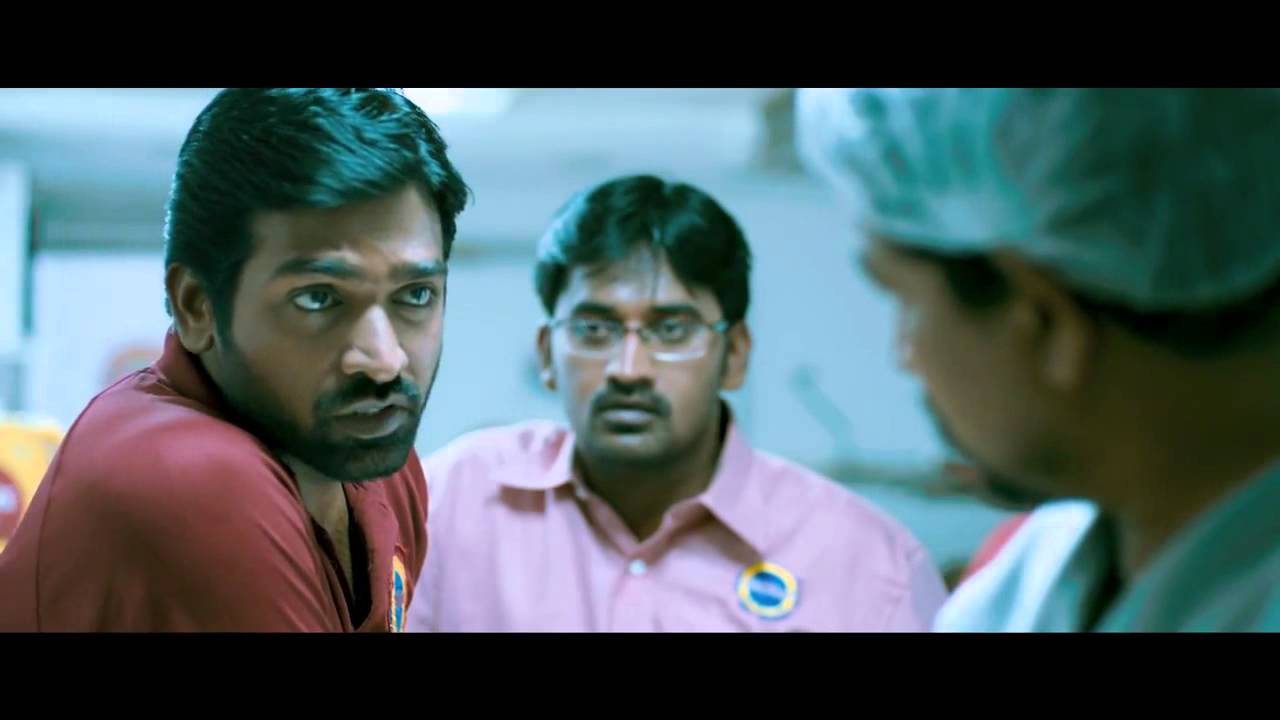 The Twist: Michael actually finds the diamonds on the way to his delivery and takes it home to Anu. They both plan to escape with the same because it would help them financially with the baby. Anu, who is aspiring to become a Horror story writer, gives this idea to Micheal while she escapes with the diamonds to Kochi via Bangalore. Micheal makes his friends and boss believe that there was no Anu because none of them have actually seen her. The boss also does not enquire into it because of his belief in supernatural beings. 
4. Ko:
Ko is a 2011 movie directed by KV Anand, starring Jiiva and Ajmal Ameer in lead roles. The story seems like one which is not capable of twists as it involves only a couple of journalists and some politicians. The story is about Ashwin (Jiiva), a photo journalist and Renuka, a fellow journalist who writes and publishes stories outing a corrupt politician and also supporting Vasanthan, a good politician who tries to establish himself as a leader. The movie involves Naxalites who try to create problems for Vasanthan. The movie also reveals that Ashwin and Vasanthan were actually college friends and that he fully supports him in his political journey. The movie showcases a detailed look into journalism, and therefore a twist was completely not expected in such a general storyline. The twist indeed made the movie way more worth it to watch. 
The Twist: Vasanthan actually only pretends to be a good politician caring about the welfare of the people. In reality he has ties with Naxalites with whom he scripts some scenarios of bombing and fire accidents, only to win the sympathy of the common man and win the election. The unexpected turn that Vasanthan is the real antagonist is safeguarded perfectly because of Ajmal Ameer's performance in the movie. 
5. Kannum Kannum Kollaiyadithaal:
Desingh Periyasamy's Kannum Kannum Kollaiyadithaal is a 2020 movie starring Dulquer Salman and Ritu Verma. The movie is one with several twists and turns that does not reveal its true purpose till the very end. It is about two boys Siddarth (Dulquer) and Kallis (Rakshan) who seem like techies but are actually con-artists in reality. They fall in love with two girls respectively who also come from a very poor background. Siddarth and Kallis' ploy is investigated by DCP Pratap (Gautam Menon). However, the two boys try to mend their ways and decide to move to Goa with all their wealth to lead a better life with their girls. How the DCP finds these boys forms the rest of the story. This is a movie with not one or two but many many twists. Everytime you think that you have predicted the movie, it comes with a brand new twist to keep you in shock. The movie, being a general entertainer, fared well amongst audiences. 
The Twist: While Siddarth and Kallis are con-artists, the two girls they love who are later identified as Madhu and Varsha are bigger con-artists. They act like falling in love with rich men and then loot all their money. While the boys think that the DCP comes in search of them, he actually comes in search of the two girls. The movie only begins after this twist and goes on with the boys teaming up with the girls to perform the perfect loot. The last twist comes from DCP Pratap who gets involved in finding the girls only because he was cheated and looted by Madhu in the past.
6. Mankatha:
The Ajith-starrer Mankatha directed by Venkat Prabhu was released in 2011. This movie with an amazing cast list also has Arjun, Trisha, Lakshmi Rai, Andrea, Vaibhav, and Premji to name a few. The movie is majorly based on a money-heist that is planned by a group of youngsters. A team of youngsters try to hijack a container full of black money with the help of retired police officer Vinayak (Ajithkumar). On the other hand, a team of police officers under the leadership of Prithviraj  (Arjun) are on a hunt to stop this crime. Did they successfully hijack or did the police rush before them to stop the crime is the rest of the story. The story has a lot of twists as there will be betrayal and kidnaps happening at various stages of the film. As a movie with a lot of twists, it becomes completely unpredictable towards the end. The ultimate twist however, is placed towards the very end and does good to the audience in a very unexpected way. Being Ajith's 50th film, Thala fans celebrated the movie in a grand way.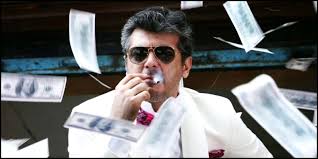 The Twist: The big twist comes at the end where Vinayak and Prithviraj are shown as accomplices or Partners in Crime who worked together playing Good-cop/Bad-cop to ultimately take all the money for themselves. Both of them attend the Police camp and train to become Police officers together and start devising this detailed heist as soon as they receive intel about the money. 
7. Chekka Chivantha Vaanam:
With a star cast including Vijay Sethupathi, Aravind Swamy, Simbu, Arun Vijay, Prakash Raj, Jyothika and Aditi Rao Hydari, Chekka Chivantha Vaanam is a 2018 tamil Gangster film. Directed by Mani Ratnam, the movie outlines the story of three brothers who conspire against each other in order to take over their father's criminal empire after his 'so-called' sudden and unexpected demise. The movie moves very fast in the second half, with the brothers figuring out that they have each betrayed each other and then also planning revenge against one another. Vijay Sethupathi, who is suspended from the Police force, is a common friend of all three and plays a very important role in trying to sort out the issue between the brothers. The ending of the movie, though super unexpected, was very much required and made the movie all the more fruitful. The movie with a very fast-moving storyline and a lot of violence, impressed the audience with its surprise ending. 
The Twist: Rasool Ibrahim (Vijay Sethupathi) is actually not suspended from the force.
Rasool was actually still working undercover to eliminate Senapathi's (Prakash Raj) empire, and the rift between the brothers created a chance for him to bring down their empire of crime. After Thyagu (ArunVijay) kills Varadhan (Aravind Swamy), Ethi (Simbu) kills Thyagu. Rasool then narrates a story of why he joined the force and his hatred for gangsters to Ethi before shooting him as well and reporting to his Officials that Operation Red Sky was finally completed.
When you start watching these movies, you sit with a mind-set to get entertained for the next couple hours. However, what these movies actually end up doing is give you a lot of content to think about and leave you shocked for a long time. In fact, these are movies that are worth a couple re-watches to actually see how the twist builds itself and leaves you surprised towards the end!