Womanhood doesn't need women who are born as queens. True womanhood is a woman who not only saves her crown but doesn't let the crown of her other women fall.
The film industry has given us many such Sheroes whom we look up to. Today is the birthday of one such Shero who has always risen her voice for the threads of feminism. Jyotika, a prominent name in the industry, turns 43 today. In her recent release, Udanpirappe gauged all the right numbers on the Amazon Prime OTT platform.
To celebrate her day, here's a walk down her lane of 6 moments when she brought out her feminist to the light.
"Humanity is the greatest religion," her speech on Tanjore temple donation
While shooting for her recent OTT release in Tanjore near Government Rasa Mirasudhar Hospital, Jyotika saw pregnant women and expectant mothers waiting there. A mother sitting on the veranda with her baby delivered on the first day shocked them. She expressed her helplessness and pity regarding the situation but didn't just stop talking about it. She went and gave the hospital 25 lakhs.
In an award function held by our magazine, JFW, she voiced out a speech for the same.
"I have said this in Raatchasi too, Gowtham has said — that you are donating a lot of money to temples, painting it and maintaining it, donating to the temple hundi. Please put the same amount into buildings, schools, hospitals. It's very important. I felt very bad. I didn't go to the temple after seeing the hospital. I think hospitals are as important, schools are as important, so let's donate to them also."
The speech did have controversies around the comparison, but her voice stirred actions as there were inspections to upgrade the hospital infrastructure.
"Women empower women," her sense of gratitude to the women she knew
Infusing our screens with a wave of feminism, Jyotika's Magalir Mattum bagged her the film excellence award in the JFW awards in 2017. Not hushing this victory as another rag to riches story, the actor went on to thank the women of her life.
She thanked her mother by recalling her advice:
"One day she told me, 'Jo, you have to stand here and face people, face the world. I want money in your bank because if you haven't met the right man, keep your head high and walk out of the relationship. It's not worth it.' Thank you to my Amma for teaching me self-worth and self-respect."
She went on to thank her mother-in-law for her upbringing:
"Only a queen can raise a prince, who is very much required today for the society."
She also thanked her friends, Sarah and Nachi, and said they were the most important women in her life. "They are the wind beneath my wings, they make me fly and make sure I don't land. They are my positivity, my aura, my everything."
And lastly, she thanked God for the gift in her life. She said, "I have got a beautiful gift from God. My daughter. And I promise this to all of you that 10-15 years henceforth, I will make sure that she stands on this dias, receiving this award."
Come back to the silver screens
After a glaring success in the first half of her career, Jyotika announced a break from acting and many people thought that she had called it quits owing to her marriage and starting a family. The much spread stereotype of a woman becoming family-oriented after she ties the knot lives deep-seated in our society.
After Jyotika's marriage, people questioned her onscreen presence owing to her age and her being a woman.
However, the actor proved all such rumors wrong by making a comeback with '36 Vayadhinile,' a film centering around ageism and misogyny. Her character was much praised and even bagged her a Filmfare award which helped her shatter such stereotypes, outlining the onscreen presence of women even stronger.
After the success of her comeback, there has been no looking back as Jo kept taking more and more women-centric movies to bring gender equality in representation on the screens. She uses her voice to shatter the belief that age makes a woman less appealing and her roles highlighted how women can be more than just girlfriends and models.
Her roles in Magalir Mattum, Naachiyaar, Ratchasi, and recent Udanpirappe have lauded the important themes of equality, empowerment, and representation along with gifting her several awards.
She also expressed her wish for the audience to support female-led films better, because, without that, the industry would not take notice of these creations. "When these films are watched, the films will get bigger, the budgets will get bigger, the existing hierarchies will change," added Jyotika, ahead of the release of Udanpirappe.
"Shatter that silence," Jo's movie inspires nine-year-old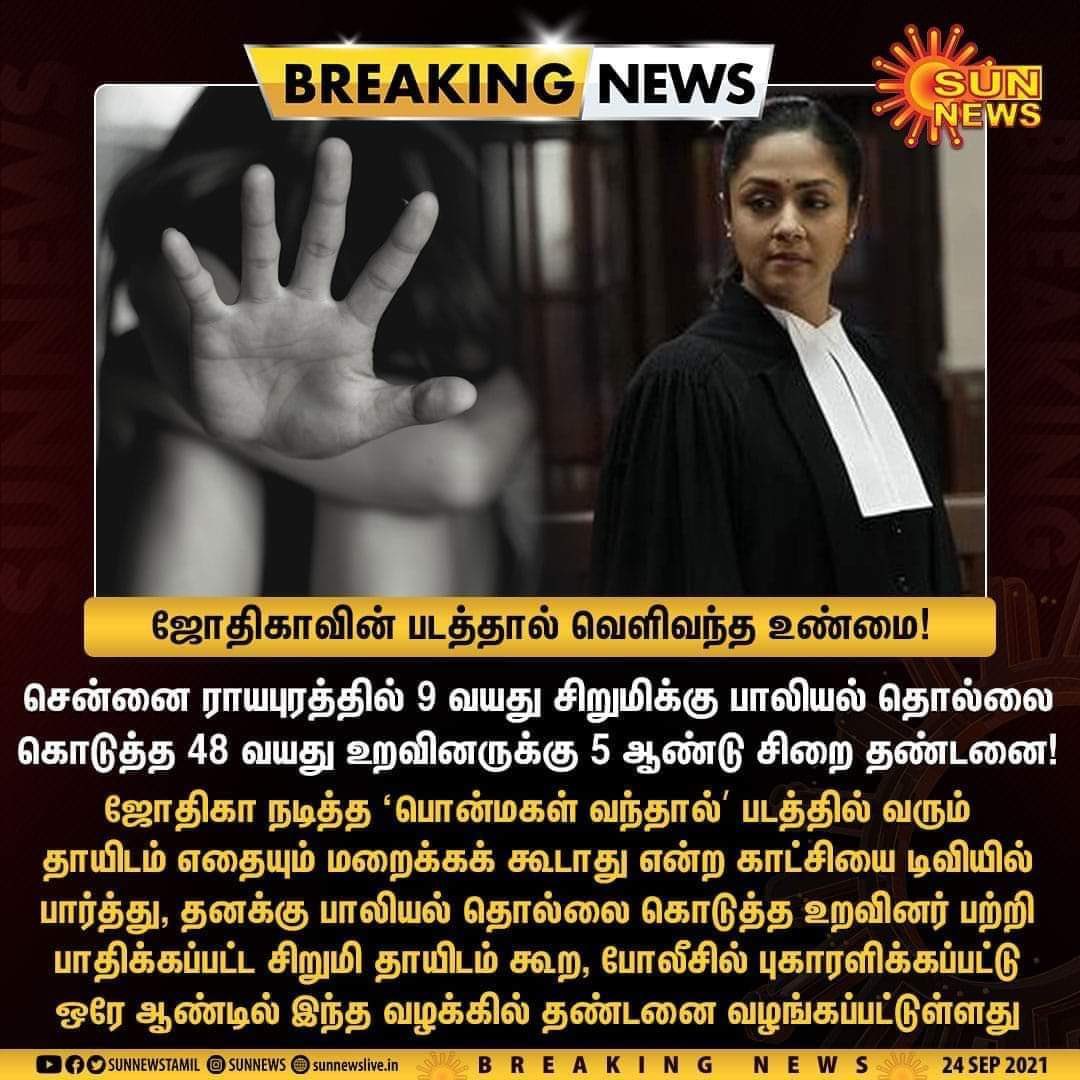 Her powerful release 'Ponmagal Vandhal' in which Jo plays the rape victim who gets justice for an age-old crime got a lot of women talking.
A nine-year-old rape survivor in Chennai opened about her predator(the girl's relative) to her mom and the court sentenced five-year imprisonment to him. The girl saw Jyotika's Ponmagal Vandhal and it encouraged her to open up about the horrific incident to her mom.
Jo shared the news clip and wrote: "Shatter that silence ! Each time a woman stands up for herself, unknowingly she stands up for all women". Her films continue to inspire to shatter silence.
Working to give us a memorable storyline with a magnanimous presence that inspires the audience, Jyotika continues to work her way to the top and her recent release of Udanpirappe is a testament to her dedication. We wish this queen, a happy birthday and success in all future endeavors.