1. Halitha Shameem
Born to supportive parents, Halitha's career was an open road from the jump. She began learning and understanding about direction from the age of 16, worked as an assistant director under several magnificent directors and today, stands tall with her own style well developed. After Sillu Karupatti, Halitha is ready to treat her audience with some of her finest works yet.
She says that this time that she had for herself made her creatively strong, which has helped her in her journey as a director. "I was well aware of my thoughts and I would use this awareness to my advantage. I remember my first poetry; it was about a tongue. Eventually my teachers started noticing my writing capacity in Tamil. I studied in a school dominated by Malayalam and my principal, would take my help to write down his speech in Tamil despite having Tamil teachers in school. I was looked at like a celebrity," says Halitha smirking.
The major league directors whom she approached suggested alternate career options for her within the film industry. "I was very young and fragile. So, on a set if a director was shouting and swearing, I would just flee the sets. All that came to a standstill when I joined as an assistant director under the director duo Pushkar and Gayathri for the film Oramm Po. They would involve me in some serious discussions, take in my suggestions and made me feel like an integral part of the team," says a grateful Halitha.
Eventually she assisted Samudhirakani in the film Nadodigal and director Mysskin for the film Nandalala. "They are all directors with different schools of thought and each of them taught me something very valuable," says Halitha. Mirchi Siva's Va Quarter Cutting was the last film Halitha worked on as an Associate Director.
Click Here To Read More About Halitha Shameem
2. Deepa Venkat
She was the voice behind the driven headmistress Geetha Rani in Raatchasi, the distressed yet brave game designer Swapna in Game Over, and very recently the godly voice of Amman we all caught glimpses of from the trailer of Nayanthara's upcoming film Mookuthi Amman. Deepa Venkat began dreaming of acting as a little girl, while she was dubbing for Disney cartoons. Soon, she found herself in the world of radio and prime time television, all the while holding on to first love, dubbing.
Another recent project Deepa just finished voicing is Jyothika for her upcoming Ra Saravan's film. "It was a Thanjavur slang I had to adopt.  I'm always quite nervous when it comes to slang. The director knew the accent very well so he helped me with it."
According to Deepa, dubbing for a movie takes a minimum of three sittings with five or longer hours per day. Even though you are not on camera, you have to still act the part physically to effect the right voice. "With any film, the process starts with auditions. Even though the director would have heard my voice for the same actress in a different film, they will have a set of questions.  Every movie is different so the first step is always the voice test. For this they play an intense or emotional scene from the movie and observe my voice. I usually watch the whole scene first and get the outline of the role. I don't have to hear the whole story but just enough to understand the character, what she does, where she's from and so on."
Click Here To Read More about Deepa Venkat 
3. Archana Kalpathi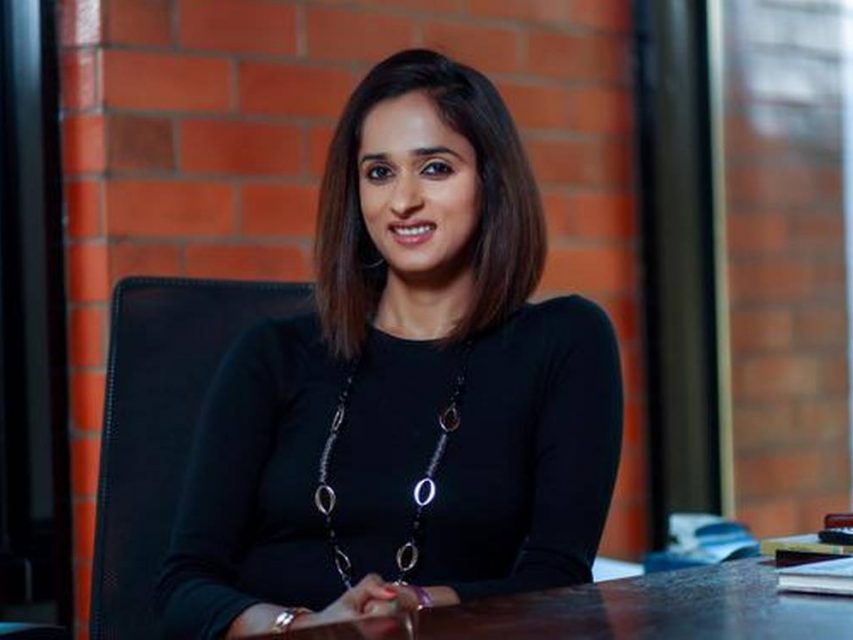 In an industry that has always been male-centric, Archana Kalpathi, producer of the box-office hit Bigil, is a woman who has carved out a niche for herself.  It's a woman's world too and there's no reason why there shouldn't be an equal number of women filmmakers and film producers. A revered film producer in her own right, she is also the CEO of AGS Cinema. From her very first project to her recent distribution assignment for Kabali, to producing Bigil, she has had her A-game on throughout.
4. Ezhilmathy
Some are born creative, some strive on with discipline; and then there's costume designer Ezhilmathy, who senses the importance of both. Ezhilmathy was the costume designer in Thiyagaraja Kumararaja's Super Deluxe starring Vijay Sethupathi, Samantha Akkineni, Fahadh Faasil, Mysskin and Ramya Krishnan. From using battery prints on an Ice Cream man's shirt to a scrunchie on Samantha's wrist, she is one of those rare designers who depicts characters as credible, yet deep.
Ezhilmathy started out her career as a physiotherapist and then her interest grew towards teaching children with special needs. She has even headed schools and has strongly believed in inclusive education. Ezhilmathy pursued her Masters in Inclusive Education in the United Kingdom. "I get bored with what I do quite easily. I initially grew interest towards physiotherapy, but I got distracted towards teaching. I have been doing all this, but styling has always been very interesting for me," she says. Ezhilmathy believes that teaching the children at Vidya Sagar School, Chennai, was the right turn in her life. "I initially was roped in for doing physiotherapy for the children, but my passion deviated towards teaching," she adds. Till date, she remains a teacher and a trainer for the children although she designs for huge projects today.
Click Here To Read More About Ezhilmathy
5.  Thamarai
Thamarai is a Tamil lyricist, poet, writer, and former journalist. She is the genius behind evergreen songs like Vaseegara from Minnale, all songs from Kaakha Kaakha and Vaaranam Aayiram, to the latest Kannaana Kanney from Viswasam and songs from Ennai Nokki Paavum Thota. Articulate and detail-oriented, Thamari has a keen sensibility to word emotions and happenings around the world in the most beautiful and soulful ways. With a long spanning carrier in the film industry of two decades, she continues to write songs that we all would eventually fall in love with and play on in repeat.