Marriages are made in heaven or atleast that's what we've been told. Marriages are all about two families of two people who love each other coming together and having a celebration of forever. And arranged marriages are something where families come together first and then plan a forever for two strangers. Sometimes they work, sometimes they don't. However, arranged marriages seemed to have worked for these five celebrities:
1. Karthi and Ranjani
In the year 2011, Karthi announced that he is all set to marry a gold medalist in English Literature – Ranjani. "Actually, my mother has been looking out for a girl for a long time now. Arranged marriage did sound like a scary option, but when I met Ranjani and spoke to her for over an hour, I was convinced that she was the one for me," he further added, "I'm very happy." Ranjani's parents hail from Erode.
2. Dulquer Salman and Amal Sufiyaa
The famous Malayalam actor Mammootty's son Dulquer salmaan who predominantly appeared in Malayalam and Tamil movies married an architect Amal Sufia on December 22, 2011, in Chennai. The couple'
s parents knew each other for a while and decided that it would work. Dulquer wore a velvet suit and Amal looked lovely in a Sabyasachi Mukherjee lehenga. On December 26th Mammootty hosted a grand reception in a resort in Kochi. The reception was attended by famous south actors and everyone from the Malayalam industry.
On May 5, 2017, Mollywood star Dulquer Salmaan and Amal Sufiya welcomed their first child, a baby girl – Maryam. The beautiful baby's pictures have been the talk of the town ever since their parents made her pose for one every time she is dressed or does something funny
3. Mira Rajput and Shahid Kapoor
Shahid Kapoor and Mira Rajput married each other in the year 2015. Shahid's father Pankaj Kapoor was close friends with Mira's father and that's when they thought that it would be a good idea get Shahid and Mira to meet. They then had an intimate Gurudwara wedding with family and close friends. The couple are blessed with two kids , Misha (3) and Zain (1).
4. Soundarya Rajinikanth and Vishagan Vanangamudi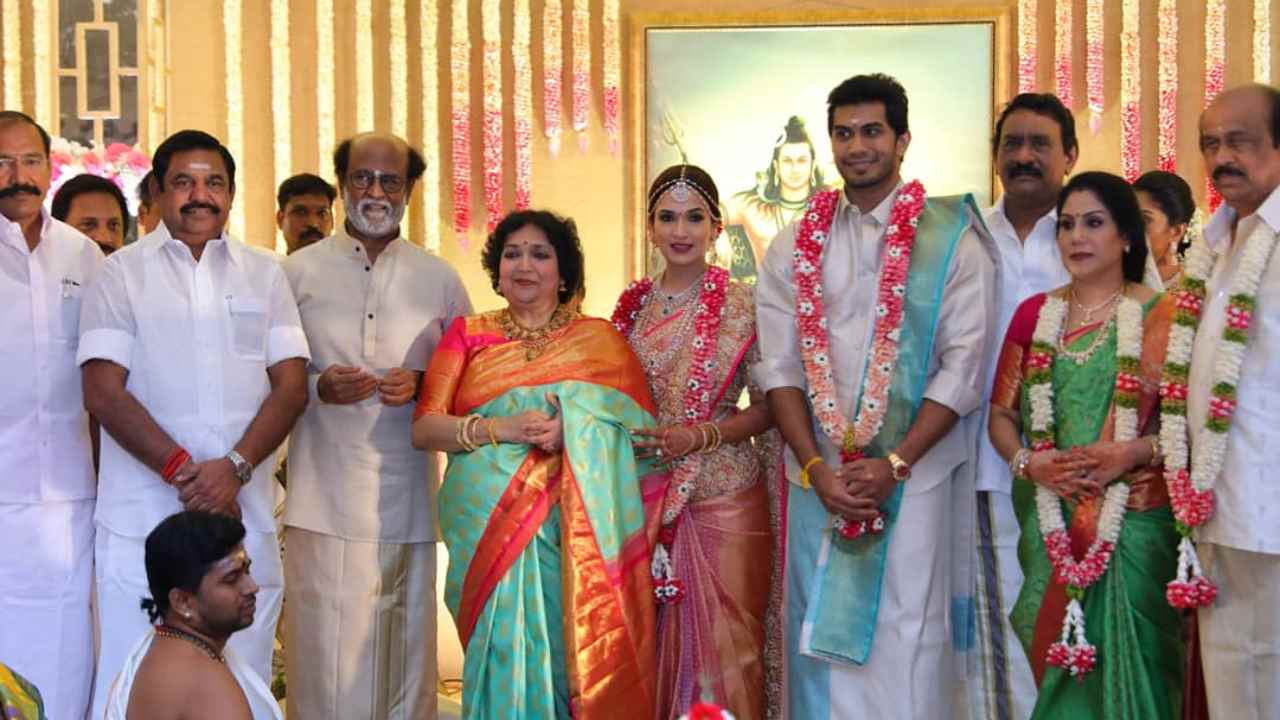 Rajinikanth and Vanangamudi's mutual friend Thirunavakarasu informed the former and latter that Vishagan and Soundarya could be just the right people for each other. Soundarya and Vishagan met each other formally for the first time at a coffee shop and five months after knowing each other, the couple decided to get married and their wedding was extravagant. Soundarya has a son Ved from her first marriage with Ashwin. Vishagan was married earlier too.
5. Aishwarya Rajinikanth and Dhanush
It is definitely a shocker that these two lovebirds actually have an arranged marriage. Aishwarya was actually Dhanush's sister's friend and they had cordially met through her a couple of times and that's it. BUt, the media had already speculated that the two were in love and that they might get married soon. Dhanush, during various interviews rubbished these rumours. However, Rajinikanth and Kasthuri Raja, both decided that they might actually work together and decided to make them meet.
"So, I have to thank the media for my marriage with Aishwarya. I reiterate that ours is not a love marriage," he told the press when he announced his marriage during a conference. Asked if he was perturbed by the fact that Aishwarya is older than him, he retorted with apparent irritation, "The age factor does not affect me at all."
Dhanush and Aishwarya married each other in the year 2004. They are proud parents of two boys – Yathra and Linga.