Over the years, food favourites have come a long way. The evolution of human taste, nutrient discoveries and urban food choices can be traced as a distinct gastronomic continuum. From good old rahi, bajra, jawar to the English variants of millets, urban palates are as chic as luxury fashion guides.
Little did our mothers and grandmothers know that decades down the line, the good old wheat grain would be termed gluten evil! With Gwyneth Paltrow's Goop making gluten-free meals the angel of a fashionista's diet, the wheat grain stands nary a chance in 2017. Of course, the traditional kitchens across the country still love some magical phulkas with yummy palak paneers. But will these traditional food choices stand the test of time when compared to the urban ingredients?
Kale
No matter how many new names show up on the list, green leafy vegetables are permanent members. High in iron content and a tastier option than Popeye's spinach, Kale made it to the list. This green cabbage-like veggie is incomparable in the nutrient department. It helps fight diabetes and supports healthy bones, skin, and hair. Kale consists of an antioxidant named alpha-lipoic acid, which is known to lower glucose levels. Kale also consists of potassium, fiber and Vitamin C, which supports heart health. If you're fighting weak bones, add a generous amount of Kale in your diet to fight not-so-strong joints. The magic veggie also contains high amounts of beta-carotene, which is exactly what your tresses are looking for.
Sausage & kale hash
This dish makes for a satisfying brunch that'll keep you going all day.
Ingredients
250 gms Potatoes (cut into cubes)
1 tbsp Olive Oil
1 small Onion (finely sliced)
4 Sausage (meat can be according to preference) remove the meat from the skins
100g Kale (without stalks)
1tbsp sage (finely chopped)
2 eggs
Method
Put the potatoes in a pan of cold water with a little salt. Bring to the boil, cook for 3-4 mins until nearly tender, then drain and set aside.
Meanwhile, heat 1/2 tbsp oil in a large, non-stick frying pan. Cook the onion for 8-10 mins over a low heat until soft.
Add the potatoes and sausagemeat, turn the heat up to medium and brown everything for 5-6 mins.
Scatter the kale over and wilt for 2 mins, then stir in the sage.
Pour in the remaining oil and push the hash to one side of the pan to make room for the eggs.
Crack the eggs in and fry to your liking.
Divide the hash between two bowls and top with a fried egg.
Quinoa
What did we say about the popular gluten-free trend? The answer to it is Quinoa. It's of course also one of the most expensive food ingredients in the market. Available in two types – red and milky white – Quinoa comes from South America. This highly nutritious grainy food gave 2013 the name, 'International Quinoa Year'. Quinoa has high content of protein, calcium and magnesium. The fibre content in Quinoa possesses high levels of Vitamins, B and E. Another popular and unique fact about this wonder grain is that it's less allergic which is why it's chosen over gluten-filled grains.
Quinoa with Mushrooms, and Sweet Potatoes
A wholesome meal for all fitness freaks
Ingredients
1 cup quinoa
2 tablespoons olive oil
2 small sweet potatoes (about 1 pound), peeled and cut into ¾-inch pieces
10 ounces button mushrooms, quartered
2 cloves garlic, thinly sliced
1 bunch kale, stems discarded and leaves torn into 2-inch pieces
¾ cup dry white wine
Kosher salt and black pepper ( to taste)
¼ cup grated Parmesan (1 ounce)
Method
Place the quinoa and 2 cups water in a small saucepan and bring to a boil. Reduce heat and simmer, covered, until water is absorbed, 12 to 15 minutes.
Meanwhile, heat the oil in a large pot over medium heat.
Add the sweet potatoes and mushrooms and cook, tossing occasionally, until golden and beginning to soften, 5 to 6 minutes.
Stir in the garlic and cook for 1 minute.
Add the kale, wine, ¾ teaspoon salt, and ¼ teaspoon pepper. Cook, tossing often, until the vegetables are tender, 10 to 12 minutes.
Chia seeds
These easy-to-digest seeds are grown in Mexico and exported across the world. Chia seeds not only have high nutritional value but also medical qualities. In the Mayan language, Chia means strength and like its namesake, the seed is consumed to increase bone strength. Chia seeds are also linked to better digestive systems and heal diabetes. Chia seeds have the highest content of dietary fibre among latest food choices and over 4000 mg of Omega-3 fatty acids. Apart from the essential fatty acids, Chia seeds also contain alpha-linolenic acid which is a high source of antioxidant.
Chia Seeds
This is a refreshing drink for the thirsty souls.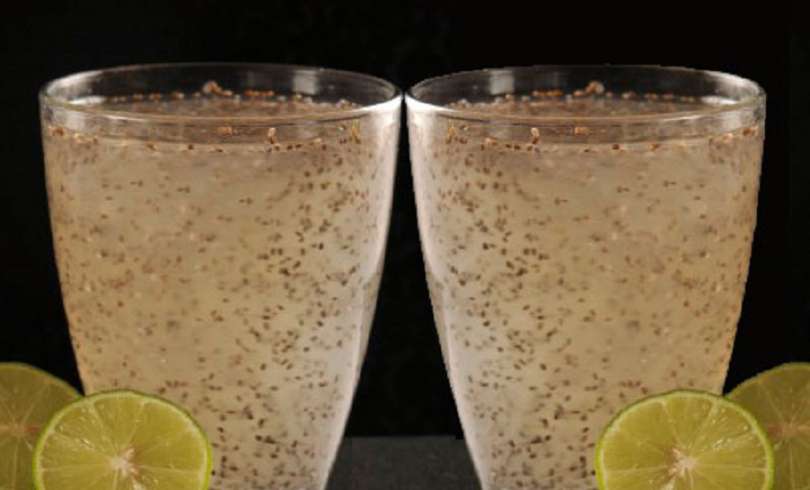 Ingredients
1 tsp Chia Seeds
1 ½ Cups Water
2 ½ tsp Sugar
3 tbsp lemon Juice
Method
Stir water, lemon juice, and sugar together in a glass until sugar is completely dissolved
Add chia seeds. Let it stand for about 10 minutes until gel forms around the chia seeds.
Stir and Serve