What really completes a tea time is some sizzling eats along with a hot cuppa tea. There can be no better way to enjoy your lock down evenings!
MIRCHI BAJJI 
PC: Revi's foodography and travel 
This mouth-watering bite is a rain day special from Andhra Pradesh.
Ingredients
6-7 thick, long green chilies
oil for deep frying
Stuffing:
2 tbsp tamarind paste
salt – to taste
1 tsp roasted cumin seeds powder
1 tsp chaat masala powder
For the besan batter:
6 tbsp besan/chick pea flour/senaga pindi
1 tbsp rice flour
salt – to taste
a pinch of baking soda
¼ tsp ajwain/vaamu(carom seeds)
¾th tsp red chilli powder
½ tsp turmeric powder(haldi)
½ tsp roasted coriander seeds powder
1 tsp ginger garlic paste
1 tsp oil
Method
In a vessel, add some water to boil, add green chilies and blanch them in water for about a minute. (Doing so takes away the spiciness of the chilies, so the bajji can be eaten along with the chilli).
After boiling, slit the chili vertically leaving the corner edges of the chili and deseed it completely.
In a bowl, add tamarind paste, salt as per taste, roasted cumin seeds powder, chaat masala powder and mix all the ingredients well.
Take each chilli and stuff this paste into all the chillies and keep them aside.
In a bowl, add besan, rice flour, salt, baking soda, ajwain and mix them all together.
To it add red chili powder, turmeric powder, roasted coriander seeds powder, ginger garlic paste, oil and mix it well.
Add water and make a batter with a consistency neither too thick nor too liquid. The batter should be mixed well without any lumps in it.
Heat oil in a wok for deep frying.
Take each stuffed chilli, dip the stuffed chilli into the batter and drop it into the oil.
Fry them on low to medium flame until they turn golden brown on all sides.
Take them out on an absorbent paper.
Take each fried chili bajji and give it a small slit.
Stuff the slit with very finely chopped onions and coriander leaves.
Sprinkle chaat masala powder generously all over the mirchi bajji and serve hot with any chutney.
ONION PAKODA/FRITTERS  
Presenting everyone's favourite all-season snack, best paired with curd rice/ sambar rice:
Ingredients                                                          
2 onions ( medium size), peeled and thinly sliced
1 small cup gram flour/ besan
1 small cup rice flour
1 or 2 green chilies, finely chopped
½ tsp red chili powder
Curry leaves – a handful
Coriander leaves – a handful
1 tsp ghee or butter
3 to 4 crushed garlic pods
A pinch of Hing (or to preference )
Salt to taste
Oil to fry
Method
In a bowl, mix the onions, besan and rice flour.
Toss in the green chilies, curry leaves, coriander leaves, ghee and crushed garlic.
Add salt, hing and red chili powder as needed.
Combine it all well, without adding any water and keep aside for 15 to 20 minutes.
The onions should have now let out moisture enough for binding the ingredients together.
Knead the batter gently.
Heat oil in a frying pan and drop the mixture in batches to hot oil. To avoid greasy pakodas, do not overcrowd the oil.
Deep fry to golden over low-medium flame, stirring occasionally.
Remove from oil when crispy and cooked.
Repeat the same for the rest of the mixture and serve hot.
PRAWN TEMPURA 
This Eastern classic snack is ultra tasty and super light on the stomach.
Ingredients
1 kg uncooked king prawns
Vegetable oil, for deep frying
For Tempura Batter
75g corn flour
75g plain flour
1 egg, lightly beaten
¾ cup cold soda water
Method
1) Shell and de-vein the prawns.
2) Sift corn flour and plain flour together in a medium bowl. Add egg and soda water and mix until just combined. Allow batter to stand for a few minutes.
3) Heat oil in a large saucepan or wok. Holding prawns by the tails dip in the batter and allow excess to drain away. Deep-fry prawns, a few at a time, until batter is very lightly browned and prawns have turned pink and are cooked through. Drain and serve hot.
Chocolate Chip Cookies:
The perfect cookies to go with milk for your kids during tea time!
Ingredients
85 gms Soft Butter
110 gms Brown Sugar
55 gms Castor Sugar
A pinch of Baking Soda
120 gms All Purpose flour
A Pinch of Salt
1 tsp Vanilla
2 Eggs
Chocolate chips 1/2 Cup
METHOD:
– Add the soft, unsalted butter to a bowl.
-Then add the brown sugar and the white sugar.
– Beat them to a nice, soft, fluffy mixture for roughly 2-3 minutes.
– Add 1 tsp vanilla essence and egg to the mixture and beat it for another 2 to 3 minutes.
– Scrape off the mixture from the sides and beat for yet another 2-3 minutes.
– Add the maida and the baking soda to the mixture and beat the mixture at a slow speed.
– Finally, add the chocolate chunks to the mixture.
– Allow the cookie dough to rest in the refrigerator for about 15 minutes.
– Place a baking paper on a baking tray.
– Take a little of the batter using two spoons and place them on the tray.
– Leave gaps between two cookies.
– Bake the cookies in the oven for 10-15 minutes at 160 degrees.
– Fresh cookies are now ready!
 VEGETABLE POTATO SKINS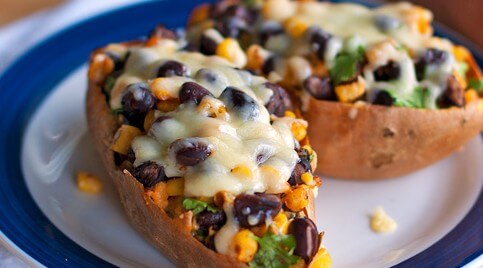 Scooped potatoes filled with the goodness of mushroom and corn.
Ingredients
2 potatoes
50 gm mushroom
50 gm baby corn
1 tbsp celery
1 tbsp leeks
2 tbsp chopped onion
1 tbsp chopped garlic
2 tbsp chopped spring onion
1 bunch fresh coriander leaves
3 tbsp tomato sauce
2 tsp chilli powder
Few drops, soy sauce
Salt as required
1 tsp sugar
Cheese for garnishing
Method
Cut and halve the potatoes into two pieces each
Scoop out the potatoes, parboil and deep fry
Chop all the above vegetables and cook them with the spices
Stuff the above vegetables into the potato and grate some cheese on top
Gradinate the potatoes and serve them hot with salsa and sour cream