From Rajinikanth-starrer Arunachalam to action thriller Ghajini, the classic romance Roja, to evergreen comedy like Panchatantram and Thenali here is a list of 12 Kollywood movies that were based on Hollywood films. We are pretty sure you've seen most of these classics, their original adaptations are worth adding to your must-watch list too.
1. Panchatantram
Panchatantram (2002), is Tamil Comedy film starring Kamal Hassan directed by K.S Ravi Kumar was based on the plot of the English film Very Bad Things.
2. Roja
Roja (1992), directed by Maniratnam is about the woman's search of her husband, in Kashmir. The movie is inspired by 1970 French/English film Sunflower.
3. Thenali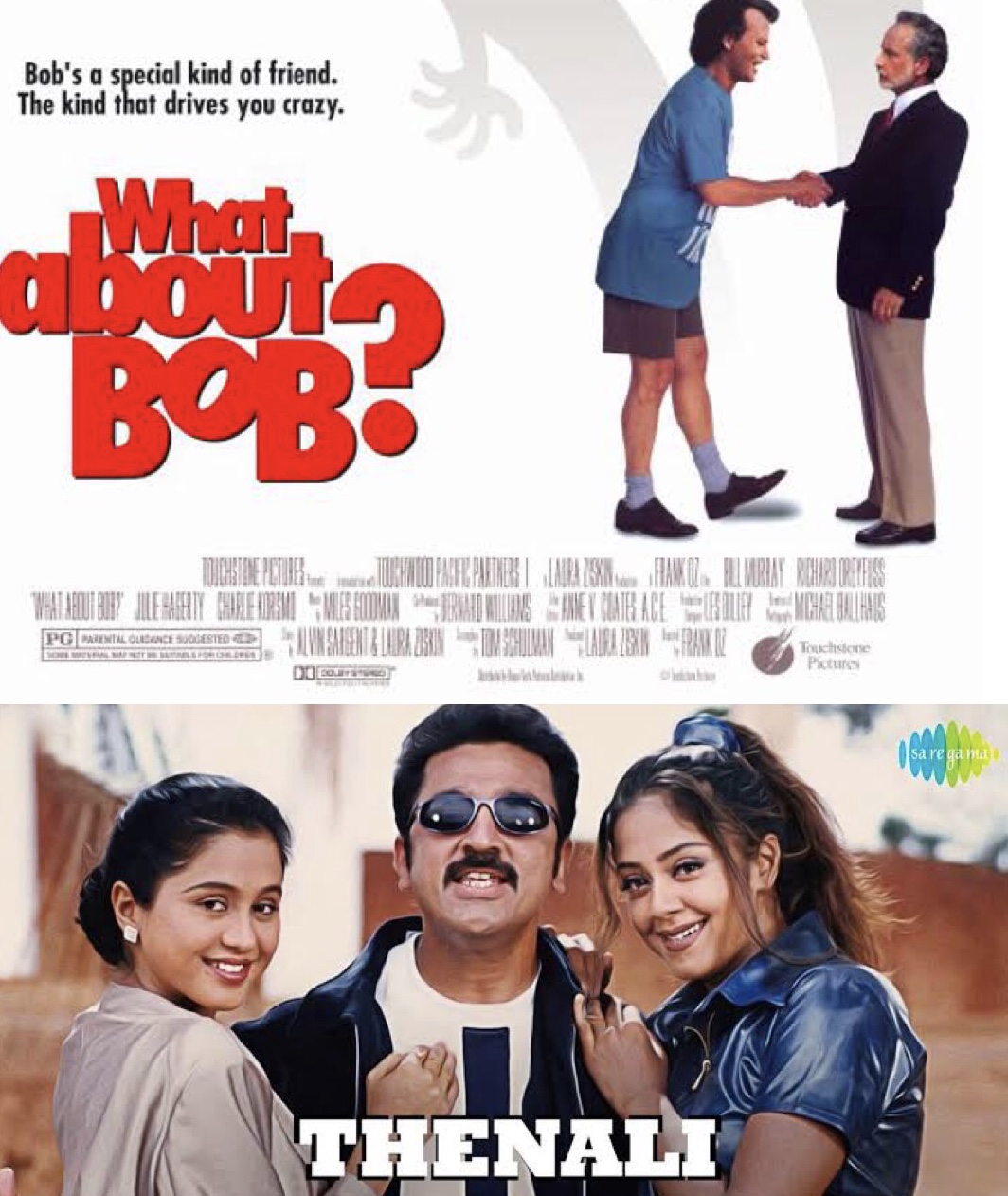 What About Bob is a 1991 american comedy where Murray plays Bob Wiley, an irritating patient who follows his egotistical psychiatrist Dr. Leo Marvin (Dreyfuss) on his vacation. The Tamil adaptation of the film Thenali (2000) featured Kamal Haasan playing the title role. The film is directed and produced by K. S. Ravikumar and written by Crazy Mohan.
4. Ghajini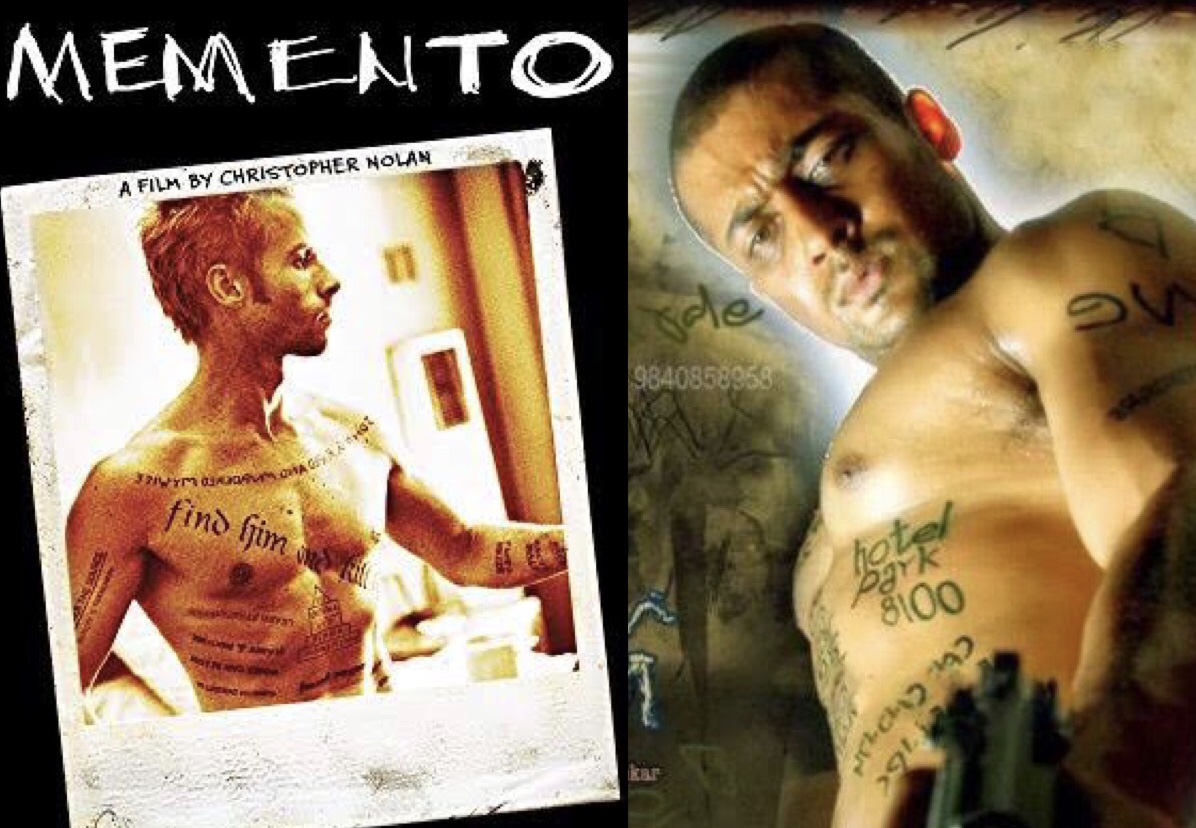 Most are relatively familiar that the movie Ghajini (2005), a Tamil film starring Surya Sivakumar and Asin, directed by A. R. Murugadoss is a remake of the thriller-action Memento.
5. Arunachalam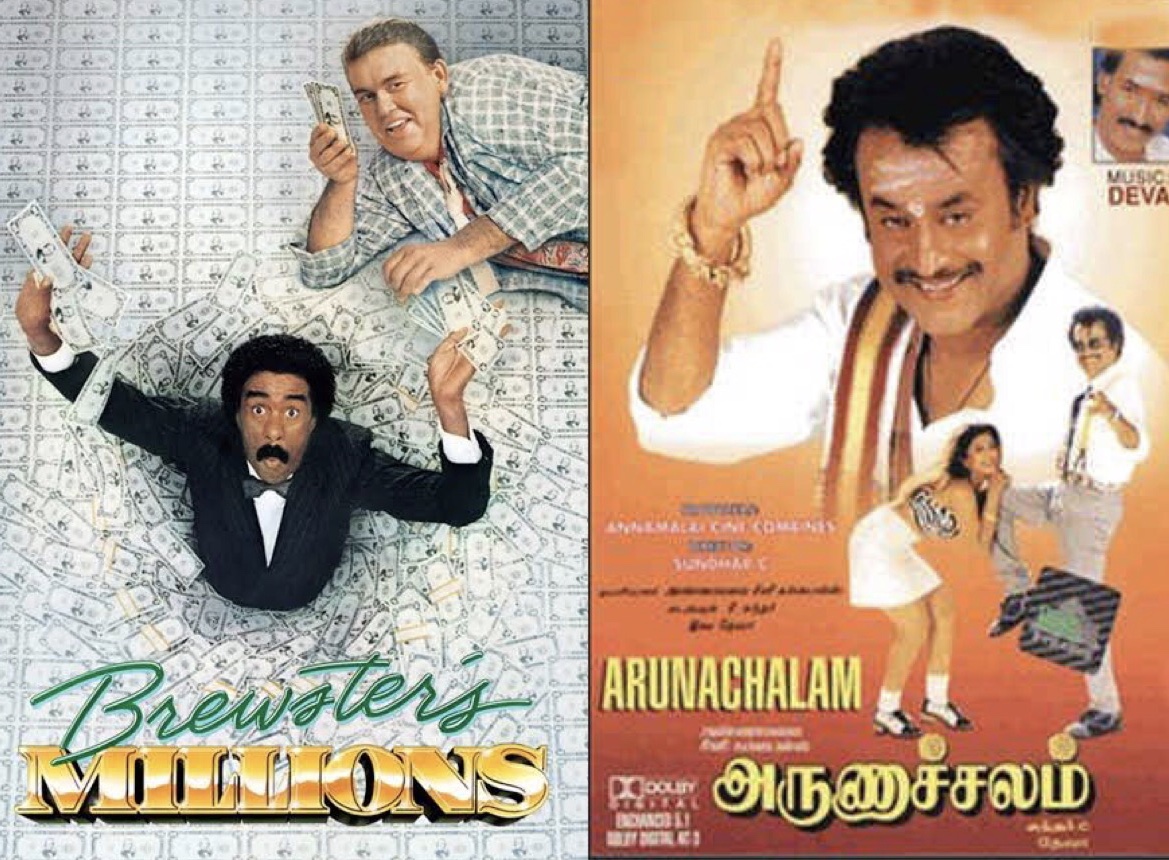 Brewster's Millions story line is of a  minor-league pitcher, learns his great-uncle has left him $300 million. To inherit it, Brewster must spend $30 million in 30 days under a complicated set of rules. The Tamil film adaptation of this is Arunachalam(1997) starring Rajinikanth.
6. Deiva Thirumagal
Deiva Thirumagal (2011) is a Tamil drama film written and directed by A. L. Vijay, that features Vikram in the lead role as an intellectually disabled ,adult who fathers a curious little girl. The movie is based on I Am Sam. 
7. Anbe Sivam
Planes, trains and automobiles, revolves around Neal who needs to reach home for Thanksgiving, goes through a series of misadventures when his flight gets cancelled and he ends up meeting Del, a goofy salesman. Anbe Sivam (2003) is a 2003 Tamil drama film directed by Sundar C and written by Kamal Hassan. The film stars Kamal Hassan and R. Madhavan.
8. Magalir Mattum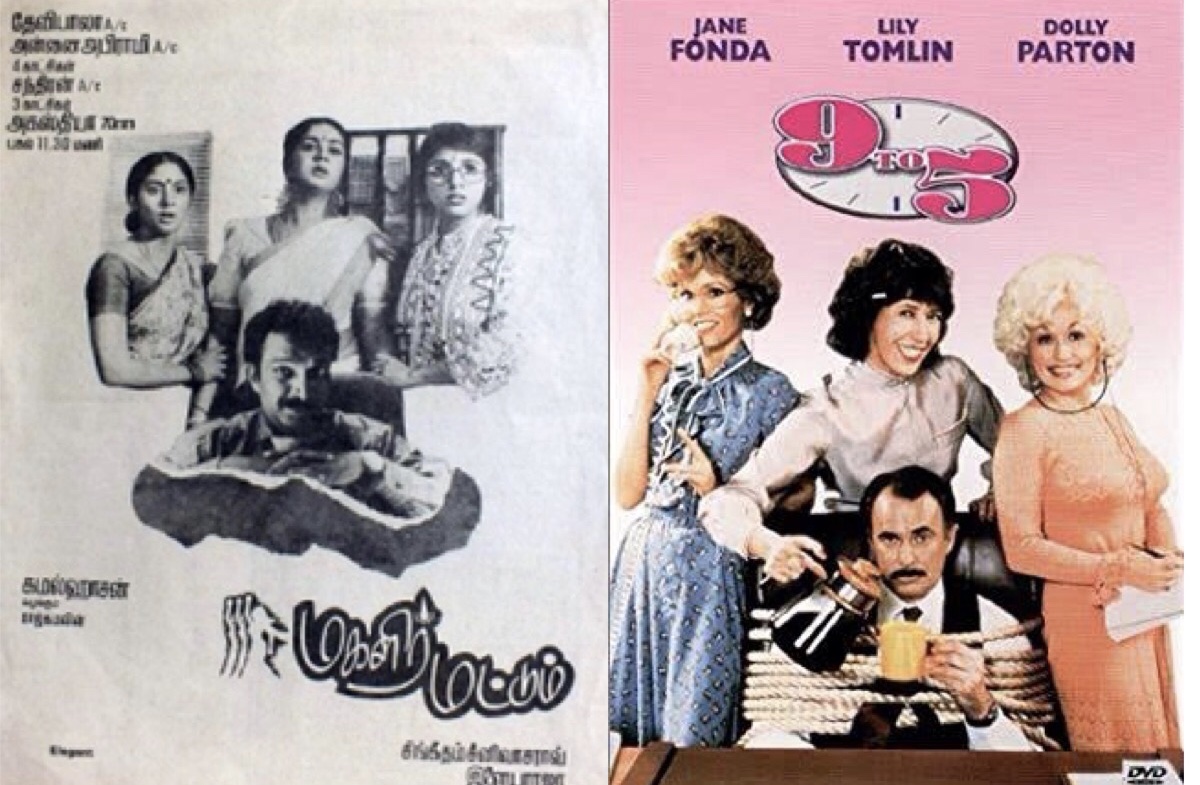 Magalir Mattum (1994), Tamil remake of "9 to 5" has three women working in the same office (Revathi, Rohini, Urvashi) who are constantly harassed by their boss (Nasser). The three decide to gang up against him, but a strange accident complicates things when the boss lands in a hospital and the three women end up with the dead body of a terrorist.
9. Abhiyum Naanum
Abhiyum Naanum starring The adorable duo of Trisha and Prakash Raj revolves around a father and daughter relationship and is based on the movie Father of the Bride. 
10. Manmadan Ambu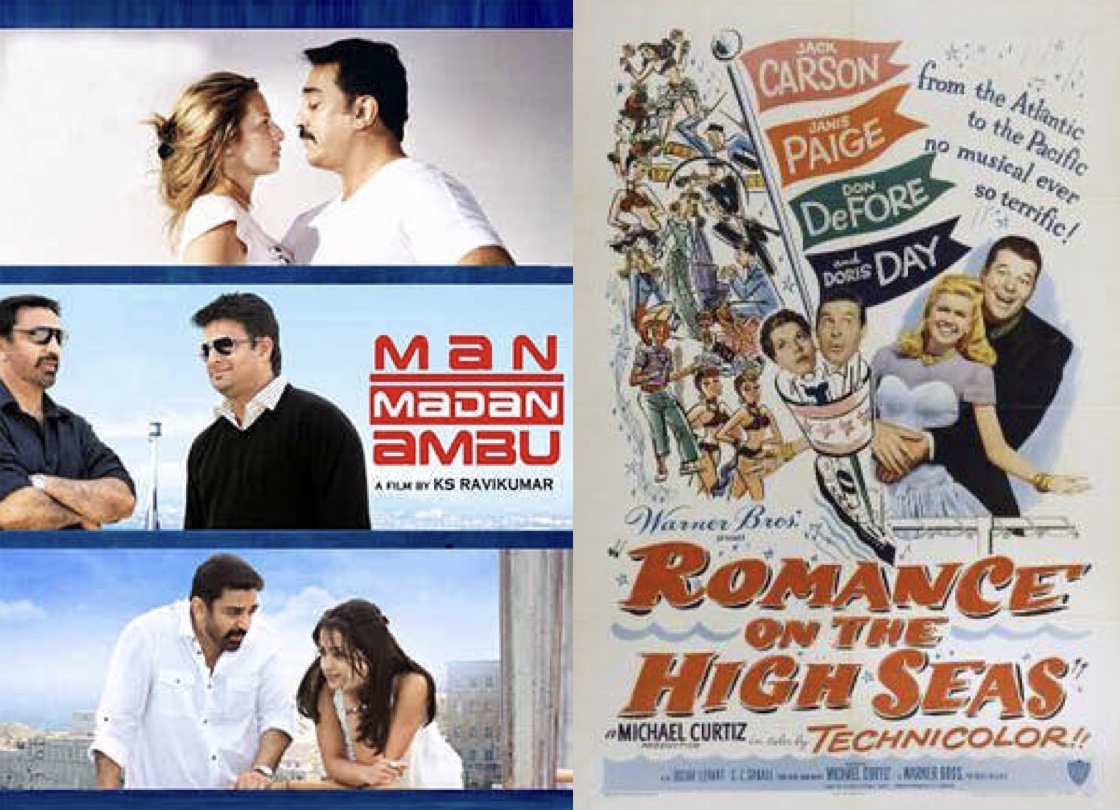 Manmadan Ambu (2010) is a 2010 Tamil romantic comedy film directed by K. S. Ravikumar, Written by Kamal Haasan is based on Romance on High Seas
11. Anjali
The classic Mani Ratnam movie that stars Raghuvaran, Revathi, is lossely based on an American documented-drama Son–Rise: A Miracle of Love. 
12. New
New (2004) that features SJ Surya in the lead role of an 8-year-old who is turned into a 28-year-old man is inspired from the Hollywood film Big.